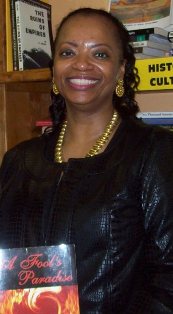 Robyn Williams
Born:
in Chicago, Illinois
Pen Name:
None
Connection to Illinois
: Robyn Williams lives in Chicago.
Biography
: Because reading and writing is a passion of hers, Robyn founded the Bestow Foundation, a not-for-profit Literacy Organization where she is Executive Director. The Bestow Foundationís Mission is to cultivate a literate nation by leveraging the power of the family as a means for economic empowerment and community transformation. The Bestow Foundation is dedicated to improving the literacy skills of Chicago-area adults and families.
---
Awards
:
Email:
Robyn@robynwilliams.com
Website:
http://www.robynwilliams.com
Robyn Williams on WorldCat :
http://www.worldcat.org/search?q=robyn+williams
---
Selected Titles
A fool's paradise /
ISBN: 1930097956 OCLC: 575692755 Lushena Books, Inc., Bensenville, ILL. : 2008.
A twist of fate
ISBN: 9781930097025 OCLC: 43778806 Lushena Books, Chicago, IL : ©1999. A Twist of Fate offers a look at the ever-changing record industry. Robyns Williams' real-life portrayal of record label executives and other influential individuals is both insightful and realistic.
A twist of fate /
ISBN: 1930097344 OCLC: 1043497120 Lushena Books, Chicago, Ill. : 2000, ©1999.
Preconceived notions /
ISBN: 1930097018 OCLC: 43555970 Lushena Books, Chicago, IL : ©1994. This novel explores the passions, desires, and fears that erupt when a beautiful, fiery black woman and a "strong black man" fall in love.
Preconceived notions :
ISBN: 1879360373 OCLC: 36094145 Noble Press, Chicago : ©1996.