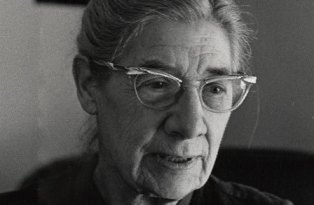 Janet Loxley Lewis
Born:
1899 in Chicago, Illinois
Died:
1998 in Los Altos, California
Pen Name:
Janet Lewis, Janet Lewis Winters
Connection to Illinois
: Lewis was born and raised in Chicago. She was a graduate of the University of Chicago, where she was a member of a literary circle that included her future husband Yvor Winters. She was an active member of the University of Chicago Poetry Club.
Biography
: Janet Lewis was a novelist, poet, and short-story writer whose literary career spanned almost the entire twentieth century. The New York Times has praised her novels as "some of the 20th century's most vividly imagined and finely wrought literature." Born and educated in Chicago, she lived in California for most of her adult life and taught at both Stanford University and the University of California at Berkeley. Her works include Good-Bye, Son and Other Stories (1946).
---
Awards
:
Primary Literary Genre(s):
Fiction; Poetry
Primary Audience(s):
Adult readers
Janet Loxley Lewis on WorldCat :
http://www.worldcat.org/search?q=janet+loxley+lewis
---
Selected Titles
100 poems :
ISBN: 1108452841 OCLC: 1039921609 Here Thomas Pinney brings together a selection of well-established favourites and the best of the previously uncollected and unpublished poems from The Cambridge edition of the poems of Rudyard Kipling (2013). The poems, whether exploring the colonial experience, exposing the injustice of war, or appreciating the beauties of nature, resonate with Kipling's keen observations of his world and strong sense of poetic rhythm. Discovered by Pinney in an array of unlikely hiding places, the uncollected and unpublished poems show the diversity and development of Kipling's talent over his lifetime, and, when combined with long-held favourities, offer readers a unique opportunity to experience Kiplings' mastery of poetry in a new way--Back cover.
Against a darkening sky /
ISBN: 0804008663 OCLC: 12081744 Swallow Press/Ohio University Press, Athens, Ohio : 1985, ©1943.
Poems old and new, 1918-1978 /
ISBN: 0804003726 OCLC: 6943212 Swallow Press ; Chicago : ©1981.
The ghost of Monsieur Scarron /
ISBN: 0804001332 OCLC: 8710925 Swallow, Chicago : 1981, ©1959.
The invasion :
ISBN: 0870134957 OCLC: 42791223 Michigan State University Press, East Lansing : ©2000.
The trial of Sòˆren Qvist /
ISBN: 0804002975 OCLC: 860713704 Swallow Press/Ohio University Press, Athens, Ohio : 2013.
The wife of Martin Guerre /
ISBN: 0804003211 OCLC: 1121937