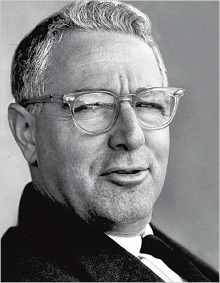 Karl Jay Shapiro
Born:
1913 in Baltimore, Maryland
Died:
May 14, 2000 in New York, New York
Pen Name:
Karl Shapiro
Connection to Illinois
: Shapiro spent much of his childhood and adolescence in Chicago. He was the Editor for Poetry, Chicago, Illinois, 1950-56. He was an English Professor at the University of Illinois Chicago from 1966-68.
Biography
: Karl Shapiro was a poet, editor, scholar and teacher. He was appointed the fifth Poet Laureate Consultant in Poetry to the Library of Congress in 1946. His last work, Coda: Last Poems, was published in a collected volume post-mortem by editor Robert Phillips in 2008. The poems, divided into three sections according to love poems to his last wife, poems concerning roses, and other various poems, were discovered in the drawers of Shapiro's desk by his wife two years after his death.
---
Awards
:
V-Letter and Other Poems Pulitzer Prize for Poetry, 1943
Other Awards and Honors Appointed the fifth Poet Laureate Consultant in Poetry to the Library of Congress,1946; Jeanette Sewell Davis Prize and the Levinson Prize from Poetry magazine (both in 1942), Contemporary Poetry prize (1943), Shelley Memorial Award (1946), Eunice Tietjens Memorial Prize (1961), Oscar Blumenthal Prize (1963), Bollingen Prize (1969; shared with John Berryman), Robert Kirsch Award from the Los Angeles Times (1989), Charity Randall Citation (1990)
Adult Bookstore Silver Medal in Poetry from the Commonwealth Club of California,1976
Primary Literary Genre(s):
Poetry
Primary Audience(s):
Adult readers
Web:
https://www.loc.gov/item/98700130/
Web:
https://www.poetryfoundation.org/poets/karl-shapiro
Web:
https://www.britannica.com/biography/Karl-Shapiro
Web:
https://www.encyclopedia.com/reference/encyclopedias-almanacs-transcripts-and-maps/shapiro-karl
Wikipedia:
https://en.wikipedia.org/wiki/Karl_Shapiro
---
Selected Titles
Coda: Last Poems
ISBN: 1933896213 OCLC: 191882156 Texas Review Press, Huntsville, Tex. : 2008. This collection is compiled from the unpublished poems of Karl Shapiro at the University of Texas in Austin and elsewhere. They are largely as Shapiro left them, in a desk drawer in his apartment in uptown Manhattan. ... "Proposition" When we're old lovers, sitting in separate chairs Silently, will you think our love has faded Though we smile richly and are still unaided By doctors, accountants and presumptuous heirs? Though talk has frozen in geologic layers Of long alignment of the loved and hated And even our sexuality is jaded And we have settled all our private cares Including death, listen to me, adored, Words cannot fail us ever, no matter how The fates brighten their implements to prove That even gods and geniuses get bored With marriage, fucking and poetic love, Because, beloved, we call each other thou.
Essay on Rime: with Trial of a Poet (Poets On Poetry)
ISBN: 047206813X OCLC: 50503248 University of Michigan Press, Ann Arbor : 2003. This book restores to print two important verse-essays on the art of poetry by one of America's most honored poets. "Trial of a Poet" was born of Karl Shapiro's serving on the jury that awarded the first Bollingen Prize in Poetry, voting on moral grounds against giving the prize to the winner, Ezra Pound. "Essay on Rime" confronts the confusions Shapiro found in poetry in general and in the work of many specific, noted poets. Shapiro wrote this 2072-line blank-verse meditation on "the treble confusion / In modern rime" in 1945, when he was thirty and serving a stint with the U.S. Army in the South Pacific--far from any library. Rich in both insight and example, "Essay on Rime" discusses a range of subjects, including prosody, idiom, Freud, rhetoric, grammar, Marxist poets, content, and translation. "Essay on Rime" also confronts the particular approaches of such poets as W. H. Auden, Hart Crane, e. e. cummings, Archibald MacLeish, Andrew Marvell, Pound, Walt Whitman, and W. B. Yeats. As David Lehman writes in his foreword, "More than a half century since it was written, this triumph of rhetoric retains its ability to provoke, instruct, and astound." Karl Shapiro (1913-2000) was a prolific poet, critic, essayist, editor of literary journals, and teacher. Robert Phillips is John and Rebecca Moores Scholar and Professor of English, University of Houston.
Karl Shapiro: Selected Poems: (American Poets Project #3)
ISBN: 1931082340 OCLC: 50417463 Library of America, New York : ©2003. In this new selection, master literary craftsman John Updike provides a long-overdue reassessment of Karl Shapiro, a Pulitzer Prize-winning poet who has become one of the defining figures of the postwar period.
Love and War Art and God: The Poems of Karl Shapiro
ISBN: 0913773107 OCLC: 11562776 Stuart Wright, [Winston-Salem, N.C.] : ©1984.
New & Selected Poems, 1940-1986
ISBN: 0226750337 OCLC: 15589781 University of Chicago Press, Chicago : 1987. Admirers of Shapiro's work will welcome this volume of poems selected by the poet himself from over 50 years' work. Shapiro is a craftsman with an eye for detail. In poems such as ``Drug Store, '' ``Haircut, '' and ``The Tingling Back, '' he finds cause for personal celebration in the most quotidian occurrences; yet he is equally adept at probing more public subjects in ``The Conscientious Objector, '' ``Israel'' and ``Vietnam Memorial.
The Wild Card: Selected Poems, Early and Late
ISBN: 0252023897 OCLC: 37870585 University of Illinois Press, Urbana : ©1998. The Wild Card is that gem among books: a selection of those enduring works that will definitively represent the poet as one of the major artists of our time. Karl Shapiro, who won the Pulitzer Prize in Poetry in 1945 for his second collection, V-Letter and Other Poems, is an American poetic treasure and an acknowledged master of lyrical poetry whose subjects have ranged from commonplace objects and occurrences to biting political commentary to open celebrations of the