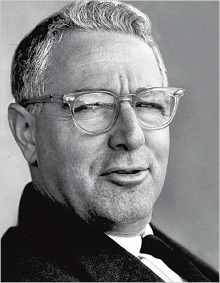 Karl Jay Shapiro
Born:
1913 in Baltimore, Maryland
Died:
May 14, 2000
Pen Name:
Karl Shapiro
Connection to Illinois
: English Professor, UIC, 1966-68, and was Editor for Poetry, Chicago, Illinois, 1956-66.
Biography
: Shapiro was a poet, editor of poetry, scholar and teacher. He was appointed the fifth Poet Laureate Consultant in Poetry to the Library of Congress in 1946.Shapiro's last work, ''Coda: Last Poems'', was published in a collected volume post-mortem by editor Robert Phillips in 2008. The poems, divided into three sections according to love poems to his last wife, poems concerning roses, and other various poems, were discovered in the drawers of Shapiro's desk by his wife two years after his death.
---
Awards
:
Awarded the contemporary Poetry Prize in 1943 for ''V-Letter and Other Poems''.
Primary Literary Genre(s):
Poetry
Primary Audience(s):
Adult readers
Karl Jay Shapiro on WorldCat :
http://www.worldcat.org/search?q=karl++jay+shapiro
---
Selected Titles
Coda :
ISBN: 1933896213 OCLC: 191882156 Texas Review Press, Huntsville, Tex. : 2008. "This collection is compiled from the unpublished poems of Karl Shapiro at the University of Texas in Austin and elsewhere. They are largely as Shapiro left them, in a desk drawer in his apartment in uptown Manhattan."--BOOK JACKET.
Essay on rime :
ISBN: 047206813X OCLC: 50503248 University of Michigan Press, Ann Arbor : 2003.
Jewish American literature :
ISBN: 9780393048094 OCLC: 44426733 Norton, New York : ©2001. Selections cover three centuries of Jewish contributing voices to American letters, including those of Arthur Miller, Tillie Olsen, Bernard Malamud, Allen Ginsberg, Cynthia Ozick, and Philip Roth. Includes writing in all genres--fiction, poetry, drama, essays, letters, editorials, journals, autobiography, cartoons, song lyrics, and jokes.
Love & war, art & God :
ISBN: 0913773107 OCLC: 11562776 Stuart Wright, [Winston-Salem, N.C.] : ©1984.
New & selected poems, 1940-1986 /
ISBN: 0226750337 OCLC: 15589781 University of Chicago Press, Chicago : 1987. Admirers of Shapiro's work will welcome this volume of poems selected by the poet himself from over 50 years' work. Shapiro is a craftsman with an eye for detail. In poems such as ``Drug Store, '' ``Haircut, '' and ``The Tingling Back, '' he finds cause for personal celebration in the most quotidian occurrences; yet he is equally adept at probing more public subjects in ``The Conscientious Objector, '' ``Israel'' and ``Vietnam Memorial.
Poets of World War II
ISBN: 1931082332 OCLC: 50417464 Library of America, New York : ©2003. This anthology brings together 120 poems about World War II by 62 American poets, chosen, as editor Harvey Shapiro writes in his introduction, with a purpose: to demonstrate that the American poets of this war produced a body of work that has not yet been recognized for its clean and powerful eloquence. The poets are generally unsentimental, ironic, and often astonished by what they have experienced, and their insights still have the power to shake up our perceptions of that war and of war in general. Most of the poets included in the volume served in the armed forces; some -- Louis Simpson, Anthony Hecht, Kenneth Koch -- saw combat in the infantry, while others -- James Dickey, Howard Nemerov, Richard Hugo, John Ciardi -- fought in the air. Also included: poets who experienced the war as civilians, including Robinson Jeffers, Marianne Moore, and Conrad Aiken; poems by conscientious objectors and draft resisters, including William Stafford and Robert Lowell; and an elegy by James Tate for his father, who was killed in action when Tate was an infant.
Selected poems
ISBN: 1931082340 OCLC: 50417463 Library of America, New York : ©2003. In this new selection, master literary craftsman John Updike provides a long-overdue reassessment of Karl Shapiro, a Pulitzer Prize-winning poet who has become one of the defining figures of the postwar period.
The wild card :
ISBN: 0252023897 OCLC: 37870585 University of Illinois Press, Urbana : ©1998. The Wild Card is that gem among books: a selection of those enduring works that will definitively represent the poet as one of the major artists of our time. Karl Shapiro, who won the Pulitzer Prize in Poetry in 1945 for his second collection, V-Letter and Other Poems, is an American poetic treasure and an acknowledged master of lyrical poetry whose subjects have ranged from commonplace objects and occurrences to biting political commentary to open celebrations of the "necessary contradictions" in humanity's moral nature.