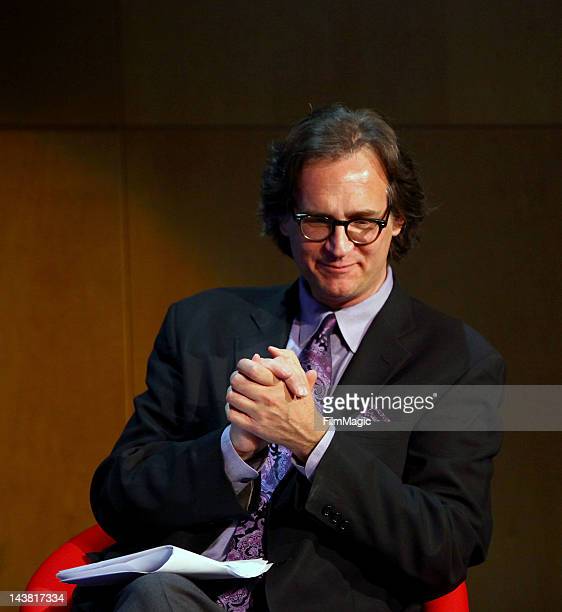 Bill Zehme
Born:
1958 in Chicago, Illinois
Died:
March 26, 2023 in Chicago, Illinois
Pen Name:
None
Connection to Illinois
: Zehme grew up in South Holland and graduated from Loyola University.
Biography
: Bill Zehme, a recipient of the prestigious ASME Award for Profile Writing, was a longtime writer for ''Esquire'' and his work appeared in ''Rolling Stone'', ''Playboy'', and ''Vanity Fair.'' He is also celebrated for his observations of American pop culture. Zehme interviewed a wide range of stars, from Madonna and Sharon Stone to Eddie Murphy and Warren Beatty. The biographer of Hugh Heffner, Andy Kaufman, Jay Leno, Regis Philbin, and Frank Sinatra, he profiled some of the most interesting icons of the entertainment world. He was the last person to interview Johnny Carson.
---
Awards
:
ASME Award National Magazine Award for Profile Writing, 2004
Primary Literary Genre(s):
Non-Fiction
Primary Audience(s):
Adult readers
IMDB:
https://www.imdb.com/name/nm1336274/bio
---
Selected Titles
Carson The Magnificent.
ISBN: 1400064724 OCLC: 566347282 Random House Inc 2005.
Hef's Little Black Book
ISBN: 9780062184306 OCLC: 779265786 Fifty years after inventing the Good Life as no one else had dared, the Master Playboy of the Western World at last shares the secrets that have for generations made him the envy of all free-thinking men and women. Hef's Little Black Book conjures the legendary lifestyle of Hugh M. Hefner as never before, a treasure trove of urbane lore, wry advice, and time-honored wisdom spanning the realms of romance, hedonism, ambition, business, dreams, and, of course, sex. From the pursuit of Love to the politics of the Bedroom, from the inspiration of a single idea to the emergence of a sprawling international corporation built on self-belief, Hef provides an invaluable guide to anyone who has ever thought big.Accompanied by tantalizing, never-before-seen photographs, the gateway to Hugh Hefner's Dream World of Cool awaits you. If you don't swing, don't ring.
I'm Only One Man!
ISBN: 078688911X OCLC: 35245056 Hyperion, New York : ©1995. The popular daytime TV personality recounts his first experiences on television, his family life, his partnership with Kathie Lee Gifford, and his most memorable moments on the set of Live with Regis and Kathie Lee.
Intimate Strangers: Comic Profiles and Indiscretions of the Very Famous
ISBN: 0385333749 OCLC: 49558739 Delta Trade Paperbacks, New York : 2002. Schwarzenegger intimidates.Sharon Stone strips.Leno and Letterman duel.In twenty years of raw and raucous celebrity profilesIrreverently bold journalist Bill Zehme has long been celebrated for his ability to get under the skins of our most elusive icons, from the evasive Warren Beatty to the ever-unpredictable Madonna to the much misunderstood Barry Manilow. Now his most provocative work is collected for the first time, with over twenty-five landmark profiles, including Frank Sinatra, Tom Hanks, Jerry Seinfeld, Liberace, Howard Stern, Eddie Murphy, and Woody Allen.Zehme witnesses Hugh Hefner withstanding the single blow that never entered into an adolescent boy's dreams--losing his fantasy woman. He gets a nude massage with Sharon Stone, and an earful about men, sex, and the shotgun she keeps under her bed. Included, too, is Zehme's exclusive firsthand coverage of David Letterman and Jay Leno, before and throughout their late-night feud. Here is entertainment history through the eyes of a man the Chicago Tribune called "one of the most successful and prolific magazine writers in the country."Hilarious, endearing, and wickedly insightful, Intimate Strangers captures the business of celebrity for what it is: a big, lusty, star-crossed love affair between our icons and ourselves.
Leading with My Chin
ISBN: 0060186941 OCLC: 35280592 The comedian and host of The Tonight Show offers a hilarious collection of anecdotes about growing up, his careers as a mechanic and stand-up comic, life on the road, and success.
Lost in the Funhouse: The Life and Mind of Andy Kaufman
ISBN: 0385333722 OCLC: 45785023 Delta Trade Paperbacks, New York, N.Y. : 2001. From renowned journalist Bill Zehme, author of the New York Times bestselling The Way You Wear Your Hat: Frank Sinatra and the Lost Art of Livin', comes the first full-fledged biography and the only complete story of the late comic genius Andy Kaufman. Based on six years of research, Andy's own unpublished, never-before-seen writings, and hundreds of interviews with family members, friends, and key players in Andy's endless charades, many of whom have become icons in their own right, Lost in the Funhouse takes us through the maze of Kaufman's mind and lets us sit deep behind his mad, dazzling blue eyes to see, firsthand, the fanciful landscape that was his life. Controversial, chaotic, splendidly surreal, and tragically brief--what a life it was.Andy Kaufman was often a mystery even to his closest friends. Remote, aloof, impossible to know, his internal world was a kaleidoscope of characters fighting for time on the outside. He was as much Andy Kaufman as he was Foreign Man (dank you veddy much), who became the lovably bashful Latka on the hit TV series Taxi. He was as much Elvis Presley as he was the repugnant Tony Clifton, a lounge singer from Vegas who hated any audience that came to see him and who seemed to hate Andy Kaufman even more. He was a contradiction, a paradox on every level, an artist in every sense of the word.During the comic boom of the seventies, when the world had begun to discover the prodigious talents of Steve Martin, Richard Pryor, John Belushi, Bill Murray, and so many others, Andy was simply doing what he had always done in his boyhood reveries. On the debut of Saturday Night Live, he stood nervously next to a phonograph that scratchily played the theme from Mighty Mouse. He fussed and fidgeted, waiting for his moment. When it came, he raised his hand and moved his mouth to the words
The Rolling Stone Book of Comedy
ISBN: 0821218484 OCLC: 23939774 Little, Brown, Boston : ©1991. Brief profiles accompany portraits of Robin Williams, Steve Martin, Lilly Tomlin, Jerry Lewis, Jonathan Winters, Whoopi Goldberg, and other comedians.
The Way You Wear Your Hat: Frank Sinatra and the Lost Art of Livin'
ISBN: 0060931752 OCLC: 59383716 HarperPerennial, New York : 1999. In The Way You Wear Your Hat, author Bill Zehme presents a masterful assembly of the most personal details and gorgeous minutiae of Frank Sinatra's way of livingmatters of the heart and heartbreak, friendship and leadership, drinking and cavorting, brawling and wooing, tuxedos and snap-brimsall crafted from rare interviews with Sinatra himself as well as many other intimates, including Tony Bennett, Don Rickles, Angie Dickinson, Tony Curtis, and Robert Wagner, in addition to daughters Nancy and Tina Sinatra.Capturing the timeless romance and classic style of the fifties and the loose sixties, The Way You Wear Your Hat is a stunning exploration of the Sinatra mystique.
Who wants to be me? /
ISBN: 0786867396 OCLC: 45070000 Hyperion, New York : ©2000. Offers a glimpse into the fun-filled life of the host of the popular quiz show