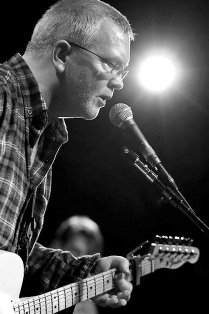 Lawrence O Dean
Born:
in Flint, Michigan
Pen Name:
Larry O. Dean
Connection to Illinois
: Dean currently resides in Chicago.
Biography
: Larry O. Dean was born and raised in Flint, Michigan. As a young man, he worked with Academy Award-winning filmmaker, Michael Moore, published essays and reviews on popular culture in the alternative press, and also cartooned for fanzines and other underground outlets.He attended the University of Michigan, where he won three Hopwood Awards in Creative Writing, an honor shared with fellow poets John Ciardi, Robert Hayden, Jane Kenyon, and Frank O'Hara, among others; and Murray State University's low-residency MFA program. He teaches literature and composition as an adjunct English instructor, and for many years was a Poet-in-Residence in the Chicago Public Schools through the Poetry Center of Chicago's Hands on Stanzas program. He was a recipient of the Gwendolyn Brooks Award for teaching excellence in 2004.In addition, he is a singer, songwriter, and producer, working both solo as well as with several 'hard pop' bands. He has released numerous critically-acclaimed albums, including Throw the Lions to the Christians (1997; reissued 2012) and Sir Slob (2001); Hog Wash! (1989; reissued 2012), The Naked & the Daft (1993; reissued 2012), and Fresh Brood (1994; reissued 2012) with The Fussbudgets; Embarrassment of Riches (1995; reissued 2012) with Malcontent; Public Displays of Affection (1998), Fables in Slang (2001), and WNUR Demos (2012) with Post Office; Gentrification Is Theft (2002), with The Me Decade; and Fun with a Purpose (2009), with The Injured Parties. Since 2001 he has hosted a monthly songwriter showcase, Folk You!He is author of the chapbooks Rate of Exchange & Other Poems (1988); Barking Up the Wrong Tree (1989); QWERTYUIOP (1989); Eyes, Ears, Nose & Throat (1990); Workers' Comp. (1995); Identity Theft for Dummies (2003); I Am Spam (2004), a series of poems 'inspired' by spam email; About the Author (2011), which"displaces the focus of auto-referentiality from the text to the author as the para-textual 'author bio' becomes the matter of the poems"; abbrev (2011), a short series of poems based on abbreviations and acronyms culled from popular culture as well as technical and business jargon; and Basic Cable Couplets (2012), a series of 'found' poems with text adapted/modified from, and/or inspired by listings for TV movies. A full-length collection, Brief Nudity is forthcoming in 2013. Selected magazine publications include The Berkeley Poetry Review, Gryphon, Passages North, Third Lung Review, The Altered Mind, Lilliput Review, Amaranth Review, Kumquat Meringue, California Quarterly, The Monona Review, Whoreson Dog, Pacific Coast Journal, Tomorrow, Poetry at the 33 Review, Work, Strong Coffee, Maelstrom, Clark Street Review, Red Rock Review, Big Bridge, Pigeon, The Banana King, Sliced Bread, Old City Cool, Keyhole, OCHO, filling Station, Alehouse, Dinosaur Bees, Logan Square Literary Review, Used Furniture Review, Blue & Yellow Dog, Heavy Feather Review, Artichoke Haircut, The Brooklyner, Packingtown Review, and The Battered Suitcase. His work has been widely anthologized, and translated into Chinese, Italian, and Spanish.After living in San Francisco for over a decade, he makes his home in Chicago.
---
Awards
:
Primary Literary Genre(s):
Poetry
Primary Audience(s):
Adult readers
Website:
http://www.larryodean.com
Lawrence O Dean on WorldCat :
http://www.worldcat.org/search?q=lawrence+o+dean
---
Selected Titles
Brief nudity /
ISBN: 1908836407 OCLC: 841183870
Exchange rate misalignment :
ISBN: 1283512696 OCLC: 698585513 International Monetary Fund, [Washington, D.C.?] : ©2006. Botswana's successive currency devaluations and recent move from a fixed to a crawling peg exchange rate regime raise the question of whether the exchange rate might be misaligned with economic fundamentals. This paper, applying the behavioral equilibrium exchange rate (BEER) approach, analyzes the behavior of the real exchange rate for the period 1985-2004. It finds that the pula was undervalued in the later 1980s but overvalued in recent years. Some policy lessons from experiences in other countries with crawling peg arrangements are therefore considered in the context of Botswana.
I am spam :
ISBN: 0972255362 OCLC: 57726986 Fractal Edge Press, Chicago, IL : 2004.
Passages north anthology :
ISBN: 0915943484 OCLC: 20994292 Milkweed Editions, Minneapolis, Minn. : 1990.
The restoration of creation in Christ :
ISBN: 9780758639516 OCLC: 858896405