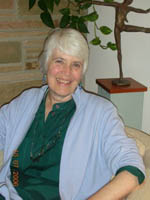 Elizabeth Gould Hearne
Born:
1942 in Wilsonville, Alabama
Pen Name:
Betsy Hearne
Connection to Illinois
: Hearne studied children's literature and folklore, got a Ph. D. at the University of Chicago's Graduate Library School, and became a professor. She lives in Urbana, Illinois.
Biography
: Betsy Hearne is former Director of The Center for Children's Books and a professor emerita in the Graduate School of Library and Information Science at the University of Illinois at Urbana-Champaign, where she taught children's literature and storytelling for many years. She is the author of numerous articles and books, including ''Choosing Books for Children: A Commonsense Guide,'' the folktale anthology ''Beauties and Beasts'', fiction for both children and young adults, and picture booksóone of which, ''Seven Brave Women'', won the Jane Addams Children's Book Award. The former children's book editor of ''Booklist'' and of ''The Bulletin of the Center for Children's Books'', she has reviewed books for almost forty years and contributes regularly to ''The Horn Book Magazine''. Hearne has been president of the United States chapter of the International Board on Books for Young People, and chair of the American Library Associationís Caldecott Award Committee. She received a National Teaching Award from the Association of Library and Information Science Education; the 2009 Anne Devereaux Jordan Award from the Childrenís Literature Association; and from the University of Illinois, a University Scholar Award and a Graduate College Outstanding Mentor Award.
---
Awards
:
Carl Sandburg award for Eli`s Ghost 1987
Primary Literary Genre(s):
Fiction-Children Poetry
Primary Audience(s):
Adult readers; Children; Children; Young adult readers
Email:
ehearne@illinois.edu
Website:
http://people.lis.illinois.edu/~ehearne/
Elizabeth Gould Hearne on WorldCat :
http://www.worldcat.org/search?q=elizabeth+gould+hearne
---
Selected Titles
Beauty and the beast :
ISBN: 0226322394 OCLC: 19265930 University of Chicago Press, Chicago : 1989. Traces the familiar tale from its folklore origins, through its literary shaping in the 1700s, the moral instruction and lavish illustrations of the 1800s, to the modern psychological interpretations in books, movies, and television. Isolates common motives in such elements as character, narrative voice, image, object, and symbol. The illustrations include 12 superb color reproductions.
Choosing books for children :
ISBN: 0252069285 OCLC: 45288985 University of Illinois Press, Urbana, Ill. : 2000, ©1999. Offers advice on how to choose books for children, and features essays about various genres of children's books, each followed by an annotated bibliography of recommended titles.
Eli's ghost /
ISBN: 0689504209 OCLC: 14357538 Margaret K. McElderry Books, New York : ©1987. Eli searches for the mother he'd long assumed dead in a huge swamp where he is sustained by the ghosts of friends from earlier days and where a brush with death causes his own ghost to leave his body and get into all the mischief Eli never has.
Eliza's dog /
ISBN: 068980704X OCLC: 32778657 Margaret K. McElderry Books, New York : ©1996. Nine-year-old Eliza's vacation in Ireland and England is complicated when she acquires a bouncy sheepdog named Panda.
Hauntings, and other tales of danger, love, and sometimes loss /
ISBN: 0061239100 OCLC: 76261586 Greenwillow Books, New York : ©2007. Fifteen stories of death and hauntings, set in the past, the present, and the afterlife.
Home /
ISBN: 0689501145 OCLC: 4495600 Atheneum, New York : 1979. Megan and Randall's adventuresome and dangerous search for the lost king Brendan takes them to a strange land inhabited by lion-like men.
Listening for Leroy /
ISBN: 0689822189 OCLC: 38752912 Margaret K. McElderry Books, New York : ©1998. Growing up in rural Alabama in the 1950s, ten-year-old Alice has no one to talk to but Leroy, the black farm hand, but when Alice's doctor father moves the family to Tennessee, she has trouble fitting in and she sorely misses Leroy.
Polaroid and other poems of view /
ISBN: 0689505302 OCLC: 22347617 M.K. McElderry Books ; New York : ©1991. A collection of forty-six of the author's poems on such topics as city sights, insights, and relationships.
Seven brave women /
ISBN: 0060799218 OCLC: 34413580 Greenwillow Books, New York : ©1997. A young girl recounts the brave exploits of her female ancestors, including her great-great-great grandmother who came to America in a wooden sailboat.
South star /
ISBN: 0689500912 OCLC: 2818054 Atheneum, New York : 1977. A young giant girl is chased from her ancestral home by the "Screamer."
The Canine Connection
ISBN: 1416968172 OCLC: 184826000 Simon Pulse 2007.
Who's in the hall? :
ISBN: 0688162614 OCLC: 42040960 Greenwillow Books, New York : 2000. Three children, two babysitters, two dogs, a rat, and a janitor finally get together and put an end to some confusion.