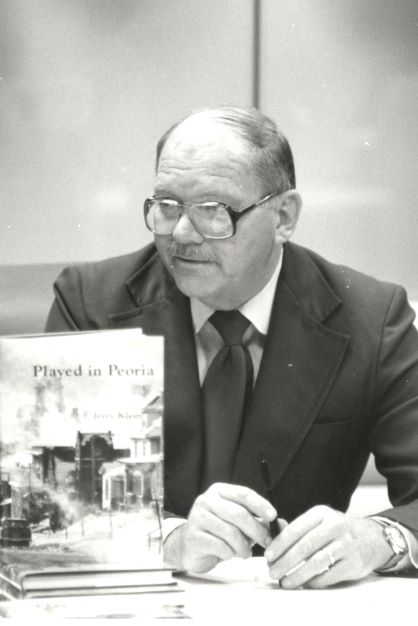 Jerry Klein
Born:
Peoria, Illinois December 19, 1926
Died:
Metamora, Illinois August 21, 2017
Pen Name:
None
Connection to Illinois
: Klein lived in and near Peoria throughout his life, except for service in World War II.
Biography
: Jerry Klein was a very popular Peoria journalist, with many articles on Illinois communities and cultural aspects, as well as the author of various historical and cultural books and one novel. The child of Erwin and Louise Klein, he was born in Peoria on December 19, 1926, and he grew up in the East Bluff area. He attended St. Bernard's School and Spalding Institute (a high school). He enlisted in the U. S. Navy in 1944 and served on an aircraft carrier. After the war, he received a bachelor's degree in music from Bradley University in 1950. A talented pianist, Klein also did graduate study in music at the University of Illinois. He married Mary E. Dudas in 1955, and they eventually had seven children. He joined the Peoria Journal Star staff as an editorial writer in 1953, and he was a music and drama critic for many years, but his most popular articles dealt with everyday life and local culture in Peoria and its hinterland in central Illinois. He provided engaging commentaries on such communities as Beardstown, Canton, Colchester, Elmwood, Fountain Green, Galesburg, Havana, Lewistown, Nauvoo, Oquawka, Petersburg, Rushville, and Springfield. He also wrote about some larger and more distant places, like Chicago, St. Louis, New York, and Paris. His first book was a collection of those personal-essay articles, titled Played in Peoria (1980). After retiring from the Journal Star in 1992, he continued to write occasional opinion articles for that newspaper, as well as a column titled "It Seems to Me" for The Catholic Post. A small number of Klein's articles were also reprinted in national publications like the New York Times, Redbook, and the Reader's Digest. The focus and quality of Klein's Illinois articles have also been discussed by scholar John E. Hallwas in "The Regional Essays of Jerry Klein," Western Illinois Regional Studies (Spring, 1978). Klein also wrote or co-authored several other books. Four are focused on Peoria, including Peoria! (1985), Peoria Industry: A Pictorial History (1997), A Century of Music (1997), and The Very Best of Old Peoria (1998). He also teamed up with Peoria Journal Star photographer Jack L. Bradley, to produce a couple of illustrated books: Lusts of the Prairie Preachers (1996), on an Illinois historical episode, and The Lost Art of Our Nation's Cemeteries (2005), an arts commentary. With Elliott Royce, he also co-authored Royce!: The Life, Times, Best Jokes, and Funniest Photos of America's Favorite Clean Comedian (1994), and with Fred Novotny, he co-authored The Good Soldier (1996). Klein produced one short novel, Fathersday (1981), which is focused on a father-son relationship. It is semi-autobiographical.
---
Awards
:
Distinguished Alumni Award from Spalding Institiute in 2010, for his exceptional service and dedication to the principles and values of Peoria Notre Dame.
Primary Literary Genre(s):
Non-Fiction
Primary Audience(s):
Adult readers
:
---
Selected Titles
Fathersday
ISBN: 0933180284 OCLC: Peoria, IL. : Ellis Press, Peoria, IL. : ©1981.
Peoria Industry: A Pictorial History
ISBN: 0943963591 OCLC: St. Louis, MO : G. Bradley Pub., St. Louis, MO : ©1997.
Peoria!
ISBN: 0961575905 OCLC: Peoria, IL : Published by Visual Communications in cooperation with the Peoria Historical Society, Peoria, IL : 1985.
Played in Peoria
ISBN: 0933180144 OCLC: Peoria, Ill. : Kickapoo Press, Peoria, Ill. : ©1980.
The Very Best of Old Peoria
ISBN: 0943963613 OCLC: