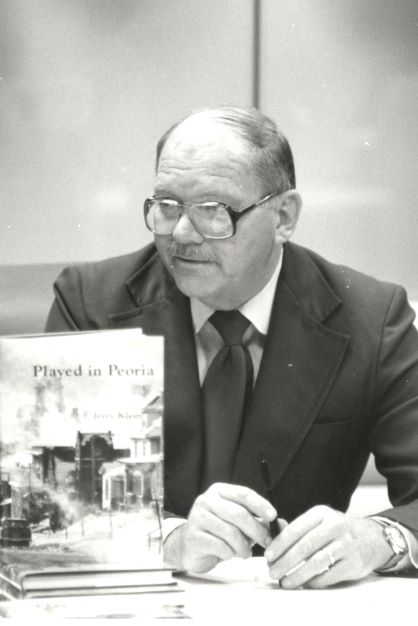 Jerry Klein
Born:
1926 in Peoria, Illinois
Died:
2017 in Metamora, Illinois
Pen Name:
None
Connection to Illinois
: Klein was born in Peoria and grew up in the city's East Bluff. He graduated from Spalding High School in 1945. After the war, he received a bachelor's degree in music from Bradley University in 1950 and completed two years of graduate study at the University of Illinois.
Biography
: Jerry Klein was a journalist and the author of several books. He joined the Peoria Journal Star in 1953 as an editorial writer. During his 55-year career at the Journal Star, Jerry Klein wore many hats. He edited copy, wrote editorials, covered the local arts scene and reviewed hundreds of performances. He also wrote a Sunday column on a number of topics — a favorite was the beauty of the ever-changing weather in central Illinois. He spent most of his professional life as music and drama critic for the Peoria Journal Star and author of the Journal Star's 'Once over Lightly' column. After his retirement from the Journal Star in 1992, Jerry continued to write opinion articles for the Peoria Journal Star and the 'It Seems to Me' column for The Catholic Post. Jerry was honored with the Distinguished Alumni Award from Spalding Institute in 2010 for his exceptional service and dedication to the principles and values of Peoria Notre Dame.
---
Awards
:
Primary Literary Genre(s):
Non-Fiction
Primary Audience(s):
Adult readers
Jerry Klein on WorldCat :
http://www.worldcat.org/search?q=jerry+klein
---
Selected Titles
Fathersday
ISBN: 0933180284 OCLC: 8011416 Ellis Press, Peoria, IL. : ©1981.
Peoria industry :
ISBN: 0943963591 OCLC: 38117695 G. Bradley Pub., St. Louis, MO : ©1997.
Peoria! /
ISBN: 0961575905 OCLC: 12948314 Published by Visual Communications in cooperation with the Peoria Historical Society, Peoria, IL : 1985.
Played in Peoria /
ISBN: 0933180144 OCLC: 6559879 Kickapoo Press, Peoria, Ill. : ©1980.
The very best of old Peoria /
ISBN: 0943963613 OCLC: 41359251