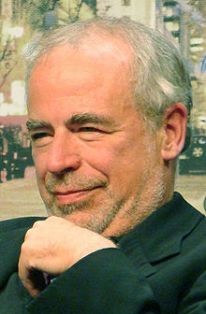 Richard Russo
Born:
July 15, 1949 in Johnstown, New York
Pen Name:
None
Connection to Illinois
: Russo was a professor in the 1980's at SIU in Carbondale.
Biography
: Richard Russo was a professor at SIU in the 1980s and was teaching in SIU's English department when his first novel, "Mohawk," was published in 1986. Director Robert Benton adapted Russo's 1993 novel Nobody's Fool as a 1994 film of the same title, starring Paul Newman, which Benton directed. Russo also wrote the teleplay for the HBO adaptation of his 2001 Pultizer Prize winning novel, Empire Falls. Russo's 1997 novel Straight Man was adapted by Paul Lieberstein and Aaron Zelman into a television show entitled Lucky Hank starring Bob Odenkirk for AMC. The series debuted on March 19, 2023 on AMC. He currently lives in Portland, Maine.
---
Awards
:
Empire Falls Pulitzer Prize (Fiction), 2002
Primary Literary Genre(s):
Fiction
Primary Audience(s):
Adult readers
IMDB:
https://www.imdb.com/name/nm0751720/
Wikipedia:
https://en.wikipedia.org/wiki/Richard_Russo
---
Selected Titles
Bridge of sighs
ISBN: 9781400030903 OCLC: 240201586 Vintage Contemporaries, New York : 2008. Louis Charles Lynch (also known as Lucy) is sixty years old and has lived in Thomaston, New York, his entire life. He and Sarah, his wife of forty years, are about to embark on a vacation to Italy. Lucy's oldest friend, once a rival for his wife's affection, leads a life in Venice far removed from Thomaston. Perhaps for this reason Lucy is writing the story of his town, his family, and his own life that makes up this rich and mesmerizing novel, interspersed with that of the native son who left so long ago and has never looked back. --Page [4] cover.
Empire falls /
ISBN: 0307275132 OCLC: 46863970 Alfred A. Knopf, New York : 2001. Milo Roby tries to hold his family together while working at the Empire Grill in the once-successful logging town of Empire Falls, Maine, with his partner, Mrs. Whiting, who is the heir to a faded logging and textile legacy.
Everybody's fool
ISBN: 9781952535185 OCLC: 967879855 Allen & Unwin, Sydney : 2017. The great American master Richard Russo, at the very top of his game, returns to the characters who made Nobody's Fool (1993) a contemporary classic.
Interventions :
ISBN: 1608931854 OCLC: 760971793 Down East Books ; Camden, Me. : ©2012. Collects a novella and three short stories highlighting the human condition as seen through the lives of ordinary people, including a self-obsessed realtor and a young professor.
Mohawk /
ISBN: 0679753826 OCLC: 13796397 Vintage Books, New York : 1986. Recounts the triumphs and tragedies of the characters in a small-town in upstate New York.
Nobody's fool /
ISBN: 0739306936 OCLC: 52882768 Random House Audio, [New York] : 2003. In this affectionate story of small town life in upstate New York, Sully, a fitfully employed 60-year-old construction worker, is a cheerful curmudgeon who has made a lifetime of bad decisions. He unexpectedly has a chance to make right some of them when his estranged son and grandson drop back into his life.
Straight Man.
ISBN: 1952535573 OCLC: 967890932 Allen & Unwin, Sydney : 2017. In this uproarious novel, Richard Russo performs his characteristic high-wire walk between hilarity and heartbreak.
That old Cape magic
ISBN: 1400030919 OCLC: 464646681 Alfred A. Knopf, New York : 2009. The lives of Jack and Joy Griffin always seem to come back to Cape Cod, where they honeymooned, as they experience the ups and downs of life, including the deaths of Jack's parents, the marriage of their daughter, and Jack and Joy's divorce.
The collected stories of Richard Yates /
ISBN: 0413771261 OCLC: 59265530 Methuen, London : 2004.
The risk pool /
ISBN: 0679753834 OCLC: 17803510 Random House, New York : ©1988. For two decades Ned is shuttled back and forth between his mother, Jenny, and his father, Sam, after Sam abandoned them and now Ned struggles to win his father's affection while avoiding his sins.
The whore's child :
ISBN: 0375726012 OCLC: 48951448 Alfred A. Knopf, New York : 2002. A collection of short fiction explores the lives of a variety of characters, including a jaded Hollywood filmmaker, a precocious fifth-grader watching his parents' marriage disintegrate, and a child forced into a harrowing cross-country escape.