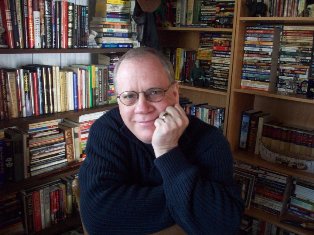 Thomas McNulty
Born:
1955 in Chicago, Illinois
Pen Name:
None
Connection to Illinois
: McNulty was born in Chicago and is a graduate of Columbia College in Chicago. He lives in Crystal Lake.
Biography
: Thomas McNulty is the author of the critically acclaimed biography Errol Flynn: The Life and Career, the culmination of over a decade of research and writing. His celebrity interviews, articles, essays, book reviews and film reviews have appeared in numerous publications – from the slicks to the pulps – including: American Cowboy, Filmfax, The Big Reel, Classic Images, Films of the Golden Age, Kung-Fu Magazine, Mystery News, Comic Effect and Scary Monsters among others. Tom has also published poetry in various literary journals. He has also published a wide range genre novels such as The Adventures of Captain Graves, The Phantom Blonde, Trail of the Burned Man and Spirits of Tomahawk Canyon.
---
Awards
:
Primary Literary Genre(s):
Fiction; Non-Fiction; Poetry
Primary Audience(s):
Adult readers
Website:
http://tommcnulty.blogspot.com
---
Selected Titles
Ambush at Skyline Ranch /
ISBN: 0719828562 OCLC: 1063696299
Coffin for an outlaw /
ISBN: 0719816475 OCLC: 918901409 Robert Hale, London : 2015. "When legendary lawman-turned-bounty-hunter Chance Sonnet reappears, the word spreads that he wants Eric Cabot dead. Cabot, in the dark as to Sonnet's motives, sends his men to kill Sonnet first. The task proves more difficult than he imagines and Cabot's men meet their match in Sonnet, one of the fastest gunmen in the West. As the chase draws Cabot's men to Boot Hill, time and time again Sonnet's gun roars with lethal accuracy as his trail becomes a battleground. Sonnet's followers do not stop there, as he finds himself pursued by a plucky newspaperwoman and an old Texas ranger who knows something of Sonnet's past. Plagued by Kansas tornadoes and facing the toughest gunslingers the Old West can throw at him, Sonnet's single-minded mission becomes an odyssey of adventure. Blazing a trail in a buckboard and hauling a pine coffin intended for Cabot, Chance Sonnet is a man haunted by the past and facing a future steeped in blood."--Publisher description.
DEATH RIDES A PALOMINO.
ISBN: 0359490646 OCLC: 1099268204
Errol Flynn :
ISBN: 0786417501 OCLC: 54391954 McFarland, Jefferson, N.C. : ©2004. "Errol Flynn set the standard for the modern action hero in films like The Adventures of Robin Hood, Dodge City, and The Sea Hawk. This biography follows Flynn from his birth in Tasmania, Australia, in 1909, through his exuberant years in Hollywood, to his death in Vancouver, Canada, in 1959 after years of alcohol and drug abuse had ruined him. It includes analysis of his films, discussion of the 1943 rape trial that changed his life, a survey of the FBI's infamous surveillance, and the first detailed account of his television appearances in the 1950s. First-hand interviews with Flynn's friends and colleagues are complemented by research from FBI files, correspondence, Flynn's diary, and other sources."
GHOST TOWN GOLD.
ISBN: 035970011X OCLC: 1107532240
Gunfight at crippled horse.
ISBN: 1300315113 OCLC: 925439486 Lulu Com, [Place of publication not identified] : 2013.
Jack ripcord.
ISBN: 1300914416 OCLC: 923900721 Lulu Com, [Place of publication not identified] : 2013.
Showdown at Snakebite Creek
ISBN: 9781444812404 OCLC: 793689191 Linford, Leicester : 2012. Cole Tibbs' father was murdered alongside Snakebite Creek seven years ago. Now Cole returns to Raven Flats wanting justice. But he's soon in confrontation with greedy landowner Carleton Usher, his ruthless sons and a group of killers. The arrival of the enigmatic US Marshal Maxfield Knight raises the stakes in a deadly game of survival. Cole's desire to settle the old grudge has only two things in his favour -- his ruthless determination and his ability with a gun.
SPIRITS OF TOMAHAWK CANYON.
ISBN: 0359555241 OCLC: 1097676791
SUNSET AT RIO HONDO.
ISBN: 1678162647 OCLC: 1147881172
The adventures of Captain Graves /
ISBN: 1946183415 OCLC: 1107044361 Of all the colorful men who sailed the exotic waters of the South Pacific, none was more legendary than Captain Elliot Graves. Rogue, pirate, spy, explorer were all titles used in telling of adventures aboard his ship, The Reaper's Scythe. Then in 1944, Captain Graves disappeared without a trace, his ship supposedly sinking off the coast of Australia with all hands lost. Eight years later, reporter Bill Harrison finds Graves living in Honolulu and manages to persuade him to recount the events of his last and greatest adventure. The legendary sea captain then reveals for the first time what actually happened on a remote South Sea island that changed his life forever. Writer Thomas McNulty spins a fast-paced tale of two-fisted men, beautiful women and lush island paradises where both heaven and hell await. Here are classic pulp thrills as delivered by a master storyteller
The gunsmoke serenade /
ISBN: 0719829852 OCLC: 1108711652 While passing through Cherrywood Crossing, US Marshal Maxfield Knight is confronted by a gang of hired guns who tell him to ride the other way, or be shot down. With no choice but to ride into the high country, Knight soon learns he is being hunted by a man named Silas Manchester, but why, he has no idea. Determined to survive this dangerous game that he's been forced to play, Knight is destined to become the hunter rather than the hunted. Aided by a mountain man named Lacroix, Knight decides to bring the fight to Manchester and get answers. Meanwhile, Knight's partner, Deputy US Marshal Cole Tibbs, sets out looking for his missing friend. Tibbs will discover that he, like his friend, has also become part of a dangerous game that turns into a serenade of violence.
The Legend of Alan McKenna
ISBN: B08LJ9F1J8 OCLC:
The Masked Rider: Tales of the Wild West (Volume Three)
ISBN: 1953589022 OCLC:
The Phantom Blonde
ISBN: 0359490689 OCLC: 1096224252
Trail of the burned man /
ISBN: 0709088175 OCLC: 434562820 Robert Hale, London : 2009. When Rafe Morgan rides into a Wyoming town called Twisted Oak, he gets into a saloon brawl and horribly disfigures an outlaw named Dutch Williams. Vowing revenge, Dutch and his men pillage the town and take two hostages, including the marshal's daughter. Rafe joins Deputy U.S. Marshal Ethan O'Hara and a small posse in the hunt for Dutch, but they soon realize that Dutch didn't take hostages to negotiate--he took them as bait. Dutch won't be satisfied with stolen money; he wants blood, and he'll stop at nothing until Rafe and the posse are destroyed. Following the outlaw's trail, the posse now find themselves in a desperate struggle for their very lives.
Werewolves! :
ISBN: 9781593936754 OCLC: 788617199
Wind rider /
ISBN: 0709089112 OCLC: 491960130 Robert Hale, London : 2010. "His name is Hank Benteen, but the Sioux call him Wind Rider. Suddenly Benteen finds himself involved in a deadly conflict as he resolves to help the homesteaders against impossible odds. Before long, Benteen finds himself the target of two greedy men intent on murder."--Publisher.