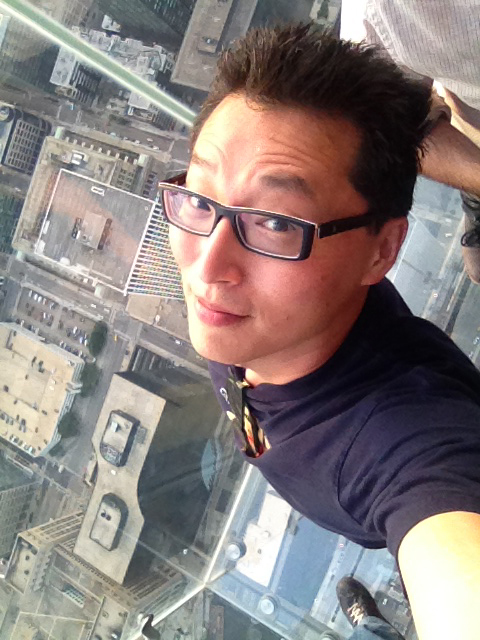 Gene Ha
Born:
in Chicago
Pen Name:
None
Connection to Illinois
: Ha was born in Chicago and currently resides in Berwyn, Illinois.
Biography
: Gene Ha is a comics artist and writer best known for his work on the ''Top 10'' series with Alan Moore and Zander Cannon. Ha has been illustrating since 1992. For a full list of his work, please go to [http://geneha.com/home/4584744550 Ha's webpage].
---
Awards
:
-- Russ Manning Most Promising Newcomer Award, 1994
-- Eisner Award for Best New Series for ''Top Ten'', with Alan Moore and Zander Cannon, 2000
-- Eisner Award for Best Continuing Series for ''Top Ten'', with Alan Moore and Zander Cannon, 2001
-- Eisner Award
Primary Audience(s):
Young adult readers
Facebook:
https://www.facebook.com/pages/Gene-Ha/163146063704467
Gene Ha on The Comic Book Database :
http://comicbookdb.com/creator.php?ID=174
Gene Ha on Comic Vine :
http://www.comicvine.com/gene-ha/4040-4115/
Twitter:
https://twitter.com/geneha
Website:
http://geneha.com
Gene Ha on WorldCat :
http://www.worldcat.org/search?q=gene+ha
---
Selected Titles
Absolute Top 10
ISBN: 9781401238254 OCLC: 806016046
Top 10 /
ISBN: 1401254934 OCLC: 889523085 "The massive, multilayered city of Neopolis, built shortly after World War II, was designed as a home for the expanding population of science-heroes, heroines and villains that had ballooned into existance in the previous decade. Bringing these powered beings together solved some problems but created others - turning Neopolis into a pressure cooker that normal policing methods could never contain. Join rookie cop Robyn Singer, alter ego "Toybox," as she hits the streets for the first time along with a colorful crew of fellow officers, each having the required training to deal with science-villains and super-crimes. You'll never look at powers, or police work, the same way again! Written by Alan Moore (WATCHMEN, V FOR VENDETTA) and drawn by the team of Gene Ha and Zander Cannon, TOP 10 combines superheroics and cop drama like no series before or after it. Collects issues #1-12"--
Top 10 :
ISBN: 1401205739 OCLC: 61396702 America's Best Comics, La Jolla, CA : ©2005. The year is 1949, and science heroes and war champions are gathering in the city of Neopolis, now under construction as a home for those with extra-human powers and talents. One of those heroes is a very young ace pilot, Steve Traynor, also known as Jetlad, fresh from the battle-torn skies of Europe, and anxious for a new life and career. With him is his former enemy combatant Leni Muller, the Sky Witch, ready to prove herself worthy of the chance given to her in Neopolis. They are hardly prepared for the challenges facing the experimental city. Science crime and unearthly gang violence has swiftly followed the heroes into this new, wide-open environment. Will their courage and skills be enough for the tasks ahead?
Top 10.
ISBN: 1401209912 OCLC: 70875669 America's Best Comics, La Jolla, CA : ©2006. Neopolis is a city in turmoil. A mysterious force has the populace in the icy grip of terror and the authorities are powerless to do anything about it. To make matters worse, the venerated Captain Traynor, AKA Jetman, has been unceremoniously replaced. Now the officers must band together, overcome their personal squabbles, and get their city back on track, before it all comes tumbling down on their heads.
Top 10.
ISBN: 1563898764 OCLC: 49938694 America's Best Comics, La Jolla, CA : ©2002. In a second installment of the Eisner Award-winning series, the super-science police officers of Precinct 10 continue their efforts to protect the citizens of Necropolis and chase down the mysterious Libra killer, whose true identity threatens the life of a comrade.
Top 10.
ISBN: 1563896680 OCLC: 45234686 America's Best Comics, La Jolla, CA : ©2000. A graphic novel introducing the officers of Precinct Ten, who protect the city of Neopolis from evil villains and danger.
Top ten
ISBN: 1840232757 OCLC: 46332036 Titan, London : 2001.