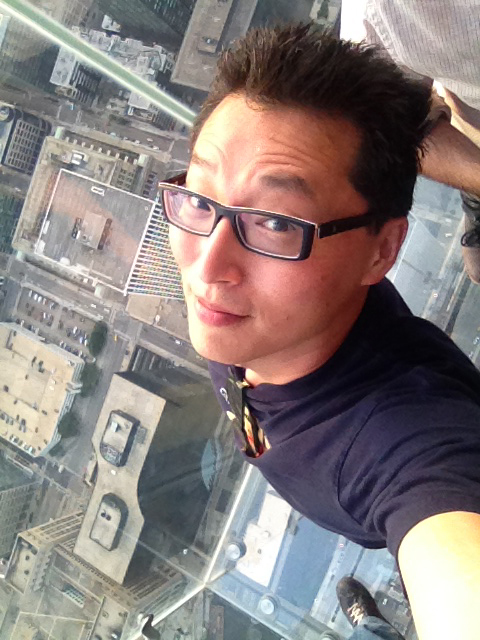 Gene Ha
Born:
in Chicago
Pen Name:
None
Connection to Illinois
: Ha was born in Chicago and currently resides in Berwyn, Illinois.
Biography
: Gene Ha is an award-winning artist. He generally works with comics as a penciller, inker, cover artist, etc. While he is known for his collaborative work on the Top 10 and Top 10 Forty Niners series with Alan Moore and Zander Cannon, he also created his own series, Mae, in 2015. Ha has been illustrating since 1992.
---
Awards
:
Justice League of America #11: Walls 2008 Eisner Award for Best Single Issue
Top Ten 2000 Eisner Award for Best New Series; 2001 Eisner Award for Best Continuing Series
Primary Literary Genre(s):
Fiction; Illustrator
Primary Audience(s):
Adult readers; Young adult readers
Facebook:
https://www.facebook.com/pages/Gene-Ha/163146063704467
Instagram:
https://www.instagram.com/genehacomix/
Twitter:
https://twitter.com/geneha
Web:
http://geneha.com
Web:
https://www.dc.com/talent/gene-ha
Wikipedia:
https://en.wikipedia.org/wiki/Gene_Ha
---
Selected Titles
Absolute Top 10
ISBN: 9781401238254 OCLC: 806016046
Batman, Fortunate Son
ISBN: 1563895781 OCLC: DC Comics 1999 When the Dark Knight suspects a modern-day rock-and-roll icon of masterminding a nationwide crime spree using teenaged fans as his henchmen, Batman runs into unexpected opposition from an unexpected source: his own ward, Robin. Certain that his idol is not guilty, Dick Grayson sets out to uncover a bizarre and elaborate frame-up in this dazzlingly illustrated graphic novel.
JSA vs. Kobra
ISBN: 1401227295 OCLC: New York : DC Comics New York : 2010 The new lord of Kobra has shown his true face of evil, and now the JSA stands ready to face Kobra. But the old tactics may not work against this new terrorist network. Conspiracy mastermind Eric Trautmann (Checkmate, Final Crisis: Resist) and artist Don Kramer (Detective Comics, Nightwing) take you inside the mind of Jason Burr, the diabolically clever Kobra leader whose goal is nothing less than bringing the world into the age of Kali Yuga. Set throughout the major cities of the DC Universe, this graphic novel sets the stakes higher than ever before for the Justice Society!
Mae Vol. 1
ISBN: 1549302795 OCLC: Oni Press 2018 Mae's beloved older sister, Abbie, has been missing for years. Mae has her theories about where Abbie might be. But nowhere in her wildest imagination do those theories encompass a fantasy world full of terrifying monsters, power-hungry nobles, and nefarious scientists. That is, until Abbie suddenly reappears in Mae's world. And not alone.
Mae Vol. 2
ISBN: 1549302809 OCLC: Oni Press 2019 Mae has followed her long-lost sister Abbie through a gate and into another world: Cimrterén, a world full of dangerous creatures, strange science, and warring nobles. Their father has gone missing at the hands of these malicious dukes, and Mae and Abbie must fight their way to the heart of Ebenhrad to find their father. Along their journey, they'll come across old friends, plus some new adversaries determined to stand in their way. In the second volume of the series, Mae and Abbie face some of their biggest challenges yet. Even fantasy-locked sisters can have their differences.After a big blow-up fight, Mae sets out on her own, leaving Abbie behind. When Mae learns that navigating her own way through Cimrterén isn't as easy as she thought, she calls on her old friend Dahlia for backup. Together they begin to uncover sinister secrets and piece together a much darker history to the Fortell family than they'd ever thought possible.
Top 10
ISBN: 1401254934 OCLC: 889523085 Vertigo 2015 The massive, multilayered city of Neopolis, built shortly after World War II, was designed as a home for the expanding population of science-heroes, heroines and villains that had ballooned into existance in the previous decade. Bringing these powered beings together solved some problems but created others - turning Neopolis into a pressure cooker that normal policing methods could never contain.
Top 10 :
ISBN: 1401205739 OCLC: 61396702 America's Best Comics, La Jolla, CA : ©2005. The year is 1949, and science heroes and war champions are gathering in the city of Neopolis, now under construction as a home for those with extra-human powers and talents. One of those heroes is a very young ace pilot, Steve Traynor, also known as Jetlad, fresh from the battle-torn skies of Europe, and anxious for a new life and career. With him is his former enemy combatant Leni Muller, the Sky Witch, ready to prove herself worthy of the chance given to her in Neopolis. They are hardly prepared for the challenges facing the experimental city. Science crime and unearthly gang violence has swiftly followed the heroes into this new, wide-open environment. Will their courage and skills be enough for the tasks ahead?
Top 10.
ISBN: 1401209912 OCLC: 70875669 America's Best Comics, La Jolla, CA : ©2006. Neopolis is a city in turmoil. A mysterious force has the populace in the icy grip of terror and the authorities are powerless to do anything about it. To make matters worse, the venerated Captain Traynor, AKA Jetman, has been unceremoniously replaced. Now the officers must band together, overcome their personal squabbles, and get their city back on track, before it all comes tumbling down on their heads.
Top 10.
ISBN: 1563898764 OCLC: 49938694 America's Best Comics, La Jolla, CA : ©2002. In a second installment of the Eisner Award-winning series, the super-science police officers of Precinct 10 continue their efforts to protect the citizens of Necropolis and chase down the mysterious Libra killer, whose true identity threatens the life of a comrade.
Top 10.
ISBN: 1563896680 OCLC: 45234686 America's Best Comics, La Jolla, CA : ©2000. A graphic novel introducing the officers of Precinct Ten, who protect the city of Neopolis from evil villains and danger.
Top ten
ISBN: 1840232757 OCLC: 46332036 Titan, London : 2001. Already hailed by critics as classic Moore, Top Ten is Hill Street Blues...with superheroes. To police Neopolis, a city teeming with superbeings, you need a team of the greatest superbeings of all. Welcome to Precinct 10 - the local stationhouse of an interdimensional super-powered police force! Top Ten follows the lives, adventures and relationships of ten very diverse superhero cops, who have to deal with everything from skyscraper-sized invaders from another dimension to the pettiest of domestic disputes...
X-Men: Cyclops & Phoenix - Past & Future (X-Men: Cyclops & Phoenix - Past & Future, 1)
ISBN: 1302913794 OCLC: Marvel 2018 oin Scott Summers and Jean Grey on a pair of wild adventures in time! First, the newly married couple faces a honeymoon like no other when they're pulled 2,000 years into the future! There, Cyclops and Phoenix must raise Scott's son Nathan in the shadow of Apocalypse! Can this post-nuclear family overthrow the ancient tyrant and his sadistic protégé, the boy called Stryfe? Witness the story that sets Nathan on the path to becoming Cable! Then, Cyclops and Phoenix are thrown back in time to Victorian England to witness the rise of another mutant menace! Meet scientist Nathaniel Essex, and learn for the first time how his obsession with evolution and his own encounter with Apocalypse transform him into...Mister Sinister!