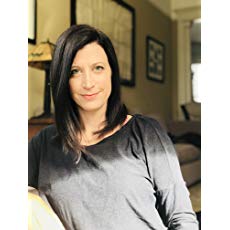 Lindsay N. Currie
Born:
Galesburg, Illinois
Pen Name:
None
Connection to Illinois
: Currie is a Galesburg native who graduated from Knox College. She currently resides in Chicago.
Biography
: Lindsay Currie is a member of the SCBWI, the YA Scream Queens, the Horror Writers Association, and OneFourKidLit, a community of authors who made debuts in 2014.
---
Awards
:
"The Peculiar Incident on Shady Street"
-- Finalist, Mark Twain Award, Missouri, 2019/2020
-- Finalist, Children's Book Award, Rhode Island, 2019/2020
-- Finalist, Young Hoosier Award, Indiana, 2019/2020
-- Finalist, Children's Choice Award, Iowa, 2019/2020
-- Finalist, Young Panda Award, China, 2019/2020
-- ILLINOIS Reads Book Selection, Illinois Reading Council, 2020
"Scritch Scratch"
-- Illinois Reads Book Selection, Illinois Reading Council, 2022
Primary Literary Genre(s):
C:YOUNG ADULT; Fiction
Facebook:
https://www.facebook.com/Author-Lindsay-Currie-607067126002275/
Instagram:
https://www.instagram.com/lindsayncurrie/?hl=en
Twitter:
https://twitter.com/lindsayncurrie
Website:
https://www.lindsaycurrie.com/
Website:
https://spookymiddlegrade.com/portfolio/lindsay-currie/
---
Selected Titles
Creed /
ISBN: 0738740802 OCLC: 868649125 When their car breaks down, Dee, her boyfriend Luke, and his brother Mike walk through a winter storm to take refuge in a nearby deserted town called Purity Springs, but in the morning they see the town is populated with a deadly cult and find themselves at the mercy of the charismatic leader, Elijah Hawkins.
Hardwired /
ISBN: 0738742260 OCLC: 900594973 After several months in a government facility undergoing psychological testing related to his "warrior gene," seventeen-year-old Lucas has been approved to return to normal life--but decides instead to go back into the facility to save a prisoner and reveal what is truly going on there.
Scritch Scratch
ISBN: 1728209722 OCLC: Claire has absolutely no interest in the paranormal. She's a scientist, which is why she can't think of anything worse than having to help out her dad on one of his ghost-themed Chicago bus tours. She thinks she's made it through when she sees a boy with a sad face and dark eyes at the back of the bus. There's something off about his presence, especially because when she checks at the end of the tour...he's gone. Claire tries to brush it off, she must be imagining things, letting her dad's ghost stories get the best of her. But then the scratching starts. Voices whisper to her in the dark. The number 396 appears everywhere she turns. And the boy with the dark eyes starts following her. Claire is being haunted. The boy from the bus wants something...and Claire needs to find out what before it's too late.
Sweet madness /
ISBN: 1440588945 OCLC: 907147986 Bridget Sullivan, a maid in the Borden household, describes the events leading up to the murder of Andrew Borden and his second wife, and how the youngest daughter, Lizzie, was put on trial for the crime.
The Girl in White
ISBN: 1728236541 OCLC:
The peculiar incident on Shady Street /
ISBN: 1481477056 OCLC: 972284675 When lights start flickering and temperatures suddenly drop, twelve-year-old Tessa Woodward, sensing her new house may be haunted, recruits some new friends to help her unravel the mystery of who or what is trying to communicate with her and why.--Provided by Publisher.
What lives in the woods /
ISBN: 1728245729 OCLC: 1245959038 Ginny is unhappy when her family moves from Chicago to upstate Michigan for the summer; her father has a job restoring a 1930s mansion, but there are rumors about Woodmoor and the forest next to it: rumors about strange mutant creatures; Ginny, an aspiring mystery writer, is soon half convinced that the rumors are true, because something or someone is haunting the house--and she plans to investigate, with the help of Will, the older boy who lives nearby.