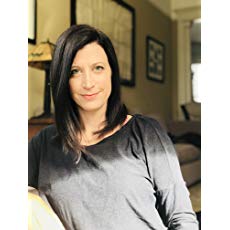 Lindsay N. Currie
Born:
Galesburg, Illinois
Pen Name:
None
Connection to Illinois
: Currie is a Galesburg native who graduated from Knox College. She currently resides in Chicago.
Biography
: Lindsay Currie is a member of the SCBWI, the YA Scream Queens, the Horror Writers Association, and OneFourKidLit, a community of authors who made debuts in 2014.
---
Awards
:
The Peculiar Incident on Shady Street Finalist, Mark Twain Award, Missouri, 2019/2020; Finalist, Children's Book Award, Rhode Island, 2019/2020; Finalist, Young Hoosier Award, Indiana, 2019/2020; Finalist, Children's Choice Award, Iowa, 2019/2020; Finalist, Young Panda Award, China, 2019/2020; ILLINOIS Reads Book Selection, Illinois Reading Council, 2020
Scritch Scratch Illinois Reads Book Selection, Illinois Reading Council, 2022
Primary Literary Genre(s):
Fiction
Primary Audience(s):
Young adult readers
Facebook:
https://www.facebook.com/Author-Lindsay-Currie-607067126002275/
Instagram:
https://www.instagram.com/lindsayncurrie/
Twitter:
https://twitter.com/lindsayncurrie
Web:
https://www.lindsaycurrie.com/
Web:
https://spookymiddlegrade.com/portfolio/lindsay-currie/
---
Selected Titles
Creed /
ISBN: 0738740802 OCLC: 868649125 When their car breaks down, Dee, her boyfriend Luke, and his brother Mike walk through a winter storm to take refuge in a nearby deserted town called Purity Springs, but in the morning they see the town is populated with a deadly cult and find themselves at the mercy of the charismatic leader, Elijah Hawkins.
Hardwired /
ISBN: 0738742260 OCLC: 900594973 After several months in a government facility undergoing psychological testing related to his
It Found Us
ISBN: 1728259495 OCLC: Sourcebooks Young Readers 2023 From the author of Scritch Scratch and The Girl in White comes a new spooky mystery about a girl detective who must decode a series of ominous clues tied to a century-old tragedy to find a missing teenager before it's too late…Twelve-year-old Hazel Woods has always had an unusual knack for sleuthing. Some may call it snooping, but all she really wants is to solve mysteries around town. So, when she not-so-accidentally overhears her brother Den planning to sneak into the cemetery at night for an epic game of hide-and-seek, she decides to secretly tag along. This seems like the perfect opportunity to investigate the claims that the cemetery is haunted.But the moment the game ends, Hazel realizes something is very, very wrong. From her hiding spot in the bushes, she overhears that her brother's best friend, Everett, is missing. Everyone else was found by the seeker but there's no sign of Everett anywhere. It's as if he just . . . vanishedHazel and Den are determined to find Everett before it's too late. But as they begin to unravel the terrifying clues that started appearing since that night in the graveyard–eerie whispers that sound like someone counting, the intermittent smell of smoke, and the cold, lost presence that follows them everywhere, she's not sure what they are dealing with. But Everett needs more than search parties and scent-tracking dogs to find him, especially if his disappearance is tied to the history of the cemetery, and the lost, century-old spirits that might still be trapped there . . .
Scritch Scratch
ISBN: 1728209722 OCLC: Claire has absolutely no interest in the paranormal. She's a scientist, which is why she can't think of anything worse than having to help out her dad on one of his ghost-themed Chicago bus tours. She thinks she's made it through when she sees a boy with a sad face and dark eyes at the back of the bus. There's something off about his presence, especially because when she checks at the end of the tour...he's gone.Claire tries to brush it off, she must be imagining things, letting her dad's ghost stories get the best of her. But then the scratching starts. Voices whisper to her in the dark. The number 396 appears everywhere she turns. And the boy with the dark eyes starts following her.Claire is being haunted. The boy from the bus wants something...and Claire needs to find out what before it's too late.
Sweet madness /
ISBN: 1440588945 OCLC: 907147986 Bridget Sullivan, a maid in the Borden household, describes the events leading up to the murder of Andrew Borden and his second wife, and how the youngest daughter, Lizzie, was put on trial for the crime.
The Girl in White
ISBN: 1728236541 OCLC: Sourcebooks Young Readers 2022 For fans of Small Spaces and the Goosebumps series by R.L Stine comes a chilling story about a twelve-year old girl who must face down the most notorious ghost in her haunted East coast town to stop a centuries-old curse that threatens to destroy everything.Mallory hasn't quite adapted to life in her new town of Eastport yet. Maybe it's because everyone is obsessed with keeping the town's reputation as the most cursed town in the US.And thanks to the nightmares she's had since arriving, Mallory hardly sleeps. Combined with the unsettling sensation of being watched, she's quickly becoming convinced there's more to her town. Something darker.When Mallory has a terrifying encounter with the same old woman from her dreams, she knows she has to do something―but what? With Eastport gearing up to celebrate the anniversary of their first recorded legend Mallory is forced to investigate the one legend she's always secretly been afraid of . . . Sweet Molly.Pick up The Girl in White if you are looking for:A book for middle school students, 5th grade to 9th gradeA story with a strong female protagonist that explores bravery, friendship, and familyMystery books for kids 9-12Chilling ghost stories and ghost books for kids (perfect for Halloween!)Historical mysteries for kidsSpooky middle grade for fans of stories about Salem or Spooky Hollow
The Mystery of Locked Rooms
ISBN: 1728259533 OCLC: Sourcebooks Young Readers 2024 Crack the codes. Find the treasure. Escape the house.From the acclaimed author of Scritch Scratch and What Lives in the Woods comes a action-packed adventure novel about three friends who team up to find a hidden treasure in an abandoned 1950's funhouse.Twelve-year-old Sarah Greene wants nothing more from her seventh-grade year than to beat the hardest escape room left in her town with her best friends, West, and Hannah. But when a foreclosure notice shows up on Sarah's front door, everything changes. Since her father became ill two years ago, things have been bad, but not lose your house bad...until now. Sarah feels helpless until the day Hannah mentions a treasure rumored to be hidden in the walls of an abandoned funhouse. According to legend, Hans, Stefan, and Karl Stein were orphaned at eight years old and lived with different families until they were able to reunite as adults. Their dream was to build the most epic funhouse in existence. They wanted their experience to be more than mirror mazes and optical illusions, so they not only created elaborate riddles and secret passages, but they also claimed to have hidden a treasure inside the funhouse. Once in, Sarah, West, and Hannah realize the house is unlike any escape room they've attempted. There are challenges, yes, but they feel personal. Like the triplets knew who would get in. It seems impossible, but so does everything about the house. As soon as they're in she immediately worries that attempting the funhouse is a bad idea but Sarah has no choice but to continue, since her future is at stake.
The peculiar incident on Shady Street /
ISBN: 1481477056 OCLC: 972284675 When lights start flickering and temperatures suddenly drop, twelve-year-old Tessa Woodward, sensing her new house may be haunted, recruits some new friends to help her unravel the mystery of who or what is trying to communicate with her and why.--Provided by Publisher.
What lives in the woods /
ISBN: 1728245729 OCLC: 1245959038 Ginny is unhappy when her family moves from Chicago to upstate Michigan for the summer; her father has a job restoring a 1930s mansion, but there are rumors about Woodmoor and the forest next to it: rumors about strange mutant creatures; Ginny, an aspiring mystery writer, is soon half convinced that the rumors are true, because something or someone is haunting the house--and she plans to investigate, with the help of Will, the older boy who lives nearby.