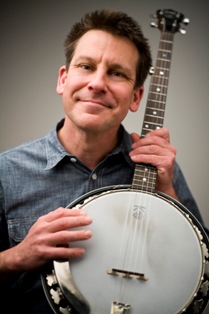 Jim Gill
Born:
Pen Name:
None
Connection to Illinois
: The author lives and works in Oak Park and graduated from the Erikson Institute.
Biography
: Gill is an author and musician. He is a child development specialist, completing his graduate studies in child development at the Erikson Institute of Chicago with a special emphasis on the study of play. For this reason, each of Jim's books and recordings is created as an opportunity for playful interactions between a child and a caring adult.Jim travels throughout the country leading family 'read-along/sing-along' concerts at reading festivals and literacy events. He also speaks to early childhood educators and librarians at conferences and training sessions about the many connections between music, play and literacy.''A Soup Opera'' is a sing-along opera inspired by concerts that Jim performs with symphony orchestras. The book was named a 2010 Notable Children's Book and Recording by the American Library Association.Gill's CD's include: *''Jim Gill Sings the Sneezing Song and Other Contagious Tunes'' *''Jim Gill Sings Do Re Mi on his Toe Leg Knee''*''Jim Gill Presents Music Play for Folks of All Stripes''*''Jim Gill's Irrational Anthem and More Salutes to Nonsense'' *''Jim Gill Sings Moving Rhymes For Modern Times'' *''Jim Gill Makes It Noisy In Boise Idaho''
---
Awards
:
'''''A Soup Opera'''''
-- 2010 Notable Children's Book & Recording Award from the American Library Association '''''May There Always Be Sunshine'''''
-- 2002 Winner of the Book Award from the Philadelphia Children's Museum
-- 2015 ILLINOIS READS Book
Primary Literary Genre(s):
Fiction
Primary Audience(s):
Children
Email:
jimgill@jimgill.com
Facebook:
https://www.facebook.com/pages/Jim-Gill/124295044779?ref=search&sid=759547994.590835553..1
Website:
http://www.jimgill.com
Jim Gill on WorldCat :
http://www.worldcat.org/search?q=jim+gill
---
Selected Titles
A soup opera /
ISBN: 0981572103 OCLC: 276784149 Jim Gill, Oak Park, IL : 2009. This is a richly illustrated story of a man, a bowl of soup and the man's operatic and frustrating quest to eat it. The book is accompanied by a music cd of the opera being performed.
Jim Gill's irrational anthem :
ISBN: 0967903882 OCLC: 48061520 Contains sixteen songs that celebrate jumping, singing, tongue twisting, rhyming, and play, performed by Jim Gill, along with his band, guest instrumentalists, men's and children's choruses, and a professional yodeler.
May there always be sunshine :
ISBN: 0967903866 OCLC: 47856744 [J. Gill Books], [Oak Park, IL] : 2001. Using thoughts children have shared during concerts, the book expands on a traditional Russian folk song.