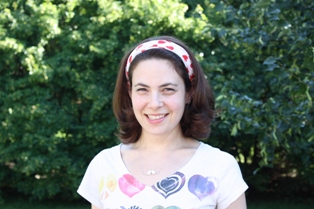 Julie Halpern
Born:
January 14 in Chicago, Illinois
Pen Name:
None
Connection to Illinois
: Halpern is a Chicago native and currently resides in Gurnee.
Biography
: Halpern is the author of young adult and adult books. She is married to Matthew Cordell, an Illinois author and illustrator of children's books and has collaborated on children's books with him. Before becoming a full-time writers, she was a middle-school librarian.
---
Awards
:
Toby and the Snowflakes - Starred review, The Bulletin of the Center for Children's Books
Into the Wild Nerd Yonder - South Carolina Young Adult Book Award, ALA Best Book for Young Adults, 2013 ILLINOIS READS Book
Have a Nice Day - Kirkus Best Teen Book of 2012, Bank Street Best Children's Book of the Year
-- YALSA 2013 Best Fiction for Young Adults
Get Well Soon - NAMI-NYC Metro 2007 Ken Book Award for an outstanding literary contribution to a better understanding of mental illness , Kirkus Reviews Best YA Book of 2007, 2008 Quick Picks for Reluctant Young Adult Readers , IRA Young Adult Choice 2009
Primary Literary Genre(s):
Fiction
Primary Audience(s):
Adult readers; Children; Young adult readers
E-Mail:
julie@juliehalpern.com
Facebook:
https://www.facebook.com/halpern.julie
Instagram:
https://www.instagram.com/julie.halpern/
Twitter:
https://twitter.com/julie_halpern
Web:
http://www.juliehalpern.com/
---
Selected Titles
Don't stop now /
ISBN: 0312643462 OCLC: New York : Feiwel and Friends, New York : 2011. Recent high school graduates Lil and Josh leave Illinois for Oregon seeking Lil's sort-of friend Penny, who faked her own kidnapping to escape problems at home and an abusive boyfriend, but Lil also wants to find out if she and Josh are meant to be more than friends.
Get well soon /
ISBN: 0312367953 OCLC: New York : Feiwel and Friends, New York : 2007. When her parents confine her to a mental hospital, an overweight teenaged girl, who suffers from panic attacks, describes her experiences in a series of letters to a friend.
Girl on the ferris wheel /
ISBN: 1250169399 OCLC: Tenth graders Eliana and Dmitri could not be more different. He's an outgoing, self-confident drummer in a punk band called Unexpected Turbulence. Eliana is introspective and thoughtful, and a movie buff who is living with depression. Dmitri quite literally falls for Eliana when he sees her in gym class and slams into a classmate. The pair then navigate the ins and outs of first love. Exciting, scary, unexpected, and so much more difficult than they ever imagined. They say opposites attract, but they soon realize that there is so much they just don't understand about each other. It begs the question: How long can first love possibly last when you're so different? --
Have a nice day /
ISBN: 1250034205 OCLC: New York : Feiwel and Friends, New York : 2012. When Anna returns from a three-week stay in a mental hospital she struggles to resume a normal life in the face of her parents' arguments and peers who are afraid to ask her what happened.
Into the wild nerd yonder
ISBN: 9780312653071 OCLC: New York, NY : Feiwel and Friends, New York, NY : 2009. When high school sophomore Jessie's long-term best friend transforms herself into a punk and goes after Jessie's would-be boyfriend, Jessie decides to visit the wild nerd yonder and seek true friends among classmates who play Dungeons and Dragons
Maternity leave /
ISBN: 125006502X OCLC: The profane, profound and just plain funny story of a professional woman who thinks she's ready for a baby but her maternity leave proves otherwise. Thirty six year old Annie Schwartz-Jensen is a middle school teacher on maternity leave-a time she imagined as uninterrupted, blissful bonding with her baby. Instead she is dealing with her body leaking from every possible orifice, a baby who won't sleep, a husband who still wants to have sex with her (is he nuts??), single friends who are clueless, and a mother who picked now to take a vacation. The only people who REALLY understand Annie are the wonderful people she spends sleepless nights with on QVC: Keep those velveteen table runners and non-jiggle stretch pants coming! As Annie navigates life with her new baby, she realizes that not all Mommies are created equal. But she is determined to find her way, love her baby, her husband, herself--even if she has to wear nipple protectors for the rest of her child-bearing life --
Meant to be /
ISBN: 1250094984 OCLC: In a world where the name of one's meant to be mate appears on one's chest at age eighteen, Aggy must decide whether to trust the phenomenon or follow her heart.
The F- it list
ISBN: 9781250056955 OCLC: When Becca does something nearly unforgivable at Alex's dad's funeral, Alex cuts ties with her and focuses on her grieving family. Time passes, and Alex learns Becca has cancer. It also turns out Becca has a bucket list, one she doesn't know she'll be able to finish now. That's where Alex comes in, along with a mysterious and guarded boy who just may help Alex check a few items off her own bucket list.
Toby and the Snowflakes
ISBN: B01K92MNVW OCLC: