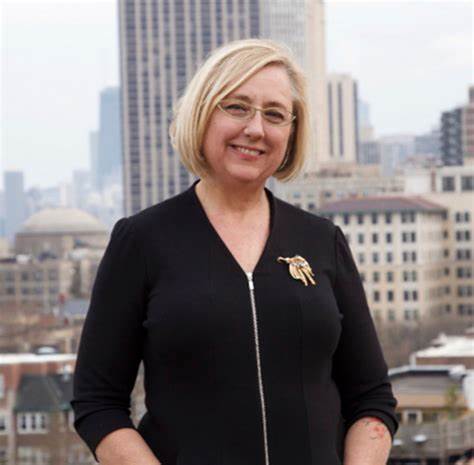 Barrie Jean Borich
Born:
1959 in Chicago, Illinois
Pen Name:
None
Connection to Illinois
: Borich is a native Chicagoan. After thirty years of being away, she resides there again today and teaches at DePaul.
Biography
: Barrie Jean Borich is a writer, teacher, and editor. After living in Minneapolis for thirty years, Borich returned to Chicago in 2012. She is an associate professor in the English Department and MA in Writing and Publishing Program at DePaul University in Chicago. She leads writing workshops for graduate and undergraduate students at DePaul, teaches courses in LGBTQ memoir and the history and practice of the American literary magazine, and she edits Slag Glass City, a digital journal of the urban essay arts.
---
Awards
:
My Lesbian Husband WINNER of the American Library Association Stonewall Book Award

Body Geographic Winner of a LAMBDA LITERARY AWARD in Memoir; IPPY Gold Medal in Essay/Creative Non-Fiction
Apocalypse, Darling SHORTLISTED for a LAMBDA LITERARY AWARD in LESBIAN MEMOIR & BIOGRAPHY!
Primary Literary Genre(s):
Non-Fiction
Primary Audience(s):
Adult readers
E-Mail:
Borich
Facebook:
https://www.facebook.com/barriejeanborich
Twitter:
https://twitter.com/BOOKofBJB
Web:
http://barriejeanborich.com
Wikipedia:
https://en.wikipedia.org/wiki/Barrie_Jean_Borich
---
Selected Titles
Apocalypse, Darling
ISBN: 0814254624 OCLC: Mad Creek Books 2018 From award-winning author Barrie Jean Borich comes Apocalypse, Darling, a narrative, lyric exploration of the clash between old and new. Set in the steel mill regions of Chicago and in Northwest Indiana, the story centers on Borich's return to a decimated landscape for a misbegotten wedding in which her spouse's father marries his high school sweetheart. The book is a lilting journey into an ill-fated moment, where families attempt to find communion in tense gathering spaces and across their most formative disappointments. Borich tells the story of the industrial heartland that produced the steel that made American cities, but also one of the most toxic environmental sites in the world. As concise as a poem and as sweeping as an epic novel, Apocalypse, Darling explores the intersection of American traditional and self-invented social identities and the destruction and re-greening of industrial cityscapes. Borich asks: can toxic landscapes actually be remediated and can patriarchal fathers ever really be forgiven? In a political climate where Borich is forced to daily re-enter the toxic wastelands she thought she'd long left behind, Apocalypse, Darling is an urgent collision of broken spaces, dysfunctional affections, and the reach toward familial and environmental repair.
Body Geographic
ISBN: 0803239858 OCLC: 824353866 A memoir from the award-winning author of My Lesbian Husband, Barrie Jean Borich's Body Geographic turns personal history into an inspired reflection on the points where place and person intersect, where running away meets running toward, and where dislocation means finding oneself. One coordinate of Borich's story is Chicago, the prototypical Great Lakes port city built by immigrants like her great-grandfather Big Petar, and the other is her own port of immigration, Minneapolis, the combined skylines of these two cities tattooed on Borich's own back. Between Chicago and Minneapolis Borich maps her own Midwest, a true heartland in which she measures the distance between the dreams and realities of her own life, her family's, and her fellow travelers' in the endless American migration. Covering rough terrain—from the hardships of her immigrant ancestors to the travails of her often-drunk young self, longing to be madly awake in the world, from the changing demographics of midwestern cities to the personal transformations of coming out and living as a lesbian—Body Geographic is cartography of high literary order, plotting routes, real and imagined, and putting an alternate landscape on the map.
My Lesbian Husband: Landscapes of a Marriage
ISBN: 1555973108 OCLC: 42386895 Graywolf Press, Saint Paul, Minn. : ©1999. A memoir of the author's life and love she shares with her long-term partner, Linnea.
Restoring the Color of Roses
ISBN: 1563410273 OCLC: 27725422 A collection of creative nonfiction about getting better: A vivid portrait of a lesbian who fell out of her life and came back restored.