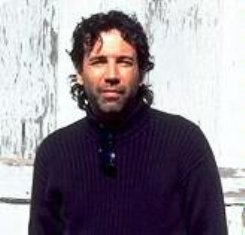 Billy McCarthy
Born:
1960 in Chicago's West Pullman neighborhood, Illinois
Pen Name:
None
Connection to Illinois
: Bill McCarthy grew up in the south suburbs of Chicago, Illinois.
Biography
: Billy McCarthy is a self-taught musician on drums and classical piano, and is most notable as a rock drumming recording artist (D'Molls, Atlantic Records) and Chicago top selling published novelist. In 2004 McCarthy published The Devil of Shakespeare, the first novel in literary history to include a CD/song to a novel, written by the author. The book features performances from Billy and several platinum selling recording artists, amongst, JY from Styx, Jani Lane from Warrant, Ron Flynt from 20/20, and Chip Z'Nuff from Enuff Znuff.
---
Awards
:
Member of Society of Midland Authors Former major recording artist, record producer
Primary Audience(s):
Adult readers; Young adult readers
Email:
drumdior@comcast.com
Website:
http://www.billymccarthy.com
Billy McCarthy on WorldCat :
http://www.worldcat.org/search?q=billy++mccarthy
---
Selected Titles
The devil of Shakespeare :
ISBN: 1932100261 OCLC: 53287760 BenBella Books, Dallas, TX : 2004. Hollywood mega-star Darian Fable is making a daring escape from his celebrity shackles. Fueled by a fervent ambition to exorcise his torturous childhood, Fable, formerly known as David Faulkner, scaled the treacherous heights of the movie business to become Hollywood's golden boy. Collecting Oscars and commanding an A-list salary, Darian is surrounded by sniveling studio executives, seedy agents and intrusive reporters who ravenously leech his talent, fame and fortune. Haunted by his formative years on Chicago's south side under the oppressive rule of an abusive father and aunt, the entertainment emperor pines for a family life and friends he can trust. As Hollywood gasps, Darian relinquishes his throne and disappears with his entertainment mogul wife for a quiet existence in the Connecticut hills. A sensational news story unfolds as his decision to abandon stardom produces a turbulent chain of events, threatening the careers of the entertainment industry's most powerful people. Even in seclusion, Darian is under intense glare and in grave danger as the former star is hunted by vengeful studio executives, vulturous paparazzi and his shadowy past.