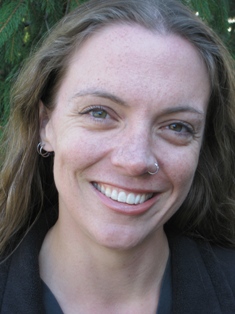 Jessica Lee Walsh
Born:
1974 in Ludington, Michigan
Pen Name:
Jessica L. Walsh
Connection to Illinois
: Walsh moved to Illinois in 2001 while finishing her graduate studies and teaching at North Central College. After taking her current teaching position at Harper College in 2002, she moved from Chicago to the northwest suburbs.
Biography
: Jessica Walsh is a poet and Professor of English at Harper College in suburban Chicago. She is also the blog manager of Agape Editions, so check it out too! Her writing has appeared or is forthcoming in RHINO, Tinderbox, Sundog Literature, Midwestern Gothic, Ninth Letter online, Whale Road Review, Crab Creek Review, Yellow Chair review, and many others.
---
Awards
:
Literary Awards Abbie M. Copps Poetry Competition, First Place, 2007; Nominated for Best New Poets, 2012; Crab Creek Review Poetry Contest, Honorable Mention, 2012; Illinois Emerging Writers Competition, Second Place, 2014
Primary Literary Genre(s):
Poetry
Primary Audience(s):
Adult readers
Blog:
http://www.jessicalwalsh.com/blog/
E-Mail:
jwalshpoetry@yahoo.com
Facebook:
https://www.facebook.com/Jessica.Lee.Walsh/
Twitter:
https://twitter.com/jessicaleewalsh
Web:
http://www.jessicalwalsh.com
Web:
https://bloggingthenuminous.com/
---
Selected Titles
Book of Gods & Grudges
ISBN: 1941783899 OCLC: Glass Lyre Press 2022 Jessica Walsh's Book of Gods and Grudges tells a tale of generational trauma and transcendence. She declares early on that "My first kin were killers," people for whom "burnout was a luxury" they could not afford. Her speaker struggles through illness and sobriety and grappling with God as a problem she tries to solve as she finds her own calling. The poems are unflinchingly honest and impeccably crafted. They show us what it means to stay "flagrantly alive." -Grace Bauer, author of Unholy Heart: New and Selected Poems
How to Break My Neck
ISBN: 1942004206 OCLC: 939532374 Poetry. The poems in Jessica Walsh's HOW TO BREAK MY NECK are alive, visceral, and softly twitching. Each section beginning with different famous last words, these poems interrogate hard-hitting themes of purpose, mortality, and legacy with beautifully playful language. Whether discussing summer camp or a shark in a tsunami, these poems illuminate what it feels like to live, to be breakable.
The List of Last Tries
ISBN: 099878107X OCLC: 1104140564 "Jessica Walsh's The List of Last Tries is a miracle of focus, a sustained gothic nursery rhyme that describes a girl's coming of age and coming into power, for which she is shunned and exiled as freak, witch, and murderer. This collection is a captivating female picaresque, each poem taking a step deeper into marginality's fierce power." — Diane Seuss, Still Life with Two Dead Peacocks and a Girl, Four- Legged Girl, Pulitzer Prize Finalist