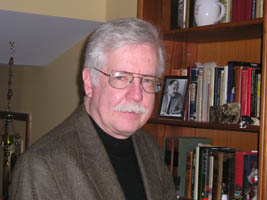 Jared R.W. Smith
Born:
1950 in Cleveland, Ohio
Pen Name:
Jared Smith
Connection to Illinois
: Smith lives in Lisle, Illinois.
Biography
: Jared Smith's poems, essays, and literary criticism have appeared hundreds of times in literary journals over the past 30 years. These include Spoon River Quarterly, Poet Lore, The Kenyon Review, Rhino, The New York Quarterly, Pulpsmith, Greenfield Review, Coe Review, Fine Madness, The Pedestal, Bitterroot, and many many others. His poetry has been adapted to modern dance at New York's Lincoln Center for the Performing Arts and to stage in Naperville. Jared reads frequently throughout the Chicagoland area, and has given featured readings at both Chicago and suburban library branches, as well as at Ridgefield School, where he was featured the week after Kevin Stein appeared. He is past president of Poets & Patrons, a member of The Chicago Poets' Club, and a member of the Illinois State Poetry Society. Jared is also Poetry Editor of Trail & Timberline (the official journal of the Colorado Mountain Club) and Managing Editor of The New York Quarterly.
---
Awards
:
Primary Literary Genre(s):
Poetry
Email:
smithjrw@comcast.net
Website:
http://www.jaredsmith.info
Jared R.W. Smith on WorldCat :
http://www.worldcat.org/search?q=jared+r.w.+smith
---
Selected Titles
Dark wing :
ISBN: 0930975006 OCLC: 12395379 Charred Norton Pub., Camillus, N.Y. : ©1984.
Keeping the outlaw alive /
ISBN: 0942582144 OCLC: 19987538 Erie Street Press, Oak Park, Il. : ©1988.
Lake Michigan and other poems /
ISBN: 0972433945 OCLC: 62782648 Puddin'head Press, Chicago, IL : 2005.
The graves grow bigger between generations :
ISBN: 0977655687 OCLC: 165958070 Higganum Hill Books, Higganum, Conn. : 2007
Walking the perimeters of the plate glass window factory /
ISBN: 0913559660 OCLC: 48011487 Birch Book Press, Delhi, NY : ©2001.
Where images become imbued with time :
ISBN: 0972433961 OCLC: 150895556 Puddin'head Press, Chicago : 2007.