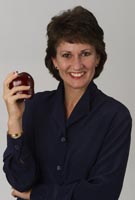 Kim Kay Dalzell
Born:
1961 in Bismark, North Dakota
Pen Name:
Kim Dalzell
Connection to Illinois
: Dalzell lives in Grayslake, Illinios.
Biography
: Kim Dalzell says we can ''Challenge Cancer and Win!'' Dalzell, an oncology nutritionist with more than a decade of experience in the cancer treatment field, has written a step-by-step nutrition action plan for specific forms of cancer. She explains how sound nutritional therapy can strengthen the immune system, decrease treatment side effects, increase the effectiveness of chemo and radiation, reduce chances of cancer progression, lower risks of recurrence and prevent malnutrition.
---
Awards
:
'''''Challenge Cancer and Win'''''
-- Honorable Mention, Writers Digest Self-Published Books Award
Primary Audience(s):
Adult readers
Email:
nqoffice@sbcglobal.net
Website:
http://www.challengecancer.com/
Kim Dalzell on WorldCat :
http://www.worldcat.org/search?q=kim+dalzell
---
Selected Titles
Challenge cancer and win! :
ISBN: 0971255873 OCLC: 49643072 NutriQuest Press, Round Lake, Ill. : ©2002. Effective nutritional strategies to help you beat cancer.
Give it to me straight! :
ISBN: 0971255822 OCLC: 54529688 NutriQuest Press, Round Lake, Ill. : ©2004.