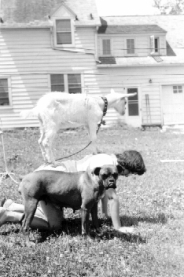 Jacqueline Dougan Jackson
Born:
1928 in Beloit, Wisconsin
Pen Name:
Jacqueline Jackson
Connection to Illinois
: Jacqueline was one of the founding faculty of Sangamon State University - now University of Illinois at Springfield. She currently resides in Springfield.
Biography
: Jacqueline is the author of ''More Stories from the Round Barn'', the companion volumen to her widely praised ''Stories from the Round Barn''. Readers were introduced to life on the farm that WJ Dougan founded in 1906 near Beloit, Wisconsin, whre they had built an ununsual round barn. Using anecdotes, stories and vivid description, Jackson detailed her recollections of farm life with both drama and comic relief. ''More Stories'' continues Jackson's loving tribute to life on the Dougan farm and surrounding community introducing readers to a host of new characters to accompany familiar faces found in the first volume. Jacqueline is a retired Professor of English from the University of Illinois at Springfield and is a consultant in creative writing. She originated ''Reading and Writing and Radio'', a radio show broadcast in Wisconsin and Central Illinois for over twenty years where many thousands of children had their written stories read over the air. Jackson has received awards and citations from the American Library Association for her children's work. Her first story was published when she was ten years old.Currently, she writes a poetry column in the Illinois Times, a weekly newspaper published in Springfield, Illinois.
---
Awards
:
Jacqueline has received the Dorothy Canfield Fisher children's book award. Jacqueline was honored at the 2005 Illinois Authors Book Fair sponsored by the Illinois Center for the Book and the Illinois State Library in Springfield, Illinois.
Primary Audience(s):
Adult readers; Children; Children
Blog:
http://community.roundbarnstories.com/
Email:
jjack1@uis.edu
Website:
http://jacqueline-jackson.com/
Jacqueline Dougan Jackson on WorldCat :
http://www.worldcat.org/search?q=jacqueline+dougan+jackson
---
Selected Titles
Chimes of a Lost Cathedral.
ISBN: 0316454192 OCLC: 1090830077 Little Brown & Company 2019.
More stories from the round barn
ISBN: 9780810151352 OCLC: 48951090 TriQuarterly Books, Evanston, Ill. : ©2002.
Orchestra mice.
ISBN: 999750643X OCLC: 948770012 Contemporary Books, [Place of publication not identified] : 1970.
Spring song /
ISBN: 0873380401 OCLC: 149974 Kent State University Press Kent, Ohio] [1968, ©1969]
Stories from the round barn /
ISBN: 0810151014 OCLC: 37211224 TriQuarterly Books, Evanston, Ill. : 2000, ©1997. "Using stories, anecdotes, history, and even veterinary science, Jackson braids together a series of dramatic fragments and episodes to vividly recreate life on the Dougan dairy farm." "Founded in 1911 by W.J. Dougan near Beloit, Wisconsin, the Dougan farm, with its unusual round barn, is symbolic of a vanishing era. A renowned farm which was among the first to introduce many aspects of modern dairying to its operation, the Dougan farm eventually became a victim of agribusiness-style dairying and was closed." "As Jackson recreates the texture and tone of life on the farm, larger themes emerge: the constant balancing between material life and spirit, the quest for humane values within a hard world of business and labor, the difficult lessons fundamental to childhood."--BOOK JACKET.
The endless pavement /
ISBN: 0816431051 OCLC: 624088 Seabury Press, New York : [1973] Living in a time when people are the servants of automobiles and ruled by the master auto of the planet, Josette longs to leave her rollabout and try her legs.
The round barn :
ISBN: 1884941184 OCLC: 830696685 "One hundred years ago, in 1911, Wesson J. Dougan finished building an innovative round barn on his dairy near Beloit, Wisconsin."--Volume 1, page [4] of cover.
Turn not pale, beloved snail :
ISBN: 0316454818 OCLC: 969743 Using excerpts from her own writing and that of her children and other authors, the author suggests a variety of approaches to learning to write.