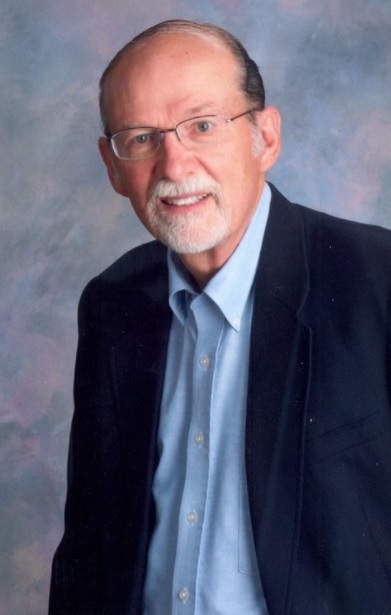 John E. Hallwas
Born:
Waukegan, Illinois May 24, 1945
Connection to Illinois
: Hallwas was born in Waukegan and spent his pre-school years at the hamlet of Loon Lake. When he was five years old, his family moved to nearby Antioch where he attended school. He received his B.S. and M.A. degrees from Western Illinois University, and then, after he attended the University of Florida for doctoral study, he returned to Macomb, where he spent his university teaching career and retirement years.
Biography
:
John Hallwas is a very well-published author and experienced speaker whose central focus has been his home state. He has written or edited more than thirty books and monographs, as well as several plays, various introductions to books by other authors, and hundreds of journal, magazine, and newspaper articles—which are centered on Illinois history and literature. He has also worked with many public agencies, created regional television programs, delivered lectures in more than 150 Illinois communities, and received a variety of awards for his writings, educational work, and civic leadership.
He was the second oldest of four sons, born to Emil and Ruth Hallwas, and he spent his grade school and high school years in Antioch, then a town of 2,000, where he graduated from the local high school in 1963. His beloved mother committed suicide in 1960, which naturally had a severe impact on young John and his family, but he was a bright youngster who was sent to college after his graduation by a wealthy older woman that he had worked for during the summers, Esther Scott, whose family co-owned the famous Chicago-based educational publisher, Scott, Foresman, and Company. Hallwas majored in English at Western Illinois University and received his B.S. in Ed. degree in 1967 and his M.A. degree in 1968. He also married another Western student, Garnette Stockstad, in 1966. From 1968 through the summer of 1970, his doctoral study at the University of Florida was supported by an NDEA Fellowship. Hired by WIU in 1970, Hallwas finished his dissertation during his first professorial year and received his Ph.D. in 1972. His 34-year career at WIU involved teaching British and American literature, creative writing, and cultural-historical Honors College classes, but he also held a 25-year position as Director of Regional Collections at the WIU library's Archives and Special Collections unit. He also spoke widely in Illinois and did adult-education programs. He retired in 2004 but continued as an author and educational activist. The most well-published writer in WIU's history, he was designated upon retirement as the university's only Distinguished Professor Emeritus, and an annual WIU event was named for him: The John Hallwas Liberal Arts Lecture. He has also served as Vice President of the Illinois State Historical Society.
Among his most popular books are two Illinois-based historical accounts of lawbreakers: The Bootlegger: A Story of Small-Town America (1998) and Dime Novel Desperadoes: The Notorious Maxwell Brothers (2008). Other historical works include such titles as Western Illinois Heritage (1983), Cultures in Conflict: A Documentary History of the Mormon War in Illinois (1995)—co-authored by Roger D. Launius—and Keokuk and the Great Dam (2001)—an account of the first dam project on the Mississippi River, which especially impacted both Illinois and Iowa. He also completed nine books related to the Macomb area, such as McDonough County Heritage (1984), Macomb: A Pictorial History (1990), First Century: A Pictorial History of Western Illinois University (1999), Here to Stay: Reflections on the Dead in a Small-Town Cemetery (2012), and On Community: A Crucial Issue, a Small Town, and a Writer's Experience (2015). The last of those also reveals why Hallwas was a major advocate of local history. He was also the co-founder and co-editor of the entire Tales from Two Rivers memoir collection series, which includes seven volumes of short memoirs by western Illinois residents.
His literary studies include such books as The Vision of This Land: Studies of Vachel Lindsay, Edgar Lee Masters, and Carl Sandburg (1976)—a collection of writings by scholars, co-edited by Dennis J. Reader—The Poems of H: The Lost Poet of Lincoln's Springfield (1982)—an edition of engaging poems by John Hancock, the most talented poet on the Illinois frontier, whom Hallwas had discovered—Illinois Literature: The Nineteenth Century (1986)—the only anthology of Illinois authors from that century of early cultural development—and Spoon River Anthology: An Annotated Edition (1992)—which indicates who the poems in that famous book are based on and also extensively discusses Edgar Lee Masters' Illinois experience and cultural views. But he also wrote introductions to various modern editions, such as Eliza Farnham's Life in Prairie Land (1988), Carl Sandburg's Chicago Poems (1992), and Robert J, Burdette's The Drums of the 47th (2000). And he has written articles on many Illinois writers, including dozens of figures who have been discussed in his series titled "Forgotten Voices from Illinois History," which has appeared in Illinois Heritage magazine since 2016. Altogether, Hallwas has discussed in books and articles more than one hundred Illinois authors, from frontier ones like Chief Black Hawk, Morris Birkbeck, Peter Cartwright, Eliza Farnham, James Hall, and John Regan, to famous later authors like Jane Addams, John Dos Passos, Donald Culross Peattie, Vachel Lindsay, Willard Motley, and Carl Sandburg, as well as a great many little-known or underappreciated writers, such as children's author Clara Bayliss, playwright Charles Dazey, small-town poet Dave Etter, newspaperman and Civil War historian W. H. Hainline, autobiographer Maud Rittenhouse Mayne, and fiction writer Louise Jordan Miln.
Hallwas has also written several plays related to Illinois history, including Four on the Frontier (produced in various towns by Western Illinois University Touring Theatre, 1982-1983), The Paper Town (a comedy, co-authored by Gene Kozlowski, produced at Argyle Park Theatre, 1985), The Conflict: A Soldier's Memories of the Civil War (produced by the Starry Night Repertory Company at the WIU Hainline Theatre, 2011), and The Mysterious Bard of Sangamo (filmed at the Elijah Iles House in Springfield, 2021, for Illinois television broadcast).
He has also done many regional radio and TV programs, such as Prairie State Journal (a weekly radio broadcast, at WIU in 1992-1993, and focused on Illinois history), Macomb's Historic Places (a three-part documentary TV series, in 2010), and A Sense of Place in Illinois—with Writer John Hallwas (a documentary program, filmed at the WIU Archives and Special Collections unit, in 2020, and partly devoted to his Illinois-focused historical work).
There is an extensive "John Hallwas Collection," focused on all of his publications and programs, as well as his background and educational career in Illinois, at the Archives and Special Collections unit, Malpass Library, Western Illinois University (ph. 309-298-2717).
---
Awards
:
National University Continuing Education Association's Faculty Service Award, 1981
Distinguished Faculty Lecturer Award, 1983
MidAmerica Award, from the Society for the Study of Midwestern Literature, 1994
Studs Terkel Humanities Service Award, from Illinois Humanities, 2004
Distinguished Professor Emeritus, 2004
Cultural Achievement Award, from the City of Macomb, 2015
Lifetime Achievement Award, from the Illinois State Historical Society, 2018
Illinois Frontier Play, The Mysterious Bard of Sangamo Superior Achievement Award from the Illinois State Historical Society, 2022
Mormon Nauvoo from a Non-Mormon Perspective John Whitmer Historical Association Award, for Best Article of the Year in Mormon Studies, 1990
Macomb: A Pictorial History Superior Achievement Award from the Illinois State Historical Society, 1992
Here to Stay: Reflections on the Dead in a Small-Town Cemetery Superior Achievement Award, from the Illinois State Historical Society, 2013
Spoon River Anthology: An Annotated Edition Choice Outstanding Academic Book, from the American Library Association, 1994
Cultures in Conflict: A Documentary History of the Mormon War in Illinois Mormon History Association Best Documentary Award, 1996 and John Whitmer Historical Association Award: Best Book in Mormon Studies, 1996
Dime Novel Desperadoes: The Notorious Maxwell Brothers Superior Achievement Award, from the Illinois State Historical Society, 2009 and Society of Midland Authors Award, for Best Biography from the Midwest, 2009
Primary Literary Genre(s):
Non-Fiction
Primary Audience(s):
Adult readers
E-Mail:
JE-Hallwas@wiu.edu
Web:
http://www.johnhallwas.jimdo.com
---
Selected Titles
Cultures In Conflict
ISBN: 0874212723 OCLC: 44962453 Utah State University Press, Logan : 1995. Cultures in Conflict offers students of history an invaluable source of documents regarding the history of the Mormon presence in Illinois. Few local histories are so academically sound.-Illinois TimesHallwas and Launius have compiled and written the most balanced and thorough account yet of the events and circumstances that led to the forced Mormon exodus from Nauvoo following the mini civil war that erupted in Illinois during the 1849s.
Dime Novel Desperadoes: The Notorious Maxwell Brothers
ISBN: 0252033523 OCLC: 785781242 University of Illinois Press, Urbana : 2008. This thrilling historical true crime narrative recovers the long-forgotten story of Ed and Lon Maxwell, outlaw brothers from Illinois who once rivaled Jesse and Frank James in national notoriety. Growing up hard as the sons of a tenant farmer, the Maxwell brothers embarked on a life of crime that captured the public eye. Made famous locally by newspapers that dramatized crimes and danger, the brothers achieved national prominence in 1881 when they shot and killed Charles and Milton Coleman, lawmen trying to apprehend them. Public outrage sparked the largest manhunt for outlaws in American history, involving some twenty posses who pursued the desperadoes in Wisconsin, Minnesota, Iowa, Illinois, Missouri, and Nebraska. Nevertheless, the daring desperadoes were eventually portrayed as heroes in sensationalistic dime novels. A stunning saga of robbery and horse stealing, gunfights and manhunts, murder and mob violence, Dime Novel Desperadoes also delves into the cultural and psychological factors that produced lawbreakers and created a crime wave in the post-Civil War era. Every overview and encyclopedia of American outlaws will need to be revised, and the fabled
First Century: A Pictoral History of Western Illinois University
ISBN: 0967151007 OCLC: 42018260 Western Illinois University, Macomb [Illinois] : 1999.
Here to stay :
ISBN: 1467527556 OCLC: 798122377 Illinois Heritage Press, Macomb, Ill : ©2012.
Keokuk and the Great Dam
ISBN: 0738507350 OCLC: 47152936 Arcadia Pub., Chicago, IL : ©2001. This remarkable pictorial history tells the story of an engineering marvel: the first dam built across theMississippi River (from 1910-1913), and the historicMidwestern community that fostered the world-famoushydroelectric project. Keokuk and the Great Dam is the story of a colorful and historic river town with a dream of economic development and cultural progress; a self-taught engineer who took on a challenge that no one else wanted to attempt; and a massive construction effort that pitted men and machines against the awesome power of America's greatest river. Completed shortly before WWI, the Keokuk dam (now known as Lock and Dam No. 19) was the culmination of a long struggle to employ the Mississippi River for hydroelectric power and to improve navigation on the great waterway. In frontier days the Des Moines Rapids, stretching north from Keokuk, prevented loaded steamboats from moving upriver. They also created a business opportunity for local residents. A rapidly growing town by the 1850s, Keokuk went into decline for many years when it failed to secure adequate railroad connections. But the coming of hydroelectric powerfostered a new dream, and local leaders set out to harness the great river. What followed was a dramatic effort that drew international attention, produced the world's second largest dam (at the time), and forever changed both the community and the fabled American waterway.
Macomb: A Pictorial History
ISBN: 0943963141 OCLC: 22778852 G. Bradley Pub., St. Louis, Mo. : ©1990. PHOTOS; TEXT, 199 PAGES;' INDEX; ADDS, DRAWINGS
McDonough County heritage
ISBN: B0006EFJNI OCLC: Illinois Heritage Press 1984 ILLINOIS HISTORY, WITH PHOTOS. MACOMB, COLCHESTER
McDonough County Historic Sites
ISBN: 1439630259 OCLC: 860771627 McDonough County Historic Sites depicts a remarkable agricultural region steeped in 19th-century tradition and community spirit. Originally set aside by Congress for veterans of the War of 1812 as part of the Illinois Military Tract, the land that is now McDonough County was settled by a diverse and ambitious population starting in the 1820s. From the trials of settlement to the coming of railroads and the establishment of small-town culture, McDonough County history reflects developments that have shaped America. The region's cemeteries, businesses, and homes that have endured-or vanished-offer stories of human endeavor that unite the people of the county to this day. The maps accompanying the chapters locate the county's many historic sites, such as the hotel in Macomb where Lincoln stayed during his 1858 campaign, the Prairie City Drugstore that launched a national poetry publishing company, and the remote village of Vishnu Springs that is now a ghost town. The historic images illustrate McDonough County's progress and controversy, small-town life and rural development, as well as religious diversity and cultural achievement.
On Community: A Crucial Issue, a Small Town, and a Writer's Experience
ISBN: 9781495170928 OCLC: 932312866 Illinois Heritage Press, [Macomb, IL] : ©2015. In addition to short writings discussing the issue of community being under siege from a variety of forces and examining the relationship between people and meaningful place, there are numerous biographical stories that allow readers to look into the lives of committed, often struggling or tragic, people in Macomb's past.--Page 4 cover. People such as Hannah Hemlock, Macomb's first female columnist; James K. Magie, a newspaperman and father of Elizabeth Lizzie Magie who invented The Landlord's Game which, many versions later, is now known as Monopoly; a Nineteenth-Century black leader, James B. Fields, lived and worked in Macomb for a time after the Civil War before rising to national prominence as a preacher, evangelist, and orator; historian Victor Hicken, and many others.
Remembering McDonough County
ISBN: 9781625842916 OCLC: 944512684 Established in 1826, McDonough County, Illinois, has experienced fascinating changes since pioneer days, including the gradual disappearance of some small communities and rural neighborhoods. Remembering McDonough County focuses on the local tradition of notable storytellers and historians as it reflects the county's strange and colorful, poignant and meaningful earlier days - in Macomb, outlying communities, ghost towns, and wild areas. Award-winning author John Hallwas sketches memorable figures like pioneer storyteller Quintus Walker, Macomb newspaper editor W.H. Hainline, and Bushnell poet Marian Stearns Curry, and he depicts beloved, legendary, and sometimes mysterious places like Vishnu Springs, Gin Ridge, Ragtown, and Scott's neighborhood. Along the way, he portrays the racehorse and Civil War hero Chickamauga, the frightening Gooseneck Ghost, and the long-forgotten Crooked Creek Terror.
The Bootlegger: A Story of Small-Town America
ISBN: 0252068440 OCLC: 44440345 This extraordinary account of a struggling midwestern coal town profiles small-time bootlegger Kelly Wagle, whose mysterious career--and suspected involvement with two unsolved murder cases--had a profound and lasting impact on his community. In unraveling the process by which Colchester, Illinois, lost its grip on the American promise, John Hallwas reveals this remote corner of the Midwest as a true reflection of the quintessential American experience.
The Vision of This Land: Studies of Vachel Lindsay, Edgar Lee Masters, & Carl Sandburg
ISBN: 0934312001 OCLC: Macomb (Ill.) : Western Illinois Univ Pr Macomb (Ill.) : 1976