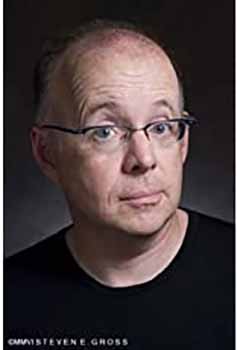 James Finn Garner
Born:
1961 in Detroit, Michigan
Pen Name:
None
Connection to Illinois
: Garner moved to Chicago after college.
Biography
: James Finn Garner's best known book is 'Politically Correct Bedtime Stories', which spent 64 weeks on the New York Times Best-seller list, including six weeks in the top position. The book was also a best-seller in England and Canada, and has been translated into more than 25 languages. Its sequels, 'Once Upon A More Enlightened Time' and 'Politically Correct Holiday Stories', were also best sellers around the world. His latest work is a mystery series set in a ghetto full of washed-up circus lifers. 'Rex Koko, Private Clown' is the world's first and only hero of Clown Noir, a mashup of 'Freaks' and 'The Maltese Falcon'. Titles include 'Honk Honk, My Darling' (2011 Book of the Year, Chicago Writers Association), 'Double Indignity' and 'The Wet Nose of Danger' (2014 Book of the Year, CWA). Babes! Bullets! Banana peels! Please count your change before you leave the window. Among his other books are 'Tea Party Fairy Tales' (a Kindle Single Exclusive from Amazon) 'Recut Madness' and 'Apocalypse WOW!: A Memoir for the End of Time'. A former columnist with Chicago Magazine, Garner's writing has been broadcast on NPR and the BBC, and appeared in The New York Times, The Wall Street Journal, Chicago Tribune, Playboy, and TV Guide.
---
Awards
:
''Honk, Honk, My Darling''
-- Indie Book of the Year Award, Chicago Writers Association, 2011
"The Wet Nose of Danger"
-- Book of the Year, Chicago Writers Association, 2014
Primary Literary Genre(s):
Fiction
Primary Audience(s):
Adult readers
Blog:
http://www.jamesfinngarner.com/wordpress/
Facebook:
https://www.facebook.com/James-Finn-Garner-185532224790347/
Website:
http://www.jamesfinngarner.com
Website:
http://rexkoko.com/
Wikipedia:
https://en.wikipedia.org/wiki/James_Finn_Garner
---
Selected Titles
Apocalypse wow! :
ISBN: 0684836491 OCLC: 36509637 Simon & Schuster, New York : ©1997. The author shares his observations on the New Age world, UFO conspiracies, the Internet, the apocalypse, commercialism, harmonic convergences, numerology, and other topics.
Double indignity :
ISBN: 1499650817 OCLC: 904411414 [J. Garner], [Charleston, SC] : ©2014. Rex is begged to bring in an escaped lion and loses his shoe in the process. While getting the footwear replaced, he runs afoul of several characters on the streets of Top Town.
Honk honk, my darling :
ISBN: 1468087088 OCLC: 801538461 [publisher not identified], Charleston, SC : ©2011. In Top Town, a ghetto full of washed-up circus lifers in the shadow of a big city, Rex Koko is a pariah. Yet this clown's brand of chaos helps him solve the most heinous crimes, as he tries to earn personal redemption. Rex is hired by an aging trapeze star to bring back his wayward wife. Every time Rex comes close to finding her, other flyers come to gruesome and spectacular ends ...
Once upon a more enlightened time :
ISBN: 002860444X OCLC: 32378464 Macmillan, New York : ©1995. Includes "politically correct" versions of The little mermaid and Sleeping Beauty.
Politically correct bedtime stories /
ISBN: 028563223X OCLC: 32747344 Souvenir Press, London : 1994
Politically correct holiday stories :
ISBN: 0671719661 OCLC: 43134031 Simon & Schuster, London : 1995.
Politically Correct Pinocchio
ISBN: 1732658900 OCLC:
Recut madness :
ISBN: 1568583362 OCLC: 123438295 Thunder's Mouth Press, New York : 2007. Why suffer through another movie that offends your values just to get a glimpse of Nicole Kidman naked? Now you don't have to. Recut Madness rewrites favorite films for our polarized times. Whether conservative or liberal, red state or blue--your views need never be challanged at the movies again!
The wet nose of danger :
ISBN: 1502592703 OCLC: 904411428 "Now taking jobs as a for-real-you-betcha detective, Rex is hired by a rich widow to find her missing pedigreed dog. Soon he's howling that he shoulda stayed among his kinkers of Top Town, as he's hounded by a shady politician, his joey-jumping wife, a cross-dressing mob boss, runaway freaks, a rogue elephant seal, and a silent-but-deadly trafficker in human misery."--Back cover.