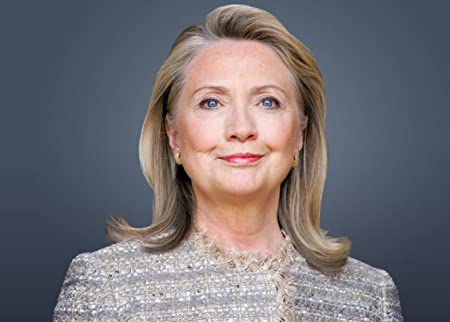 Hillary Rodham Clinton
Born:
October 26, 1947 in Chicago, Illinois
Pen Name:
None
Connection to Illinois
: Hillary Diane Rodham was born at Edgewater Hospital in Chicago. She was raised first in Chicago, and from the age of three, in suburban Park Ridge until she went to college.
Biography
: Hillary Rodham Clinton is the first woman in US history to become the presidential nominee of a major political party. She served as the 67th Secretary of State after nearly four decades in public service advocating on behalf of children and families as an attorney, First Lady, and US Senator. She is a wife, mother, and grandmother.
---
Awards
:
Primary Literary Genre(s):
Fiction; Non-Fiction
Primary Audience(s):
Adult readers
Twitter:
https://twitter.com/HillaryClinton?ref_src=twsrc%5Egoogle%7Ctwcamp%5Eserp%7Ctwgr%5Eauthor
Website:
https://www.hillaryclinton.com
Website:
https://www.biography.com/us-first-lady/hillary-clinton
Website:
https://history.house.gov/People/detail/11751
Website:
https://www.whitehouse.gov/about-the-white-house/first-ladies/hillary-rodham-clinton/
Wikipedia:
https://en.wikipedia.org/wiki/Hillary_Clinton
---
Selected Titles
An invitation to the White House :
ISBN: 0684857995 OCLC: 44550598 Simon & Schuster, New York : 2000. The First Lady celebrates the history, culture, and food of the White House, in an illustrated volume that captures the significance of this great house in American life.
Dear Socks, dear Buddy :
ISBN: 0684857782 OCLC: 39875214 Simon & Schuster, New York : ©1998. Letters written by children to the Clintons' White House pets ... Socks, a black-and-white cat; and Buddy, a Labrador retriever.
Grandma's gardens /
ISBN: 059311535X OCLC: 1109414688 The authors share personal revelations on how gardening with Grandma Dorothy shapes and nurtures a love and respect for nature, beauty, and a general philosophy for life.
Hard choices /
ISBN: 1476751471 OCLC: 909112390 Hillary Rodham Clinton's inside account of the crises, choices, and challenges she faced during her four years as America's 67th Secretary of State, and how those experiences drive her view of the future. "All of us face hard choices in our lives," Hillary Rodham Clinton writes at the start of this personal chronicle of years at the center of world events. "Life is about making such choices. Our choices and how we handle them shape the people we become." In the aftermath of her 2008 presidential run, she expected to return to representing New York in the United States Senate. To her surprise, her former rival for the Democratic Party nomination, newly elected President Barack Obama, asked her to serve in his administration as Secretary of State. This memoir is the story of the four extraordinary and historic years that followed, and the hard choices that she and her colleagues confronted. Secretary Clinton and President Obama had to decide how to repair fractured alliances, wind down two wars, and address a global financial crisis. They faced a rising competitor in China, growing threats from Iran and North Korea, and revolutions across the Middle East. Along the way, they grappled with some of the toughest dilemmas of US foreign policy, especially the decision to send Americans into harm's way, from Afghanistan to Libya to the hunt for Osama bin Laden. By the end of her tenure, Secretary Clinton had visited 112 countries, traveled nearly one million miles, and gained a truly global perspective on many of the major trends reshaping the landscape of the twenty-first century, from economic inequality to climate change to revolutions in energy, communications, and health. Drawing on conversations with numerous leaders and experts, Secretary Clinton offers her views on what it will take for the United States to compete and thrive in an interdependent world. She makes a passionate case for human rights and the full participation in society of women, youth, and LGBT people. An astute eyewitness to decades of social change, she distinguishes the trendlines from the headlines and describes the progress occurring throughout the world, day after day. Secretary Clinton's descriptions of diplomatic conversations at the highest levels offer listeners a master class in international relations, as does her analysis of how we can best use "smart power" to deliver security and prosperity in a rapidly changing world-one in which America remains the indispensable nation. -- Publisher description.
It takes a village /
ISBN: 147116697X OCLC: 1008553477 What does it take to change the world?
It takes a village :
ISBN: 0684818434 OCLC: 33326735 Simon & Schuster, New York : ©1996. For more than twenty-five years, First Lady Hiliary Rodham Clinton has made children her passion and her cause. Her long experience with children - not only through her personal roles as mother, daughter, sister, and wife but also as advocate, legal expert, and public servant - has strengthened her conviction that how children develop and what they need to succeed are inextricably entwined with the society in which they live and how well it sustains and supports its families and individuals. In other words, it takes a village to raise a child. This book chronicles her quest - both deeply personal and, in the truest sense, public - to discover how we can make our society into the kind of village that enables children to grow into able, caring, resilient adults. It is time, Mrs. Clinton believes, to acknowledge that we have to make some changes for our children's sake. Advances in technology and the global economy along with other developments in society have brought us much good, but they have also strained the fabric of family life, leaving us and our children poorer in many ways - physically, intellectually, emotionally, spiritually. She doesn't believe that we should, or can, turn back the clock to "the good old days". False nostalgia for "family values" is no solution. Nor is it useful to make an all-purpose bogeyman or savior of "government". But by looking honestly at the condition of our children, by understanding the wealth of new information research offers us about them, and, most important, by listening to the children themselves, we can begin a more fruitful discussion about their needs. And by sifting the past for clues to the structures that once bound us together, by looking with an open mind at what other countries and cultures do for their children that we do not, and by identifying places where our "village" is flourishing - in families, schools, churches, businesses, civic organizations, even in cyberspace - we can begin to create for our children the better tomorrow they deserve.
Living history
ISBN: 9780743592390 OCLC: 439018741 Simon & Schuster, New York : 2003. The author writes about her upbringing in suburban, middle-class America in the 1950s and her transformation from Goldwater Girl to student activist to controversial First Lady. A revealing memoir of her life through the White House years, it is also her chronicle of living history with Bill Clinton.
State of terror :
ISBN: 198217367X OCLC: 1244815157 State of Terror follows Ellen Adams, a novice Secretary of State, who has joined the administration of her rival, a president inaugurated after four years of American leadership that shrank from the world stage. A series of terrorist attacks throws the global order into disarray and the secretary is tasked with assembling a team to unravel the deadly conspiracy, a scheme carefully designed to take advantage of an American government dangerously out of touch and out of power in the places where it counts the most. This high-stakes thriller of international intrigue features behind-the-scenes global drama informed by details only an insider could know.
Stronger together :
ISBN: 1501161733 OCLC: 956340162 "For more than a year, Hillary Clinton has laid out an ambitious agenda to improve the lives of the American people and make our country stronger and safer. Stronger Together presents that agenda in full, relating stories from the American people and outlining the Clinton/Kaine campaign's plans on everything from apprenticeships to the Zika virus, including: building an economy that works for everyone, not just those at the top; making the biggest investment in good-paying jobs since World War II, including infrastructure, manufacturing, clean energy, and small business; making debt-free college a reality and tackling the student debt crisis; defeating ISIS, strengthening our alliances, and keeping our military strong; breaking down the barriers that hold Americans back by reforming our broken immigration system, ending mass incarceration, protecting voting rights, and fixing our campaign finance system; putting families first, through universal, affordable health care, paid family and medical leave, and affordable child care. Stronger Together offers specific solutions and a bold vision for building a more perfect union"--
The book of gutsy women :
ISBN: 1501178415 OCLC: 1117451387 Hillary Rodham Clinton and her daughter, Chelsea, share the stories of the gutsy women who have inspired them--women with the courage to stand up to the status quo, ask hard questions, and get the job done. Ensuring the rights and opportunities of women and girls remains a big piece of the unfinished business of the twenty-first century. While there's a lot of work to do, we know that throughout history and around the globe women have overcome the toughest resistance imaginable to win victories that have made progress possible for all of us. That is the achievement of each of the women in this book. So how did they do it? The answers are as unique as the women themselves. Civil rights activist Dorothy Height, LGBTQ trailblazer Edie Windsor, and swimmer Diana Nyad kept pushing forward, no matter what. Writers like Rachel Carson and Chimamanda Ngozi Adichie named something no one had dared talk about before. Historian Mary Beard used wit to open doors that were once closed, and Wangari Maathai, who sparked a movement to plant trees, understood the power of role modeling. Harriet Tubman and Malala Yousafzai looked fear in the face and persevered. Nearly every single one of these women was fiercely optimistic -- they had faith that their actions could make a difference. And they were right. To us, they are all gutsy women -- leaders with the courage to stand up to the status quo, ask hard questions, and get the job done. So in the moments when the long haul seems awfully long, we hope you will draw strength from these stories. We do. Because if history shows one thing, it's that the world needs gutsy women.
What happened /
ISBN: 1501175564 OCLC: 972203900 Hillary Rodham Clinton reveals what she was thinking and feeling during one of the most controversial and unpredictable presidential elections in history. Free from the constraints of running, Hillary takes you inside the intense personal experience of becoming the first woman nominated for president by a major party in an election marked by rage, sexism, exhilarating highs and infuriating lows, stranger-than-fiction twists, Russian interference, and an opponent who broke all the rules. She describes what it was like to run against Donald Trump, the mistakes she made, how she has coped with a shocking and devastating loss, and how she found the strength to pick herself back up afterward. With humor and candor, she tells readers what it took to get back on her feet -- the rituals, relationships, and reading that got her through, and what the experience has taught her about life. She speaks about the challenges of being a strong woman in the public eye, the criticism over her voice, age, and appearance, and the double standard confronting women in politics. She lays out how the 2016 election was marked by an unprecedented assault on our democracy by a foreign adversary. By analyzing the evidence and connecting the dots, Hillary shows just how dangerous the forces are that shaped the outcome, and why Americans need to understand them to protect our values and our democracy in the future. The election of 2016 was unprecedented and historic. What Happened is the story of that campaign and its aftermath -- both a deeply intimate account and a cautionary tale for the nation.