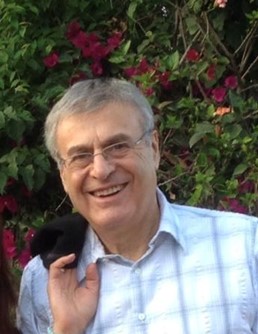 Shai Y. Har-El
Born:
1946 in Israel
Pen Name:
Shai Har-El
Connection to Illinois
: Dr. Shai Har-El lives in Highland Park, Illinois. He graduated from the University of Chicago with a PhD. He founded the Middle East Peace Network (MEPN), a 501(c) (3), nonprofit organization registered in the State of Illinois. He operates Har-El Financial Group from his office in Deerfield, Illinois.
Biography
:
Dr. Har-El
is a businessman, scholar, writer, poet, historian, rabbi, and organizer, whose multi-faceted career spans over fifty years. He earned his B.A. and M.A. degrees in Middle Eastern History at Tel Aviv University and a Ph.D. from the University of Chicago, where he serves as a fellow at the Center for Middle Eastern studies (CMES).
Dr. Har-El
is the founder/president of Middle East Peace Network (MEPN), an independent, nonpartisan, nonprofit NGO that uses private diplomacy to complement the activities of the Middle Eastern governments in their pursuit of conflict resolution and lasting peace, primarily between Arabs and Israelis and between Muslims and Jews.
Dr. Har-El
is a successful financial advisor and the founder/owner of Har-El Financial Group, Inc., a financial services firm that is based in Deerfield, Illinois. He has won numerous distinguished awards given by his parent company, Equitable, a major player in the financial services industry. He is an inductee into the company's Hall of Fame and a recent recipient of its Golden Year Award.
Dr. Har-El
has published over the years numerous essays and given lectures on current Middle East affairs. Some of his more recent essays were published in his new book, ''In Search of Israeli-Palestinian Peace: An Urgent Call for a New Approach to Middle East Peace'' (see below).
Dr. Har-El
has been active in a Jewish-Muslim reconciliation initiative. It is a translation-into-action of his book, ''Where Islam and Judaism Join Together: A Perspective on Reconciliation'' (see below).
Dr. Har-El
is an ordained rabbi. He runs workshops and writes on a variety of religious themes, particularly on the interface between Jewish spirituality and personal growth. His forthcoming book, ''Discover the Jewel of Wisdom: Eights Paths to Powerful Living'', is a "living laboratory" report of his own journey.
Dr. Har-El
writes poetry to nurture his soul. His poems are written in English and Hebrew and are spiritual in nature and texture. The poems in English are now published in his poetry book, ''Riding the Waves of Bliss: Selected Poems from the Season of Life.''
Dr. Shai Har-El
was married to Rosalie of blessed memory for 50 years. He has 3 children and 11 grandchildren living in Illinois, New Jersey and Israel.
---
Awards
:
Primary Literary Genre(s):
Non-Fiction
Primary Audience(s):
Adult readers
E-Mail:
shaiharel@comcast.net
Facebook:
https://www.facebook.com/shai.harel18
LinkedIn:
https://www.linkedin.com/in/shai-har-el-43233916
Website:
https://www.youtube.com/watch?v=6wymIQxS7lw
Website:
https://www.harelfinancial.com
Website:
https://cmes.uchicago.edu/content/associate-members
Website:
https://worldpolicy.org/2012/04/03/from-peace-process-to-actual-peace/
Website:
http://www.mepnetwork.org/wp-content/documents/quest-for-peace.pdf
Website:
http://www.mepnetwork.org
YouTube:
https://www.youtube.com/watch?v=F2HUHkP-guI
---
Selected Titles
In Search of Israeli-Palestinian Peace: An Urgent Call for a New Approach to Middle East Peace
ISBN: 1137565365 OCLC: 946486698 Palgrave "The fruit of relentless peace activism and many years of philanthropic work in the Middle East Peace Network, In Search of Israeli-Palestinian Peace is Shai Har-El's unique, non-utopian, proactive approach to Middle East peace between Israelis and Palestinians. Recognizing the magnitude, complexity, and gravity of the Israeli-Palestinian conflict and the evidenced limitations of traditional diplomacy, the author offers ideas how to enhance the Middle East peace process by adding a non-governmental peacebuilding component to the peace efforts. Such citizen diplomacy efforts, he argues, should be launched at a preliminary conflict transformation phase leading up to the final conflict resolution phase. The ultimate objective of this preliminary phase is to create--through alternative avenues, such as private diplomacy initiatives, transnational mechanisms, and backchannels--a win-win environment that is conducive to settling the conflict. This book details the concepts, measures, and techniques involved in the process with the understanding that the keystone for peace is the defiant power of the human spirit in both societies that are hungry for peace"-- http://www.palgrave.com/us/book/9781137565365
Riding the Waves of Bliss
ISBN: 1950475085 OCLC: Homestead Light House Press Dr. Har-El believes and writes "my poems, though autobiographical and personal, can appeal to anyone; the personal story in my poetry may illuminate your story because it tells the truth, my truth and yours. I described this kind of truth in one of my poems, portraying it 'like a petalled rose emerging from one stem offering its sweet fragrance and infinite beauty to humanity'. With age come better knowledge and a wider experience of life. This comes up through my poems. Walking your through the seasons of my life, they start with a deep yearning and longing to the beginning, gowning up in Israel; they continue through the experience of my multi-faceted love for and intimacy with my beloved wife Rosie of blessed memory, the central figure in my life over 50 years; they shift to my preoccupation with the questions of oneness and harmony in the world; they go through the period of my spiritual awakening and illumination; and they finally end where life in This World concludes, in death and grieving."
Struggle for Domination in the Middle East: The Ottoman-mamluk War, 1485-91
ISBN: 9004101802 OCLC: 31434541 Brill Leiden ; 1995. This two-part volume offers a comprehensive account of the conflict between the Ottoman and Mamluk Empires. Part One explores Ottoman-Mamluk relations from their inception in the middle of the fourteenth century to the laying of the foundations of the conflict in the second half of the fifteenth century. Part Two offers a detailed description of the actual war of 1485-91, and analyzes it from various angles including military, economic, and diplomatic. Based largely on Ottoman, Mamluk and Italian primary sources - documentary and narrative - the volume helps to understand the second and final war between the Ottomans and Mamluks in 1516-17, which resulted in the downfall of the Mamluk Empire and the firm establishment of Ottoman power in the Middle East. -- https://brill.com/view/title/1588?language=en
Where Islam and Judaism Join Together: A Perspective on Reconciliation
ISBN: 1137391006 OCLC: 875548210 Palgrave "The winds of change are sweeping across the Middle East and North Africa and Islamism is on the rise everywhere. We live in a critical age of competing truths, where "truth-bearers" compete with one another and are willing, in the name of God, to kill for it. The book helps narrow the gaps between various truths and build bridges of understanding between Islam and Judaism, two religions founded on the promise of peace"-- http://www.palgrave.com/us/book/9781137391001