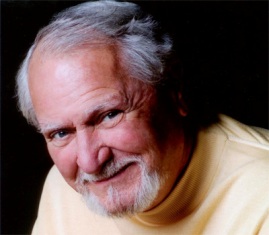 Clive Cussler
Born:
1931 in Aurora, Illinois
Died:
February 24, 2020 in Scottsdale, Arizona
Pen Name:
None
Connection to Illinois
: Cussler was born in Aurora.
Biography
: Clive Cussler was a New York Times best-selling author. Born in Illinois, he grew up in Alhambra, California. He began writing in 1965. After attending Pasadena City College for two years, he enlisted in the Air Force during the Korean War where he served as an aircraft mechanic and flight engineer in the Military Air Transport Service. Upon his discharge, he became a copywriter and later creative director for two leading ad agencies. At that time, he wrote and produced radio and television commercials that won numerous international awards one at the prestigious Cannes Film Festival. His thriller novels have reached The New York Times fiction best-seller list more than 20 times. Two of his books were made into major motion pictures - Raise the Titanic! and Sahara.
---
Awards
:
Primary Literary Genre(s):
Fiction; Non-Fiction
Primary Audience(s):
Adult readers; Children
Facebook:
http://clive-cussler-books.com/facebook-clive-cussler/
Twitter:
http://clive-cussler-books.com/twitter-clive-cussler/
Website:
http://clive-cussler-books.com
---
Selected Titles
All dressed in white :
ISBN: 0399174117 OCLC: 921141462 "The second thrilling novel in the New York Times bestselling Under Suspicion series following The Cinderella Murder, featuring intrepid television producer Laurie Moran as she investigates the case of a missing bride. Five years ago Amanda Pierce was excitedly preparing to marry her college sweetheart in a lavish ceremony at The Grand Victoria Hotel in Palm Beach. Then, with their guests and families on site, Amanda disappeared. In present-day New York City, Laurie Moran realizes a missing bride is the perfect cold case for her investigative television series, Under Suspicion. She and her team set out to recreate the night of the disappearance at the Florida resort with Amanda's friends and family in attendance, hoping to shed new light on the mystery as the series has done in past episodes. With a jealous sister, playboy groomsmen, Amanda's former fiance; now married to a bridesmaid, and rumors about the "beloved" bride herself, Laurie and Under Suspicion host Alex Buckley quickly realize everyone has a theory about why Amanda vanished into thin air. One thing is certain: whoever was behind Amanda's disappearance plans to keep the truth hidden "until death do they part ..." The bestselling Under Suspicion series from Mary Higgins Clark and Alafair Burke offers "plenty of intrigue and excitement" (Publishers Weekly, on The Cinderella Murder). Featuring the chilling suspense and elegant settings readers have come to love, All Dressed in White is not to be missed"--
Arctic drift /
ISBN: 0399155295 OCLC: 256771338 G.P. Putnam's Sons, New York : ©2008. A potential breakthrough discovery to reverse global warming ... a series of unexplained sudden deaths in British Columbia ... a rash of international incidents between the United States and one of its closest allies that threatens to erupt into an actual shooting war ... NUMA director Dirk Pitt and his children, Dirk. Jr. and Summer, have reason to believe there's a connection here somewhere, but they also know they have very little time to find it before events escalate out of control. Their only real clue might just be a mysterious silvery mineral traced to a long-ago expedition in search of the fabled Northwest Passage. But no one survived from that doomed mission, captain and crew perished to a man -- and if Pitt and his colleague Al Giordino aren't careful, the very same fate may await them.
Atlantis found /
ISBN: 0425177173 OCLC: 41967119 Putnam, New York : ©1999. Agent Dirk Pitt of the U.S. National Underwater and Marine Agency battles genetically engineered neo-Nazis, seeking to establish a Fourth Reich once they wipe out humanity. They plan to unleash a flood by splitting the Antarctic ice shelf. A beautiful archeologist is on hand to help the hero.
Black wind /
ISBN: 1405620862 OCLC: 59138441 Windsor, Bath : 2005. In the waning days of World War II, the Japanese tried a last desperate measure ; a different kind of kamikaze mission. This one was carried out by two submarines bound for the west coast of the United States, their cargo a revolutionary new strain of biological virus.
Blue gold :
ISBN: 1439188610 OCLC: 44516755 Pocket Books, New York : ©2000. Earth us a paradox - a fertile world three-quarters covered with water, yet in danger of running dry. Overuse and pollution have drained most of its fresh water, and scientist Francesca Carval's brilliant formula for desalination has vanished with her plane over South America. But when Kurt Austin and his NUMA team come across a pod of dead whales, their investigation takes them to the Venezuelan jungle where a cadre is bent on controlling the world's supply of fresh water.
Built for adventure :
ISBN: 9780399158100 OCLC: 709681965 G.P. Putnam's Sons, New York : ©2011. A gorgeous tour through Clive Cussler's outstanding collection of rare, classic, and antique automobiles. Fans of Clive Cussler's bestselling Dirk Pitt series know that his hero has a soft spot for rare and classic automobiles ... and that the vehicles that appear in the novels are actually part of Cussler's own vast collection. Through stunning color photographs and warm, informative commentary, fans of Cussler and Pitt can see fifty-four of these automobiles in all their glory, and learn about the history and acquisition of each classic car. Rolls-Royce Silver Ghost Touring. Mercedes-Benz 630K. Duesenberg J-140. Cadillac V-16 Roadster. Ford Cabriolet Hot Rod. Packard V-12. it's a car lover's paradise! --
Built to thrill :
ISBN: 9780399184192 OCLC: 947953985 Built to Thrill marks a return to Clive Cussler's stunning collection of rare, classic automobiles, picking back up in 1948 where Built for Adventure left off. In striking full-color photographs and engaging commentary, fans of Clive Cussler's five bestselling series can explore the personal automotive collection of the literary master of mechanical marvels. Readers will explore the history of each model and the story of how it was found and restored, not to mention notes on where some of these dazzling machines have appeared in his novels. The fins, the fenders, the furious horsepower: Built to Thrill runs straight through the forties, fifties, and sixties, capturing it all.
Clive Cussler and Dirk Pitt revealed /
ISBN: 0671026224 OCLC: 40049761 Pocket Books, New York : ©1998. Includes photographs, summaries of each Dirk Pitt novel, an interview with Cussler, and Dirk Pitt trivia questions.
Corsair :
ISBN: 0399155392 OCLC: 233548226 G.P. Putnam's Sons, New York : ©2009. When the U.S. secretary of state's plane crashes while bringing her to a summit meeting in Libya, the CIA, distrusting the Libyans, hire Juan Cabrillo to search for her--in a manhunt that pits him against Islamic terrorists and a search for answers regarding a centuries-old Islamic manuscript.
Crescent dawn :
ISBN: 0425242390 OCLC: 706017992 In A.D. 327, a Roman galley barely escapes a pirate attack with its extraordinary cargo. In 1916, a British warship mysteriously explodes in the North Sea. In the present day, a cluster of mosques in Turkey and Egypt are wracked by explosions. Does anything tie them together?
Cyclops /
ISBN: 1451621027 OCLC: 25104528 Dirk Pitt is in the middle of an international crisis involving dead Soviet cosmonauts, a covert group of U.S. industrialists and a secret lunar colony.
Dark watch /
ISBN: 1597221171 OCLC: 61463699 Wheeler Pub. ; Waterville, Me. : 2005. When Japanese shipping magnates whose fortunes are being threatened by pirates in the waters of Southeast Asia turn to Captain Juan Cabrillo for assistance, he soon learns that the pirates' predations hide a deadly international conspiracy.
Deep six /
ISBN: 1416516859 OCLC: 62766388 Pocket Star Books, New York : 2006, ©1984. Dirk Pitt is up against a sinister Asian shipping family and a Soviet plot to use the president of the United States for their own purposes through mind control.
Devil's gate :
ISBN: 0425246760 OCLC: 778419326 "NUMA Special Assignment Team leader Kurt Austin, and his right-hand man, Joe Zavala, are looking forward to a submersible race to test out their prototype Barracuda, in an effort to enjoy their own special brand of rest and relaxation. But then a Japanese cargo ship cruising the eastern Atlantic near the Azores bursts into flames. When a gang of pirates try to take advantage of the disaster, their own boat explodes. And Austin and Zavala find they've got no choice but to investigate. The discovery of ships and planes littered across the sea floor in an underwater graveyard lead the NUMA team to the research of a top scientist, who recently disappeared off the streets of Geneva. Somehow connected to the decades-old defection of a mysterious citizen of the USSR, the scientist's studies on magnetics may offer answers. But Austin and Zavala will have to seek help from another Russian operative if they are going to find out the truth."-Amazon.com.
Dragon :
ISBN: 1416537805 OCLC: 21297613 Simon and Schuster, New York : c1990. In 1993, a Japanese auto carrier is destroyed by a nuclear explosion from an old American nuclear bomb.
Fire ice :
ISBN: 0425190641 OCLC: 52389818 Berkley Books, New York : 2003, ©2002. Kurt Austin, leader of NUMA's (National Underwater and Marine Agency's) Assignments Team and the protagonist-hero of Serpent (1999) and Blue Gold (2000), returns to take on a mining tycoon who has proclaimed himself the czar of Russia. The U.S. opposes this move, fearing that, with the country's economy at an all-time low and the power of organized crime at an all-time high, Russia's legally elected president will be ousted from office.
Flood tide /
ISBN: 1439148112 OCLC: 39965800 Dirk Pitt matches wits with a nefarious Chinese smuggler who specializes in secretly transporting illegal Chinese immigrants into countries around the world, as he tracks his quarry to a remote port in Louisiana and searches for a treasure ship that sankat the beginning of World War II.
Ghost ship :
ISBN: 0399167315 OCLC: 861068913 "The dazzling new novel in the #1 New York Times-bestselling series from Clive Cussler, the grand master of adventure. When Kurt Austin is injured attempting to rescue the passengers and crew from a sinking yacht, he wakes with fragmented and conflicted memories. Did he see an old friend and her children drown, or was the yacht abandoned when he came aboard? For reasons he cannot explain, Kurt doesn't trust either version of his recollection. Determined to know the truth, he begins to search for answers, and soon finds himself descending into a shadowy world of state-sponsored cybercrime, and uncovering a pattern of vanishing scientists, suspicious accidents, and a web of human trafficking. With the help of Joe Zavala, he takes on the sinister organization at the heart of this web, facing off with them in locations ranging from Monaco to North Korea to the rugged coasts of Madagascar. But where he will ultimately end up, even he could not begin to guess"--
Golden Buddha /
ISBN: 042521818X OCLC: 52312222 Berkley Books, New York : 2003. Captain Cabrillo and his intelligence agents plan to strike a deal with the Russians and Chinese to exchange a golden Buddha containing records of oil reserves for Tibet's freedom, but his enemies will do anything to stop him.
Havana storm /
ISBN: 0399172920 OCLC: 900159267 While investigating a toxic outbreak in the Caribbean Sea that may ultimately threaten the United States, Pitt unwittingly becomes involved in something even more dangerous -- a post-Castro power struggle for the control of Cuba. Meanwhile, Pitt's children, marine engineer Dirk and oceanographer Summer, are on an investigation of their own, chasing an Aztec stone that may reveal the whereabouts of a vast historical Aztec treasure. The problem is, that stone was believed to have been destroyed on the battleship Maine in Havana Harbor in 1898, which brings them both to Cuba as well -- and squarely into harm's way. The three of them have been in desperate situations before ... but perhaps never quite as dire as the one facing them now.
Iceberg /
ISBN: 0425197387 OCLC: 1324419 Dodd, Mead, New York : [1975] Story of an iceberg in which a ship is imbedded.
Inca gold :
ISBN: 1416525726 OCLC: 29877393 Simon & Schuster, New York : ©1994. An action-filled chase through the Amazon jungle for 16th Century Spanish treasure. Joining in the pursuit are Dirk Pitt, the hero, his congresswoman girlfriend, the FBI, the Customs Service, archaeologists, a tribe of local Indians, smugglers and various thieves. There's plenty of treasure for everyone, the gold requiring 200 men just to lift.
Lost city :
ISBN: 0425204197 OCLC: 55518496 Putnam, New York : 2004. In the last few years, Cussler's Numa Files novels, written with Paul Kemprecos, have only grown more popular-and more eagerly anticipated. "Cussler's multitude of fans arrive at the table expecting a roiling stew of seafaring adventure, exotic travel destinations, cutting-edge science and a splash of romance. In White Death, they will find their expectations extravagantly fulfilled" (Publishers Weekly). And they will find them fulfilled again in Lost City. An enzyme that will dramatically prolong life has been discovered two thousand feet down in the North Atlantic, in an area known as Lost City. But why are the people attempting to harvest it getting killed? Why are the scientists in a remote Greek laboratory disappearing one by one? What does this all have to do with a body found frozen in the ice high up in the Alps? To Kurt Austin, leader of Numa's Special Assignments Team, and his colleague Joe Zavala, it's clear they have their work cut out for them, but it may be even bigger than they think-in fact, it may be their greatest challenge of all. Rich with all the hair-raising action and endless imagination that have become Cussler's hallmarks, Lost City is an exceptional thriller.
Lost empire /
ISBN: 0399156763 OCLC: 526057527 G.P. Putnam's Sons, New York : ©2010. Through Tanzania and Zanzibar, into the rainforests of Madagascar, and across the Indian Ocean to Indonesia and the legendary site of the 1883 Krakatoa explosion, husband-and-wife treasure-hunting team Sam and Remi Fargo and their ruthless opponents pursue the hunt for a relic--but only one can win. And the penalty for failure is death.
Medusa :
ISBN: 0425235092 OCLC: 276819216 G.P. Putnam's Sons, New York : ©2009. Kurt Austin puts the NUMAA team on a case involving a hideous series of medical experiments, an extraordinarily ambitious Chinese criminal organization, and a secret new virus that threatens to set off a worldwide pandemic.
Mirage /
ISBN: 0425250636 OCLC: 894238605 In October 1943, a U.S. destroyer sailed out of Philadelphia and supposedly vanished, the result of a Navy experiment with electromagnetic radiation. The story was considered a hoax-- but now Juan Cabrillo and his Oregon colleagues aren't so sure. There is talk of a new weapon soon to be auctioned, something very dangerous to America's interests, and the rumors link it to the great inventor Nikola Tesla, who was working with the Navy when he died in 1943. As Cabrillo races to find the truth, he discovers there is even more at stake than he could have imagined--but by the time he realizes it, he may already be too late.
Night probe! /
ISBN: 0553394924 OCLC: 895660259 Dirk Pitt must descend to the bottom of the Hudson River to recover a copy of the secret North American Treaty signed in 1914, but Great Britain is racing to find and destroy the same document.
Odessa sea /
ISBN: 0399575510 OCLC: 944380308 "Over the years, Dirk Pitt has always had a knack for finding trouble. This time, it has found him. The extraordinary new novel from the grand master of adventure and #1 New York Times-bestselling author. Pitt, the director of the National Underwater and Marine Agency, is on the Black Sea, helping to locate a lost Ottoman shipwreck, when he responds to an urgent Mayday - "Under attack!"--A nearby freighter. But when he and his colleague Al Giordino arrive, there is nobody there. Just dead bodies, a smell of sulfur in the air, and, as Pitt and Giordino explore, a blast from the stern that scuttles the ship swiftly, almost taking them with it. The more the two of them search for the secret of the death ship, the deeper they descend into an extraordinary series of discoveries. A desperate attempt in 1917 to preserve the wealth and power of the Romanov Empire. A Cold War bomber lost with a deadly cargo. A brilliant developer of advanced drone technology on an unknown mission. Modern-day nuclear smugglers, determined Ukrainian rebels, a beautiful anti-terrorism agent from Europol - all will combine to present Pitt with the most dangerous challenge of his career. And not only Pitt. His two children, marine engineer Dirk and oceanographer Summer, are exploring a mysterious shipwreck of their own, when they are catapulted into his orbit. The three of them are used to perilous situations - but this time, they may have found their match. Filled with breathtaking suspense and remarkable imagination, Odessa Sea is further proof that when it comes to adventure writing, nobody beats Clive Cussler"--
Pacific vortex! /
ISBN: 0553593455 OCLC: 9068786 Bantam Books, Toronto ; 1983, ©1982. "Dirk Pitt, death-defying adventurer and deep-sea expert, is put to the ultimate test as he plunges into the perilous waters of the Pacific Vortex." Pitt's job is to find Starbuck, America's deep-diving nuclear arsenal and salvage it before the sea explodes.
Piranha /
ISBN: 0399167323 OCLC: 892041362 In 1902, the volcano Mt. Pelée erupts on the island of Martinique, wiping out an entire city of thirty thousand -- and sinking a ship carrying a German scientist on the verge of an astonishing breakthrough. More than a century later, Juan Cabrillo will have to deal with that scientist's legacy. During a covert operation, Cabrillo and the crew meticulously fake the sinking of the Oregon -- but when an unknown adversary tracks them down despite their planning and attempts to assassinate them, Cabrillo and his team struggle to fight back against an enemy who seems to be able to anticipate their every move. They discover that a traitorous American weapons designer has completed the German scientist's work, and now wields extraordinary power, sending the Oregon on a race against time to stop an attack that could lead to one man ruling over the largest empire the world has ever known.
Pirate :
ISBN: 0399183973 OCLC: 952277189 "The outstanding new Sam and Remi Fargo adventure from the #1 New York Times-bestselling author. An 800-year-old treasure. an ancient cypher wheel. a brutal murder. and a man who will stop at nothing to claim what he considers rightfully his. Husband-and-wife treasure-hunting team Sam and Remi Fargo have gone on impossible missions before and faced many perils, but never have they faced an adversary as determined as the one before them now. The battle will take them halfway around the world, and at its end will be either one of the most glorious finds in history--or certain death"--
Polar shift :
ISBN: 0425210480 OCLC: 61386084 G.P. Putnam's Sons, New York : c 2005. When the leader of an antiglobalization group plans to use the sixty-year-old findings of a Hungarian genius to create a polar shift and give the industrialized nations a jolt before reversing the effect, the NUMA Special Assignments Team must stop him.
Poseidon's arrow /
ISBN: 0425265056 OCLC: 861516476 Ruthless Austrian entrepreneur Edward Bolcke has managed to steal a crucial component of the U.S. Navy's latest submarine technology--and he has found a way to hijack the world's supply of rare earth minerals. The three Pitts, along with longstanding sidekick Al Giordino, use their usual mix of brains and brawn to see that justice is served.
Raise the Titanic! /
ISBN: 0425194523 OCLC: 2347062 Viking Press, New York : 1976. The R.M.S. Titanic, sunk in 1912, has in her hold a very rare element, byzanium, needed to complete the U.S. Sicilian Project. The task of raising her is hampered by the presence of Russian spies and a very nasty hurricane.
Sacred stone /
ISBN: 1587248751 OCLC: 56807826 Wheeler Pub., Waterville, Me. : 2005. In the remote wastelands of Greenland, an ancient artifact possessing catastrophic radioactive power is unearthed. But the astounding find puts the world at risk. Caught between two militant factions bent on wholesale slaughter, Juan Cabrillo and his network of spies known as The Corporation must fight to protect the stone -- and prevent the outbreak of World War III ...
Sahara :
ISBN: 1439135681 OCLC: 25410390 Simon & Schuster, New York : ©1992. Dirk Pitt thwarts the attempted assassination of a beautiful U.N. scientist.
Serpent :
ISBN: 1451627106 OCLC: 41470649 Pocket Books, New York : ©1999. Underwater divers Kurt Austin and Joe Zavala battle a secret Spanish brotherhood which is plotting to regain Spanish territory taken by the U.S. The action ranges from the decks of a sunken passenger liner in the Atlantic to an underwater Mayan temple. By the author of Flood Tide.
Shadow tyrants
ISBN: 9780735219076 OCLC: 1037900075 Nearly two thousand years ago, an Eastern emperor charged a small group with safeguarding a body of knowledge and secrets powerful enough to change the history of mankind. They went down in legend as the Nine Unknown Men. Now two rival factions of the descendants are fighting a mighty battle. Both sides think they are saving the world. Juan Cabrillo and his team of expert operatives aboard the Oregon find themselves trapped between two power-hungry adversaries, both of whom are willing to use shocking means to accomplish their goals. Cabrillo and the team must divide and conquer as they fight dual threats, which include a supercomputer at sea and satellites that can wipe out technology across the globe -- including the high-tech weapons on board the Oregon. The crew must rely on their unique skills to stop the tyrants in their tracks and save the earth from a dynasty of terror.
Shock wave :
ISBN: 1416587101 OCLC: 184825911 Pocket Star Books, New York : 2008, ©1996. The latest Dirk Pitt adventure pits him against an evil diamond tycoon.
Skeleton Coast /
ISBN: 0425245713 OCLC: 772521344 Berkley Books, New York : 2012. Narrowly escaping following a mission on the Congo River, Juan Cabrillo and the crew of the Oregon rescue beautiful Sloane Macintyre--who is looking for a lost ship that may be carrying a fortune in diamonds--when her boat is attacked off the African coast and find themselves up against a deranged militant who plans to launch a devastating force of nature against those who oppose him.
Spartan gold /
ISBN: 0399156429 OCLC: 311776471 Berkley Books, New York : 2009. Treasure hunters Sam and Remi Fargo are shocked to discover a bottle of a rare wine taken from Napoleon's lost cellar. However, someone else is also searching for this treasure.
The adventures of Hotsy Totsy
ISBN: 9780616686423 OCLC: 1011727161 CNIB, Toronto : 2012. Ten-year-old twins Casey and Lacey's adventures continue when they use their magical machine to turn a model speedboat into a life-size motorboat to enter a race in San Francisco, and catch the attention of a villain from their past. Sequel to The adventures of Vin Fiz. Grades 3-6. 2010.
The adventures of Hotsy Totsy /
ISBN: 039925434X OCLC: 405104829 Philomel Books, New York : ©2010. Ten-year-old twins Casey and Lacey's adventures continue when they use their magical machine to turn a model speedboat into a life-size motorboat to enter a race in San Francisco, and catch the attention of a villain from their past.
The adventures of Vin Fiz /
ISBN: 0142407747 OCLC: 137242803 Puffin Books, New York : 2007, ©2006. Ten-year-old twins Casey and Lacey fly an enchanted, antique airplane, named the "Vin Fiz," across the United States and have several daring adventures along the way. Includes historical notes on the real "Vin Fiz," the name of the airplane that made the first transcontinental flight in 1911.
The Adventures of Vin Fiz.
ISBN: 9781439597309 OCLC: 299691210 Paw Prints 2009. Ten-year-old twins Casey and Lacey fly an enchanted, antique airplane, named the Vin Fiz, across the United States and have several daring adventures along the way.
The assassin /
ISBN: 0399171754 OCLC: 899952389 "The new thriller in the #1 New York Times-bestselling Isaac Bell series from grand master of adventure Clive Cussler. As Van Dorn private detective Isaac Bell strives to land a government contract to investigate John D. Rockefeller's Standard Oil monopoly, the case takes a deadly turn. A sniper begins murdering opponents of Standard Oil, and soon the assassin-shooting with extraordinary accuracy at seemingly impossible long range-kills Bell's best witness, a brave and likable man. Then the shooter detonates a terrible explosion that sets the victim's independent refinery ablaze. Bell summons his best detectives to scour the site of the crime for evidence. Who is the assassin and for whom did he kill? But the murders-shootings, poisonings, staged accidents-have just begun as Bell tracks his phantom-like criminal adversary from the "oil fever" regions of Kansas and Texas to Washington, D.C., to the tycoons' enclave of New York, to Russia's war-torn Baku oil fields on the Caspian Sea, and back to America for a final, desperate confrontation. And this one will be the most explosive of all"--
The bootlegger :
ISBN: 0399167293 OCLC: 864366358 "It is 1920, and both Prohibition and bootlegging are in full swing. When Isaac Bell's boss and lifelong friend Joseph Van Dorn is shot and nearly killed leading the high-speed chase of a rum-running vessel, Bell swears to him that he will hunt down the lawbreakers, but he doesn't know what he is getting into. When a witness to Van Dorn's shooting is executed in a ruthlessly efficient manner invented by the Russian secret police, it becomes clear that these are no ordinary criminals. Bell is up against a team of Bolshevik assassins and saboteurs--and they are intent on overthrowing the government of the United States"--
The chase /
ISBN: 0425224422 OCLC: 223802596 In April 1950, the rusting hulk of a steam locomotive rises from the waters of a Montana lake, revealing the remains of three men who died 44 years before and astonishing all those who look on. In 1906, the American West has been suffering a two-year crime spree: a string of bank robberies committed by one man who murders all witnesses, and then vanishes without a trace. The US government brings in the best man they can find - a no-nonsense detective named Isaac Bell who has caught thieves and killers from coast to coast. But he has never had a challenge like this one.
The Emperor's revenge :
ISBN: 0399175962 OCLC: 946142003 "The new Oregon Files adventure from the #1 New York Times-bestselling grand master of adventure. Juan Cabrillo and the crew of the Oregon face their toughest challenge yet when a violent bank heist during the Monaco Grand Prix decimates the Corporation's accounts. To get the money back, Juan joins forces with an old friend from his days in the CIA so they can track down a rogue hacker and a ruthless former Ukrainian naval officer. It is only after the hunt begins that the enormity of the plan comes into focus: the bank theft is just the first step in a plot that will result in the deaths of millions and bring the world's economies to a standstill. The catalyst for the scheme? A stunning document stolen during Napoleon's disastrous invasion of Russia. But two hundred years later, it may be the thing that brings Europe to its knees"--
The eye of heaven /
ISBN: 0425275175 OCLC: 900794958 "Baffin Island: Sam and Remi Fargo are on a climate-control expedition in the Arctic, when to their astonishment they discover a Viking ship in the ice, perfectly preserved--and filled with pre-Columbian artifacts from Mexico. How can that be? As they investigate, tantalizing clues about a link between the Vikings and the legendary Toltec feathered-serpent god Quetzalcoatl--and a fabled object known as the Eye of Heaven--begin to emerge. But so do many dangerous people. Soon the Fargos find themselves on the run through jungles, temples, and secret tombs, caught among treasure-hunters, crime cartels, and those with a far more personal motivation for stopping them. The solution to a thousand-year-old mystery awaits them at the end of the chase--if they manage to survive it."--Amazon.com.
The gangster :
ISBN: 0399175954 OCLC: 912007682 It is 1906, and in New York City, the Italian crime group known as the Black Hand (La Mano Nera) is on a spree: kidnapping, extortion, arson. Detective Isaac Bell of the Van Dorn Agency is hired to form a special "Black Hand squad," but the gangsters appear to be everywhere -- so much so that Bell begins to wonder if there are imitators, criminals using the name for the terror effect. And then the murders begin, each one of a man more powerful than the last, and as Bell discovers, to his dismay, the ultimate target may be the most powerful man of all.
The Gray Ghost :
ISBN: 9780735218734 OCLC: 1013753579 In 1906, a groundbreaking Rolls-Royce prototype known as the Gray Ghost vanishes from the streets of Manchester, England, and it is only the lucky intervention of an American detective named Isaac Bell that prevents it from being lost forever. Not even he can save the good name of Marcus Peyton, however, the man wrongly blamed for the theft. More than a hundred years later, it is his grandson who turns to Sam and Remi Fargo to help prove his grandfather's innocence. But there is even more at stake than any of them know. For the car has vanished again, and in it is an object so rare that it has the capacity to change lives. Men with everything to gain and a great deal to lose have a desperate plan to find it. And if anybody gets in their way? They have a plan for that, too.
The jungle /
ISBN: 042524654X OCLC: 727703169 Berkley Books, New York : 2012, ©2011. Juan Cabrillo and the crew of the Oregon take on another covert mission and confront a weapon rooted in thirteenth-century China and the treacherous jungles of northern Myanmar to overcome the greatest threat to U.S. security ever known.
The kingdom /
ISBN: 0425248089 OCLC: 761845878 Sam and Remi Fargo return for the third adventure in the acclaimed new series. The Fargos are used to hunting for treasure, not people. But then a Texas oil baron contacts them with a personal plea: an investigator friend of the Fargos' was on a mission to find the oil baron's missing father-and now the investigator is missing, too. Would Sam and Remi be willing to look for them both? Though something about the situation doesn't quite add up, the Fargos agree to go on the search. What they find will be beyond anything they could have imagined. On a journey that will take them to Tibet, Nepal, Bulgaria, India, and China, the Fargos will find themselves embroiled with black-market fossils, a centuries-old puzzle chest, the ancient Tibetan kingdom of Mustang, a balloon aircraft from a century before its time ... and a skeleton that could turn the history of human evolution on its head.
The Mayan secrets /
ISBN: 0399162496 OCLC: 837143848 Husband-and-wife team Sam and Remi Fargo are in Mexico, when they come upon a remarkable discovery: the skeleton of a man clutching an ancient sealed pot, and within the pot, a Mayan book, larger than anyone has ever seen. The book contains astonishing information about the Mayans, about their cities, and about mankind itself. The secrets are so powerful that some people would do anything to possess them--the Fargos are about to find out.
The Mediterranean caper /
ISBN: 0425197395 OCLC: 34029896 Simon & Schuster, New York : 1996. Major Dirk Pitt is called to Greece to investigate the sabotage of a National Underwater Marine AgencyMission to find a fish with links to the prehistoric era, and discovers a web of conspiracy involving drug smuggleing, a beautiful woman, and a vengeful Nazi war criminal.
The navigator :
ISBN: 0425222365 OCLC: 183267447 Berkley Books, New York : 2008, ©2007. Someone has killed for a statue stolen the Baghdad Museum years ago and the NUMA team must find why.
The Numa files collection
ISBN: 0743527461 OCLC: 51571796 Simon & Schuster Audio ; [New York] : [2002] Serpent: Kurt Austin, the leader of an elite NUMA underwater exploration team, and a beautiful marine archaeologist, investigate the link between the wreck of the Andrea Doria, a priceless pre-Columbian treasure, and a possible fifth voyage of Christopher Columbus.
The race /
ISBN: 042525044X OCLC: 706017163 G.P. Putnam's Sons, New York : ©2011. Bell has never encountered a case- and an enemy- quite like the one before him now, though. It is 1910, the age of flying machines is still in its infancy, and newspaper publisher Preston Whiteway is offering $50,000 for the first daring aviator to cross America in less than fifty days. He is even sponsoring one of the prime candidates- an intrepid aviatrix named Josephine Frost- and that's where Bell, chief investigator for the Van Dorn Detective Agency, comes in. Frost's violent-tempered husband has just killed her lover and tried to kill her, and he is bound to try again. Bell has tangled with Harry Frost before, and knows the man has made his millions leading gangs of thieves, murderers, and thugs in every city across the country. He also knows Frost won't be after just his wife, but after Whiteway as well. And Bell knows that if he takes the case, Frost will be after him, too.--From front book jacket.
The Romanov ransom
ISBN: 9780399575556 OCLC: 988232151 In 1918, a ransom of enormous size was paid to free the Romanovs from the Bolsheviks, but, as history knows, the Romanovs died anyway. And the ransom? During World War II, the Nazis stole it from the Russians, and after that -- it vanished. When a modern-day kidnapping captures the attention of husband-and-wife team Sam and Remi Fargo, the couple soon learn that these long-lost riches may be back in play, held in trust by the descendants of a Nazi guerrilla faction called the Werewolves. It is their mission to establish the Fourth Reich, and their time is coming soon. As the Fargos follow the trail across Europe, Northern Africa, and South America, they know only one thing. This quest is greater than anything they have ever done. It is their chance to make someone answer for unspeakable crimes, and to prevent them from happening again.
The sea hunters
ISBN: 0736699139 OCLC: 53190640 Books on Tape, Santa Ana, CA : ℗2003. Unabridged.
The sea hunters :
ISBN: 1451621035 OCLC: 721264186 Pocket Books, New York : 2011, ©1996. In the Sea Hunters, his first nonfiction book, Cussler explorers the special world of undersea adventure that inspired and has its fictional parallel in the Dirk Pitt novels. He describes his lifelong love for the sea and ships, and how his involvement with the search for John Paul Jones's famous Revolutionary War ship, the Bonhome Richard, led to his establishing the NUMA (National Underwater and Marine Agency) Foundation, a nonprofit organization dedicated to the discovery and preservation of historic shipwrecks. From the more than sixty shipwrecks Cussler and his NUMA volunteers have found, he has chosen the twelve most interesting, whether because of the ships' history, the circumstances of its sinking, or the trouble, frustration, and peril that were encountered while trying to find the sunken wreck. With the same wonderful storytelling that Cussler brings to his novels, he describes his searches for such ships as the Union 24-gun frigate Cumberland, sunk during the Civil War by the Confederate ironclad CSS Virginia (formerly the Merrimack); the Confederate Hunley, which during World War I became the first sub to sink a warship and escape; and the American troop transport Leopoldville, which was destroyed by a German submarine on Christmas Eve, 1944, with huge loss of life; as well as Engine #51, the lost locomotive of Kiowa Creek, which roared off a storm-weakened high bridge in 1878. The wrecks date as far back as 1840 and span the continental United States, the Atlantic Ocean, and the North Sea.
The sea hunters II
ISBN: 9781440674266 OCLC: 518426325 Berkley Books, New York : [2004], ©2002.
The sea hunters II /
ISBN: 0425193721 OCLC: 54089465 Berkley Books, New York : 2004. Collects accounts of the underwater discoveries made by the author and his team of volunteers dedicated to the exploration of historic wrecks, including the tale of the ghost ship Mary Celeste, the Carpathia, and the Hunley.
The silent sea :
ISBN: 1410421945 OCLC: 491898639 Wheeler Pub., Detroit : 2010. In December 7, 1941, five brothers exploring a shaft on an island off the coast of Washington State make an extraordinary discovery, but a tragic accident suspends further investigation. In the present, Juan Cabrillo and his Oregon team, chasing the remanants of a crashed satellite in the Argentine jungle, stumble upon a shocking revelation. His efforts to untangle the mystery lead first to that island, and then much farther back, to an ancient Chinese expedition and a curse more than 500 years old.
The solomon curse /
ISBN: 039917432X OCLC: 900623467 There are many rumors about the bay off Guadalcanal in the Solomon Islands. Some say it was the site of the lost empire of the Solomon king and that great treasure lies beneath the waters. Others say terrible things happened here, atrocities and disappearances at the hands of cannibal giants, and those who venture there do not return. It is cursed. Which is exactly what attracts the attention of husband-and-wife treasure-hunting team Sam and Remi Fargo. How could they resist? Clues and whispers lead them on a hunt from the Solomons to Australia to Japan, and what they find at the end of the trail is both wonderful and monstrous and like nothing they have ever seen before.
The spy /
ISBN: 1410424774 OCLC: 456171751 G.P. Putnam's Sons, New York : ©2010. In 1908, a brilliant American battleship gun designer dies in a sensational apparent suicide. The man's grief-stricken daughter turns to the legendary Van Dorn Detective Agency to clear her father's name. Van Dorn puts his chief investigator on the case, and Isaac Bell soon realizes that the clues point not to suicide but to murder.
The storm :
ISBN: 042525965X OCLC: 844734977 "In the middle of the Indian Ocean, a NUMA research vessel is taking water samples at sunset, when a crew member spots the familiar sheen of black oil ahead of them. But the substance is not oil. Like a horde of army ants, a swarm of black particles from the spoiled sea suddenly attacks, killing everyone aboard while the ship goes up in flames. A few hours later, Kurt Austin and Joe Zavala are on their way to the Indian Ocean. What they find on the smoldering hulk of the ship will eventually lead them to discover the most audacious scheme they have ever encountered: a plan to permanently alter the weather on a global scale. The insidious plot will kill millions... and it has already begun."--Summary page.
The striker :
ISBN: 0425264688 OCLC: 802321019 After witnessing a terrible coal mining accident, Detective Isaac Bell hunts for the high-level saboteurs he believes are responsible.
The thief :
ISBN: 9780425259290 OCLC: 788241550 Berkley Books, New York : 2013. On the ocean liner Mauretania, two European scientists with a dramatic new invention are barely rescued from abduction by the Van Dorn Detective Agency's intrepid chief investigator, Isaac Bell. Unfortunately, they are not so lucky the second time. The thugs attack again-and this time one of the scientists dies. What are they holding that is so precious? Only something that will revolutionize business and popular culture-and perhaps something more. For war clouds are looming, and a ruthless espionage agent has spotted a priceless opportunity to give the Germans an edge. It is up to Isaac Bell to figure out who he is, what he is up to, and stop him. But he may already be too late. and the future of the world may just hang in the balance.--Provided by publisher.
The tombs /
ISBN: 0425265072 OCLC: 785077563 G.P. Putnams Sons, New York : ©2012. Husband-and-wife team Sam and Remi Fargo are intrigued when an archaeologist friend requests their help excavating a top secret historical site. What they find will set them on a hunt for a prize greater than they could ever imagine. The clues point to the hidden tomb of Attila the Hun, the High King who was reportedly buried with a vast fortune of gold and jewels and plunder ... a bounty that has never been found. As they follow the trail through Hungary, Italy, France, Russia, and Kazakhstan--a trail that they discover leads them not to one tomb, but five--the Fargos will find themselves pitted against a thieving group of amateur treasure hunters, a cunning Russian businessman, and a ruthless Hungarian who claims direct descent from Attila himself ... and will stop at nothing to claim the tombs' riches as his own.
The wrecker /
ISBN: 0425237702 OCLC: 311777698 Investigating a series of attacks on the Southern Pacific Railroad's Cascades express lines, Detective Bell learns of the existence of an elusive saboteur who recruits and murders his own accomplices while engineering schemes of maximum havoc.
Treasure :
ISBN: 1451621019 OCLC: 717334821 Pocket Books, New York : 2011, ©1988. Dirk Pitt's hunt for ancient Egyptian treasure is sidetracked when the White House is threatened by terrorists from Egypt and Mexico and a cruise ship carrying the presidents of Egypt and Mexico is hijacked.
Treasure of Khan /
ISBN: 0425218236 OCLC: 71275614 G.P. Putnam's Sons, New York : ©2006. When an oil survey team is abducted after a suspicious accident, Dirk Pitt follows leads to Mongolia, where he learns about a megalomaniac's plot to supply oil to China and to undermine global oil markets.
Trojan odyssey /
ISBN: 0425199320 OCLC: 52757541 Putnam, New York : ©2003. Underwater adventurer Dirk Pitt and the NUMA crew investigate a black tide infesting the ocean off Nicaragua, a study complicated by the discovery of a mysterious artifact, a powerful storm, and a conspiracy.
Valhalla rising /
ISBN: 0425204049 OCLC: 48222913 Thorndike Press ; Waterville, Me. : 2002. When Dirk Pitt races to save the victims of the sinking of the cruise ship Emerald Dolphin, he has no idea that he will soon be "confronted by an extraordinary series of monsters, both human and mechanical, modern and ancient. He will tread upon territory previously known only to legend."--Jacket.
Vixen 03 /
ISBN: 0440423147 OCLC: 4193140 Viking Press, New York : 1978. An African terrorist group acquires two canisters containing a virulent organism and threatens to attack Washington, D.C.
White death :
ISBN: 0425195457 OCLC: 51878215 G.P. Putnam's Sons, New York : ©2003. "A ruthless corporation is about to take control of the seas. For those who oppose them there is ... white death."
Zero hour :
ISBN: 1410457044 OCLC: 828890204 It is called zero point energy, and it really exists - a state of energy contained in all matter everywhere, and thus all but unlimited. Nobody has ever found a way to tap into it, however - until one scientist discovers a way. The problem is, his machines also cause great earthquakes, even fissures in tectonic plates. One machine is buried deep underground; the other is submerged in a vast ocean trench. If Kurt Austin and Joe Zavala and the rest of the NUMA team aren't able to find and destroy them, and soon, the world will be on the threshold of a new era of earth tremors and unchecked volcanism.