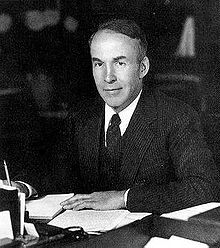 Archibald MacLeish
Born:
May 7, 1892 in Glenco. Illinois
Died:
April 20, 1982 in Boston, Massachusetts
Pen Name:
None
Connection to Illinois
: MacLeish was born and raised in Glencoe. He grew up on an estate bordering Lake Michigan.
Biography
: Archibald MacLeish is best known for his works of poetry, although he also wrote drama and criticism. He received a law degree fromm Harvard University, where he graduated first in his class. After practicing law from 1920 to 1923, he dicided to devote himself to literature. He was Librarian of Congress from 1939 to 1944 and Professor of Rhetoric and Oratory at Harvard from 1949 to 1962.
---
Awards
:
'''''Conquistador'''''
-- Pulitzer Prize for poetry, 1933 '''''Collected Poems 1917–1952'''''
-- Pulitzer Prize for poetry, 1953
-- National Book Award, 1953 '''Other Awards
Primary Audience(s):
Adult readers
Website:
http://www.poets.org/poet.php/prmPID/47
Archibald Macleish on WorldCat :
http://www.worldcat.org/search?q=archibald+macleish
---
Selected Titles
Archibald MacLeish :
ISBN: 0870235117 OCLC: 44959558 University of Massachusetts Press, Amherst, Mass. : 1986. In these long interviews, conducted during the last five years of his life, a noted writer talks about his professional life as a poet, playwright, lawyer, editor of Fortune, Librarian of Congress and Harvard professor. Relatively reticent about his family, MacLeish (18921982) is outspoken about FDR, Truman ("totally himself all the time"), Joe McCarthy, George Marshall (a remarkable man of great intellectual powers) and Alger Hiss ("the most complete reactionary I ever saw in my life"), andalthough he claims that he avoided writers "like the plague"about Joyce, Hemingway and Ezra Pound ("He had the worst taste in people"). Arranged chronologically, these free-ranging memoirs reveal many hitherto undisclosed aspects of an eloquent, high-minded American. -- Publishers Weekly.
Collected poems, 1917-1982
ISBN: 0395394171 OCLC: 12262242 Houghton Mifflin, Boston : 1985. This expanded volume of the distinguished poet's work contains 29 previously uncollected poems, some that had been published, and some found in manuscript after MacLeish's death in 1982. This is the definitive volume produced by a life that filled several careers as writer, teacher, and public servant, but was devoted above all to poetry.
J.B. :
ISBN: 0395079497 OCLC: 14219719 This play is a modern poetic version of the biblical Book of Job which attempts to relate the concept of goodness to contemporary life.
Letters of Archibald MacLeish, 1907 to 1982 /
ISBN: 039532159X OCLC: 8627233 Houghton Mifflin, Boston, MA : 1983.
Reflections.
ISBN: 0870236237 OCLC: 19520184 University of Massachusetts Press, 1986.
Riders on the Earth :
ISBN: 0395263824 OCLC: 3542425 Houghton Mifflin, Boston : 1978. "Essays and recollections."
The Penguin book of First World War poetry
ISBN: 0141180099 OCLC: 37105631 Penguin Books, London, England ; 1996. A selection of poetry written during World War I. In the introduction Jon Silkin traces the changing mood of the poets - from patriotism through anger and compassion to an active desire for social change. The book includes work by Sassoon, Owen, Blunden, Rosenberg, Hardy and Lawrence.