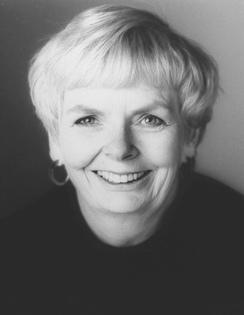 Carol Shields
Born:
June 2, 1935 in Oak Park, Illinois
Died:
July 16, 2003 in Victoria, British Columbia
Pen Name:
Carol Ann Shields
Connection to Illinois
: Shields was born in Oak Park under the name of Carol Ann Warner.
Biography
: Carol Shields was a novelist, short story writer, playwright and editor. She is best known for her 1993 novel ''The Stone Diaries'', which won the U.S. Pulitzer Prize for Fiction and the Governor General's Award in Canada. It is the only book to win both awards. She moved to Canada after marrying and later became a Canadian citizen. Shields taught at the University of Ottawa, the University of British Columbia, University of Manitoba and served as chancellor of the University of Winnipeg.
---
Awards
:
The Stone Diaries - Pulitzer Prize for Fiction, 1995, Governor General's Award, Canada, National Book Critics Circle Award, 1994, Nominated, Booker Prize, 2003, One of the best books of the Year, Publishers Weekly, 1993, Notable Book, The New York Times B
Larry's Party - Orange Prize for Fiction, 1998
Unless - Ethel Wilson Fiction Prize
Small Ceremonies - Canadian Authors' Association Award for the Best Novel of 1976
Jane Austen - Charles Taylor Prize for Literary Non-Fiction
Primary Audience(s):
Adult readers
Web:
http://carol-shields.com
---
Selected Titles
A celibate season /
ISBN: 0140275118 OCLC: New York : Penguin Books, New York : 1999. A husband and wife exchange vows of celibacy when she has to move to the other side of the country for a job. Over a period of a year they exchange letters, telling each other how they are doing. The setting is Canada.
Collected stories
ISBN: 0060762039 OCLC: New York : Fourth Estate, New York : [2005] A collection of short works features definitive pieces written throughout the course of the author's career, including the previously unpublished Segue, a portrayal of a sonnet writer who faces an unknown darkness.
Coming to Canada
ISBN: 9780773584631 OCLC: Ottawa : Carleton University Press, Ottawa : ©1995.
Departures & arrivals
ISBN: 0921368135 OCLC: Winnipeg : Blizzard Pub., Winnipeg : 1990, c1988.
Dressing Up for the Carnival
ISBN: 0670889210 OCLC: New York : The Viking Press New York : 2000 In Dressing Up for the Carnival, Carol Shields distills her characteristic wisdom, elegance, and insouciant humor in twenty-two luminous stories. A wealth of surprises and contrasts, this collection ranges from the lyricism of Weather, in which a couple's life is thrown into chaos when the National Association of Meteorologists goes on strike, to the swampy sexuality of Eros, in which a room in a Parisian hotel on the verge of ruin is the catalyst for passion, to the brave confidence of A Scarf --New for this collection-which chronicles the realities of a fledging author's book tour. Playful, graceful, acutely observed, and generous of spirit, these stories will delight her devoted fans and win her new converts as well. ... Publisher description.
Happenstance, the husband's story ; Happenstance, the wife's story /
ISBN: 0140179518 OCLC: New York : Penguin, New York : 1994. Two stories from a marriage in crisis: thewife's story and the husband's story. The setting issuburbia, the time frame a week spent apart. She goes toa quilting convention where she has an affair, he stayshome to mind the kids and discuss manhood with a friendwho has been abandoned by his wife.
Jane Austen
ISBN: B01K9AC21K OCLC: W&N 2001 Now in her own words, as clear and straightforward as a glass of water, comes the best possible guide to the writing process, from conception to publication. This essential work, drawn by her daughter and grandson from her voluminous correspondence with other writers, essays, notes, comments, criticism and lectures, is a last gift from one of our finest novelists meant for both aspiring and established writers.
Larry's Party
ISBN: 1552781933 OCLC: Toronto : McArthur & Company Toronto : 2001
Mary Swann
ISBN: 9789462380912 OCLC: Mary Swann is the story of four individuals who become entwined in the life of Mary Swann, a rural Canadian poet whose authentic and unique voice is discovered only hours before her husband hacks her to pieces. Who is Mary Swann? And how could she have produced these works of genius in almost complete isolation? Mysteriously, all traces of Swann's existence, her notebook, the first draft of her work, even her photograph, gradually vanish as the characters in this engrossing novel become caught up in their own concepts of who Mary Swann was.
Others
ISBN: 0919594085 OCLC: Ottawa, Borealis Press Ottawa, 1972
Small Ceremonies :
ISBN: 1306188849 OCLC: Open Road Media, 2013. What is the matter with me, I wonder. Why am I always the one who watches? Judith Gill lives with her husband, son, and daughter in a nice house in the suburbs of Ontario. She has carved out a niche as a respected biographer. Her universe is shaped and bounded by the lives around her, from her family to the subjects of her books. She finds herself in the background of her life, but she hungers to tell stories of her own. In this witty, nuanced novel about art, life, love, and fiction, Carol Shields reveals Judith to readers and to herself & mdash;a woman with bold emotions, powerful instincts, and a knack for observing the small ceremonies that give our lives meaning.
Startle and Illuminate: Carol Shields on Writing
ISBN: 0345815947 OCLC: Random House Canada 2016 Now in her own words, as clear and straightforward as a glass of water, comes the best possible guide to the writing process, from conception to publication. This essential work, drawn by her daughter and grandson from her voluminous correspondence with other writers, essays, notes, comments, criticism and lectures, is a last gift from one of our finest novelists meant for both aspiring and established writers.
Swann: A Mystery
ISBN: 067082822X OCLC: New York, N.Y., U.S.A. : Viking Adult New York, N.Y., U.S.A. : 1989
The box garden /
ISBN: 0140251367 OCLC: New York, N.Y., U.S.A. : Penguin Books, New York, N.Y., U.S.A. : 1996. A poet's struggle to make something of herself after her creative juices run dry. Although she has a son and a man who loves her, Charleen Forrest is still obsessed by the thought that she is a failure. The novel follows Charleen as she tries to sort herself out. By the author of The Stone Diaries for which she won the Pulitzer Prize.
The collected stories
ISBN: 0679313273 OCLC: Toronto : Vintage Canada, Toronto : 2005. Now readers can enjoy all three of Carol Shields' short story collections - Various miracles, The orange fish, and Dressing up for the carnival - in one volume along with her previously-unpublished last story, Segue.
The orange fish /
ISBN: 0140152822 OCLC: New York, N.Y. : Penguin Books, New York, N.Y. : 1992, ©1989. These twelve short stories portray middle-aged, middle-class women who feel alone and alienated. In the title story, the orange fish is a lithograph which changes the lives of its owners, those who possess the print offer testimony to what it means to them.
The republic of love
ISBN: 9789462380899 OCLC: MODERN & CONTEMPORARY FICTION (POST C 1945). Complications beset two shell-shocked veterans of the wars of the heart - Fay, a folklorist whose passion for mermaids has kept her from focusing on any one man; and right across the street there's Tom, a popular radio talk-show host who has focused a little too intently, having married and divorced three times. Only Carol Shields could describe so adroitly both a couple who fall in love as thoroughly and satisfyingly as any Victorian couple and the modern complications that beset them.
The stone diaries /
ISBN: 0140238344 OCLC: London : Penguin Books, London : 1994, ©1993. An aged woman discovers herself as she reflects upon her life in the 20th century.
Unless
ISBN: 9780735273719 OCLC: Reta Winters has many reasons to be happy: Her three almost grown daughters. Her twenty-year relationship with their father. Her work translating the larger-than-life French intellectual and feminist Danielle Westerman. Her modest success with a novel of her own, and the clamour of her American publisher for a sequel. Then in the spring of her forty-fourth year, all the quiet satisfactions of her well-lived life disappear in a moment: her eldest daughter Norah suddenly runs from the family and ends up mute and begging on a Toronto street corner, with a hand-lettered sign reading GOODNESS around her neck. GOODNESS. With the inconceivable loss of her daughter like a lump in her throat, Reta tackles the mystery of this message. What in this world has broken Norah, and what could bring her back to the provisional safety of home? Reta's wit is the weapon she most often brandishes as she kicks against the pricks that have brought her daughter down: Carol Shields brings us Reta's voice in all its poignancy, outrage and droll humour. --
Various Miracles :
ISBN: 1306188873 OCLC: Open Road Media, 2013. The small miracles of our day-to-day lives are on captivating display in this unforgettable collection by Pulitzer Prize winner Carol Shields Various Miracles brings together twenty-one short stories, modern parables that illuminate the mysteries of everyday existence. In the title story, four strangers on a bus are all reading the same book. In & ldquo;Fragility, & rdquo; Ivy & rsquo;s husband reflects on their marriage, the death of their young son, Christopher, and the plane ride that will deliver them to a new life. From & ldquo;The Metaphor Is Dead & ndash; Pass It On & rdquo; to & ldquo;Home & rdquo; to & ldquo;Others & rdquo; & mdash;in which a couple & rsquo;s act of generosity is repaid in annual Christmas cards with no return address & mdash;this collection is by turns witty, inventive, and moving. Whether portraying a violinist yearning to break free of overprotective parents or an elderly widow mowing her lawn to the thunderous timpani of memory, Carol Shields depicts the struggles of ordinary people caught up in extraordinary circumstances. It & rsquo;s a world where magic coexists with reality, and where leaps of faith and acts of kindness create their own miracles.