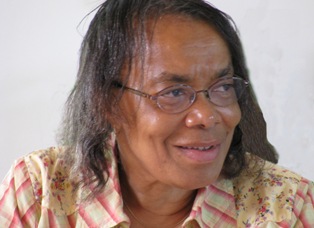 Martha Modena Vertreace-Doody
Born:
1945 in Washington, D.C.
Pen Name:
None
Connection to Illinois
: Vertreace-Doody lives in Chicago and is a Distinguished Professor of English and Poet-in-Residence, Kennedy-King College.
Biography
: Martha Modena Vertreace-Doody's work focuses on American experiences, as a black woman in the Chicago region, as a participant in American history, and as a community activist. She has been involved in Chicagoís Catholic and African American communities, serving as a time as an editor of Community Magazine at Friendship House in Chicago and publishing poetry in the National Catholic Reporter.
---
Awards
:
"""Glacier Fire"""
-- Word Press Poetry Prize, 2004
"""Light Caught Bending"""
-- Scottish Arts Council Grant, 1995 the first time the award was given to a writer who is not British
"""Other Awards"""
-- The Glendora Review Poet, Lagosm Nigeria
-- Twice Fellow at the Hawthornden International Writers' Retreat in Scotland
-- Poetry Fellow, in residence at the Writers Center, Dublin, Ireland
-- Research Fellow at St. Deiniol's Library, Hawarden, Wales
-- National Endowment of the Arts Fellowship, 1993
-- Illinios Arts Council Literary Awards
-- Illinois Arts Council Fellowship
-- Significant Illinois Poet Award from Gwendolyn Brooks, 1993
Primary Literary Genre(s):
Poetry
Primary Audience(s):
Adult readers
Website:
http://www.litline.org/iwd/html/vertreace.html
Wikipedia:
https://en.wikipedia.org/wiki/Martha_M._Vertreace-Doody
---
Selected Titles
Glacier fire :
ISBN: 1932339590 OCLC: 58806299 Word Press, Cincinnati, OH : ©2004.
IN THIS GLAD HOUR.
ISBN: 0944048595 OCLC: 1162578280
Kelly in the mirror /
ISBN: 0807541524 OCLC: 26255832 A. Whitman, Morton Grove, Ill. : ©1993. A young girl feels sad that she doesn't look like anyone in her family--until she finds a photograph album in the attic.
Light caught bending /
ISBN: 0946230285 OCLC: 33208660 Diehard, Edinburgh : ©1995.
Maafa :
ISBN: 0938507249 OCLC: 34282395 Ion Books, Memphis, TN : 1996.
Second house from the corner /
ISBN: 093829900X OCLC: 13665677 Kennedy-King College Print. Dept., Chicago : 1986.
Second mourning /
ISBN: 0946230498 OCLC: 40179616 Diehard, Edinburgh : ©1998.
Under a cat's-eye moon /
ISBN: 0914403001 OCLC: 24143447