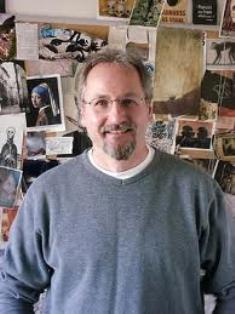 Eric Rohmann
Born:
1957 in Riverside, Illinois
Pen Name:
None
Connection to Illinois
: Rohmann was born in Riverside. He graduated from Illinois State University and now lives in Chicago.
Biography
: Eric Rohmann is an author and illustrator of children's books. He is also an artist and a former teacher. He has exhibited his artwork at numerous galleries and museums. A graduate of Illinois State University and Arizona State University, he currently resides in Chicago. Rohmann won the 2003 Caldecott Medal for his illustrations of ''My Friend Rabbit''. His book ''Time Flies'', his first book for children, won the 1995 Caldecott Honor Award and was named a New York Times Notable Book of the Year. In addition to writing and illustrating children's books, he has taught drawing and printmaking. His artwork has been featured in various exhibitions and permanent collections throughout the country.
---
Awards
:
Body of Work Prairie State Award for Excellence in Writing for Children,'' Illinois Reading Council, 2013
Clara and Asha Notable Children's Books, American Library Association
The Cinder-eyed Cats Starred Review, Booklist
Mine! ILLINOIS READS Book Selection, Illinois Reading Council, 2024
Honeybee: The Busy Life of Apis Mellifera Starred Reviews - Horn Book, The Bulletin of the Center for Children's Books, Booklist, School Library Journal, Kirkus, Publishers Weekly, Shelf Awareness
Giant Squid Robert F. Sibert Informational Book,Starred Reviews - Publishers Weekly, School Library Journal
Bulldozer's Big Day Starred Review - Kirkus, Illinois READS Book Selections, Illinois Reading Council, 2017
Oh No! Starred Reviews - School Library Journal, Publishers Weekly, Kirkus
Bone Dog Starred Reviews - School Library Journal, Publishers Weekly, Horn Book, Kirkus
A Kitten Tale Parents' Choice Recommended, National Parenting Publications Awards (NAPPA) Gold Award, An Oprah.com
My Friend Rabbit Caldecott Medal, 2003, Parents' Choice Recommended, National Parenting Publications Awards (NAPPA) Gold Award, An Oprah.com "Kids Reading List" Selection
Time Flies Caldecott Honor, 1999, ALA Notable Book, New York Times Book Review Best Children's Book, Colorado Children's Book Award nominee
Primary Literary Genre(s):
Fiction; Illustrator
Primary Audience(s):
Children
Web:
http://www.ericrohmann.com
YouTube:
https://youtu.be/gLR1r10O0OQ?list=PLLxDwKxHx1yIngonXBr_LLOy5KIK6s9iy
---
Selected Titles
A kitten tale
ISBN: 9780553498318 OCLC: 897881335 As four kittens who have never seen winter watch the seasons pass, three of them declare the reasons they will dislike snow when it arrives, while the fourth cannot wait to experience it for himself.
Bless this mouse /
ISBN: 0547390092 OCLC: 609303790 Houghton Mifflin Books for Children : Boston : 2011. Mouse Mistress Hildegarde musters all her ingenuity to keep a large colony of church mice safe from the exterminator and to see that they make it through the dangerous Blessing of the Animals.
Bone dog /
ISBN: 1596431504 OCLC: 150336211 Roaring Brook Press, New York : 2011. Although devastated when his pet dog dies, a young boy goes trick-or-treating and receives a timely visit from an old friend during a scary encounter with graveyard skeletons.
Bulldozer helps out /
ISBN: 1481458949 OCLC: 957696419
Bulldozer's big day
ISBN: 9781338112245 OCLC: 961189151 Bulldozer wants to invite all of his co-workers to a party to celebrate his special day, but to them it is just another day for scooping, sifting, stirring, and more.
Bulldozer's Christmas dig /
ISBN: 1534438203 OCLC: 1227790953
Clara y Asha
ISBN: 8426135471 OCLC: 70871862 Editorial Juventud, S.A., Barcelona : ©2006. Young Clara would rather play with her imaginary giant fish, Asha, than settle down to sleep.
Giant squid /
ISBN: 1596435992 OCLC: 923728105
Honeybee :
ISBN: 0823442853 OCLC: 1043055885 Describes the life cycle of the hard-working honeybee.
King Crow /
ISBN: 0517596342 OCLC: 29311100 Jailed by an evil foe, a king receives invaluable help from a crow that regularly brings him the latest news.
Last Song
ISBN: B005IV1SUW OCLC:
Mine!
ISBN: 0593181662 OCLC: Anne Schwartz Books 2023 This rhythmic read-aloud about sharingby an award-winning author and a Caldecott medalist features a series of hilariously selfish forest animals. In a tall, tall tree, at the tip-tippy top, hangs a single red apple... Along skirts Mouse. "An apple!" she squeaks, "How divine! When it tumbles to the ground, it'll all be mine!" And so it goes, for Hare, Fox, Deer, and Bear, who each can't wait to get their hands on the apple. Soon the wind huffs and puffs, the branch snips and snaps, and down the apple falls. Only one shiny red apple for five furry creatures? What are they to do?! Here is a read-aloud picture book, perfect for storytime, that will have kids repeating the refrain "Mine!"... complete with an ending that celebrates sharing and is sure to surprise!
My friend Rabbit /
ISBN: 031236752X OCLC: 48817325 Something always seems to go wrong when Rabbit is around, but Mouse lets him play with his toy plane anyway because he is his good friend.
My friend Rabbit and the snow geese.
ISBN: 9781250016621 OCLC: 794037842 Square Fish, New York, NY : 2013. On the first day of winter, the Gibble Goose Girls sulk when the snow has made their favorite outdoor activities impossible, so it's up to Rabbit and Mouse to prove that the cold season has its own charms.
Oh, no!
ISBN: 9780449814857 OCLC: 966672366 A series of animals falls into a deep hole, only to be saved at last by a very large rescuer.
Once upon a camel /
ISBN: 1534406433 OCLC: 1227864791 In 1910, Zada the camel treks across the West Texas desert to save two baby kestrels from an approaching haboob, a mountain-sized storm. sharing adventures from her youth in Turkey to keep them calm.
Pumpkinhead
ISBN: 9780375983740 OCLC: 773826113 Alfred A. Knopf : New York : 2003. A boy with a pumpkin for a head has a perilous adventure and learns a valuable lesson about what it means to be different.
Strongheart :
ISBN: 1101934107 OCLC: 990838006 A German shepherd is transformed from Etzel, a police dog in Berlin, to Strongheart, a silent movie star that will need his best acting skills to prove himself innocent of attacking a girl.
The cinder-eyed cats
ISBN: 9780385756167 OCLC: 1028736305 From the creator of the Caldecott Honor winner Time Flies, here's a little boy's journey to a tropical dream world. Magnificent oil paintings and rhyming text bring to life a mysterious island where cinder-eyed cats move like shadows, boats float above the ocean, whales fly across the dawn sky, and a parade of fish dances in the light of a campfire.
The prairie train
ISBN: 9780385756150 OCLC: 1028736295 As a young Irish immigrant boy travels by steam-engine across the American prairie to a new life, memories of the old country pull at his heart.
Time flies
ISBN: 0517595982 OCLC: 28675724 A wordless tale in which a bird flying around the dinosaur exhibit in a museum has an unsettling experience when it finds itself back in the time of living dinosaurs.