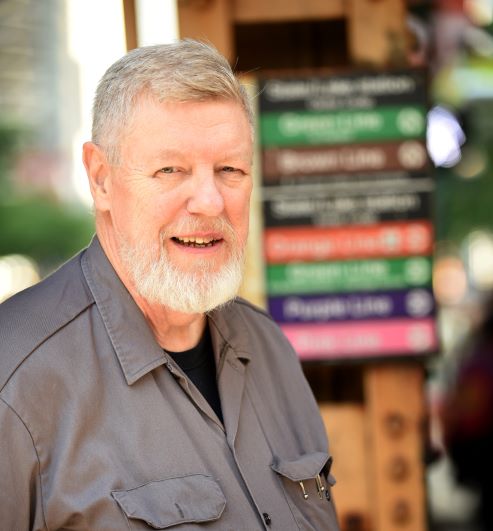 Patrick T. Reardon
Born:
November 22, 1949
Pen Name:
None
Connection to Illinois
: The author is a lifelong Chicago resident.
Biography
: Patrick T. Reardon, a three-time Pushcart Prize nominee, has authored twelve books, including the poetry collections Requiem for David (Silver Birch), Darkness on the Face of the Deep (Kelsay) and The Lost Tribes (Grey Book). His memoir in prose poems Puddin': The Autobiography of a Baby, published by Third World Press with an introduction by Haki Madhubuti, has been described by Mindbender Review of Books as "the most improbable and intriguing personal account by a writer published in 2022, but quite possibly the most ingeniously imagined memoir by any writer in any given year." His fifth poetry collection — Salt of the Earth: Doubts and Faith — is forthcoming from Kelsay Books. Reardon, author of the history The Loop: The "L" Tracks That Shaped and Saved Chicago (Southern Illinois University Press, 2020), was a Chicago Tribune reporter for 32 years. He has published essays and book reviews widely in such publications as the Tribune, Chicago Sun-Times, Crain's Chicago Business, National Catholic Reporter, Chicago magazine and U.S. Catholic. His poetry has appeared in Rhino, Main Street Rag, America, After Hours, Autumn Sky, Burningword Literary Journal and many others. His poem "Lent Litany Banquet" was a finalist in the 2022 chapbook contest of Divot, a Journal of Poetry, and his poem "The archangel Michael" was a finalist for the 2022 Mary Blinn Poetry Prize of After Hours Press.
---
Awards
:
Lisagor Awards, Chicago chapter of the Society of Professional Journalists for arts criticism, 1991 and 1992; for public service, 1988 for leading a team of reporters on an extensive report of Chicago's public housing, and in 1997 for the dissection of the political clout behind the scenes of a single City Council meeting; 2003 for in-depth reporting for their series of stories on the demolition of hundreds of potential city landmarks with Tribune architecture critic Blair Kamin
Primary Literary Genre(s):
Non-Fiction; Poetry
Primary Audience(s):
Adult readers
Web:
http://patricktreardon.com
---
Selected Titles
Catholic & starting out :
ISBN: 087946528X OCLC: 1119058990 A perfect gift for any young adults starting a new phase of their life.Five ChallengesThe world can be frightening.You must take risks.You have to handle being alone.There is a jaggedness to life.You are in a hurry to make your mark.Five OpportunitiesThe world can be exciting.You can take a leap of faith.You can learn to be with others.You can take control of your life.You can learn to savor the moment.
Daily meditations (with scripture) for busy dads /
ISBN: 0879461284 OCLC: 33901955 ACTA Publications, Chicago, Ill. : ©1995. Dads of all ages will appreciate the timely, uplifting thoughts that focus on the challenges they face at home and on the job.
Darkness on the Face of the Deep: Poems
ISBN: 1954353766 OCLC: Kelsay Books 2021 InDarkness on the Face of the Deep, Patrick T. Reardon has created an Old Testament set in his beloved hometown of Chicago — a beat he knows well. In this remarkable collection, Reardon travels the city's streets and alleyways reporting on a heavenly host of only-in-Chicago characters. Like a modern-day Jeremiah, Reardon offers his personal Book of Lamentations, while providing universal insights into love, loss, and life. Reardon joins other Catholic mystic authors, such as Flannery O'Connor and Jack Kerouac, in exploring the eternal mysteries while facing both the light and the darkness.—Melanie Villines, author of the novel Windy City Sinners and editor / publisher at Silver Birch Press
Faith stripped to its essence :
ISBN: 0879465816 OCLC: 965558620 Martin Scorsese's new film based on Shusaku Endo's Silence will raise a wide range of faith-related questions. And Patrick T. Reardon's Faith Stripped to Its Essence is the perfect guide for group reading and discussion. Reardon provides commentary on the novel as well as questions for reflection and discussion. Chapters of the commentary are devoted to each of the main characters and their own experience of faith. Several chapters focus on the central character, the missionary priest Fr. Sebastian Rodrigues. These characters are all believers in one way or another, but are far from unified in their approach to living that faith in the real world.
Love never fails :
ISBN: 9780879463090 OCLC: 83607573 ACTA Publications, Skokie, IL : ©2006. No one ever said fatherhood would be easy, but sometimes the rollercoaster ride of parenting can be a bit overwhelming. Whether it's misinterpreting a child's family portrait, enjoying a homemade Sunday morning breakfast, arguing with a moody teenager, or simply watching the kids skipping through the rain, fatherhood is full of ups and downs. In his new book Love Never Fails, Patrick T. Reardon, author of the popular Daily Meditations (with Scripture) for Busy Dads and Starting Out, offers a collection of reflections based on the daily occurrences of fatherhood. He celebrates the joys of parenting while acknowledging the sometimes-exhausting antics of kids, and in the end shows how a father's love truly never fails. The reflections in Love Never Fails are accompanied by an inspirational quote from Scripture, music or literature, and a link to a website with practical advice on the issues discussed in the reflection. It's a wonderful gift for fathers of all ages and experience levels.
Puddin': The Autobiography of a Baby, A Memoir in Prose Poems
ISBN: 0883784254 OCLC: Third World Press 2023 It is the story of a baby—me—during my first fourteen months, leading up to the birth of David. It's told from the perspective and in the voice of a baby. Each of this small book's 101 chapters is imagined. Yet, each is rooted in reality, in facts and feelings.
Requiem for David :
ISBN: 9780997797251 OCLC: 992977808 A collection of poems written in tribute to the poet's late brother, David.
Starting out :
ISBN: 0879462124 OCLC: 53020409 ACTA Publications, Chicago, IL : ©2000. Over 100 single-page reflections, each followed by a short quotation, on issues facing today's young people. Topics considered in individual meditations include ambition, gratitude, community, faith, failure, prayer, perfection, doubt, understanding others, getting a job, romance, being alone and compromise.
The Loop :
ISBN: 0809338106 OCLC: 1154813643 Every day Chicagoans rely on the loop of elevated train tracks to get to their jobs, classrooms, or homes in the city's downtown. But how much do they know about the single most important structure in the history of the Windy City? In engagingly brisk prose, Patrick T. Reardon unfolds the fascinating story about how Chicago's elevated Loop was built, gave its name to the downtown, helped unify the city, saved the city's economy, and was itself saved from destruction in the 1970s. This unique volume combines urban history, biography, engineering, architecture, transportation, culture, and politics to explore the elevated Loop's impact on the city's development and economy and on the way Chicagoans see themselves. The Loop rooted Chicago's downtown in a way unknown in other cities, and it protected that area—and the city itself—from the full effects of suburbanization during the second half of the twentieth century. Masses of data underlie new insights into what has made Chicago's downtown, and the city as a whole, tick. The Loop features a cast of colorful Chicagoans, such as legendary lawyer Clarence Darrow, poet Edgar Lee Masters, mayor Richard J. Daley, and the notorious Gray Wolves of the Chicago City Council. Charles T. Yerkes, an often-demonized figure, is shown as a visionary urban planner, and engineer John Alexander Low Waddell, a world-renowned bridge creator, is introduced to Chicagoans as the designer of their urban railway. This fascinating exploration of how one human-built structure reshaped the social and economic landscape of Chicago is the definitive book on Chicago's elevated Loop.