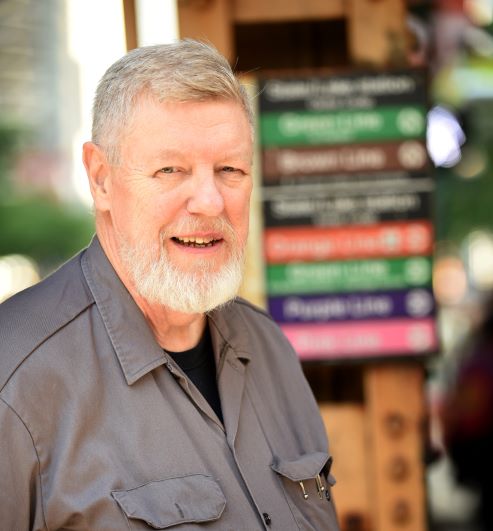 Patrick T. Reardon
Born:
November 22, 1949
Pen Name:
None
Connection to Illinois
: The author is a lifelong Chicago resident.
Biography
: For more than three decades Patrick T. Reardon was an urban affairs writer, a feature writer, a columnist, and an editor for the Chicago Tribune. In 2000 he was one of a team of 50 staff members who won a Pulitzer Prize for explanatory reporting. Now a freelance writer and poet, he has contributed chapters to several books.
---
Awards
:
-- Lisagor Award for arts criticism, Chicago chapter of the Society of Professional Journalists, 1991 and 1992
-- Lisagor Award for public service, Chicago chapter of the Society of Professional Journalists, 1988 for leading a team of reporters on an extensive report of Chicago's public housing
-- Lisagor Award for public service, Chicago chapter of the Society of Professional Journalists, 1997 for the dissection of the political clout behind the scenes of a single City Council meeting
-- Lisagor Award, Chicago chapter of the Society of Professional Journalists, 2003 for in-depth reporting for their series of stories on the demolition of hundreds of potential city landmarks with Tribune architecture critic Blair Kamin
Primary Literary Genre(s):
Non-Fiction
Primary Audience(s):
Adult readers
Website:
http://patricktreardon.com
---
Selected Titles
Catholic & starting out :
ISBN: 087946528X OCLC: 1119058990
Daily meditations (with scripture) for busy dads /
ISBN: 0879461284 OCLC: 33901955 ACTA Publications, Chicago, Ill. : ©1995.
Faith stripped to its essence :
ISBN: 0879465816 OCLC: 965558620
History of the reign of Ferdinand and Isabella the Catholic
ISBN: 0665321155 OCLC: 317774745 J.B. Lippincott, Philadelphia : 1891.
Love never fails :
ISBN: 9780879463090 OCLC: 83607573 ACTA Publications, Skokie, IL : ©2006.
Requiem for David :
ISBN: 9780997797251 OCLC: 992977808 A collection of poems written in tribute to the poet's late brother, David.
Starting out :
ISBN: 0879462124 OCLC: 53020409 ACTA Publications, Chicago, IL : ©2000.
The Loop :
ISBN: 0809338106 OCLC: 1154813643 "The book tells how the elevated Loop affected the development of Chicago, the way Chicagoans thought of the city and themselves, and the survival of the city's economy"--