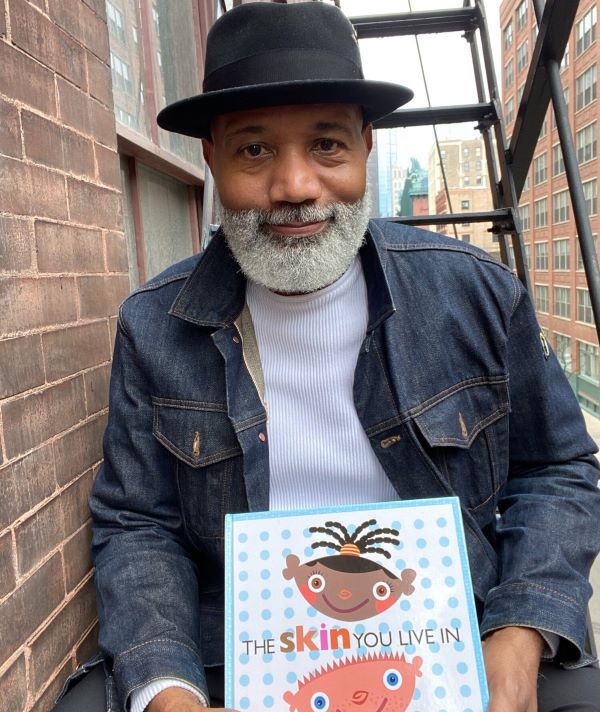 Michael Tyler
Born:
1960 in Chicago, Illinois
Pen Name:
None
Connection to Illinois
: Tyler was born in Chicago and grew up in the south side neighborhood of Chatham. His educational lineage is St. Joachim (elementary), to Willibrord Catholic High to Loyola University of Chicago. He remains a resident of Chicago, now living in the River North neighborhood, and continue efforts as a freelance writer and focused author.
Biography
: Michael Tyler is a freelance writer specializing in social, political and commentary. He is the author of the award-winning children's book ''The Skin You Live In'', the first book ever published by the Chicago Children's Museum. Tyler has also authored: ''Water for the Soul: A Father's Hope for His Son'' (a collection of life-lessons and observations), ''Sow the Seeds: A Composition in Verse'' (a poetry journal) and was the ghostwriter for ''Fries, Thighs & Lies: The Girlfriends Guide to Getting The Skinny On Fat'' (Deborah Arneson, clinical nutritionist).He is currently placing his novel trilogy, ''Take My Hand'', for publication, as well as advancing eight children's book manuscripts, three television pilots and two screenplays into publication and production. When Michael is not writing, he is baking delicious treats or spending time with his two sons, Sascha and Ziggy.His book, ''The Skin You Live In'', is a poem he wrote to help his oldest son with a name-calling incident at school. After reading it, his son's teacher encouraged him to publish it and he did. Tyler's personal story about his soul searching and creation of ''The Skin You Live In'' is below as shared with [http://thereadingtub.com/displayAuthor.php?id=22 The Reading Tub] and shared on their website. ''This book began as an attempt to explain to my eldest son, then age five, the motivation behind discrimination following a name-calling incident he endured on the playground at school. I did not write it with the intention of publishing it as a children's book, but after my son's teacher encouraged me, I thought I would try. It was rejected 147 times by publishers and 48 times by agents. So now, it in addition to being a book about diversity, it is a testament to the adage, never give up!''''After that incident at school, I searched bookstores for text I felt would benefit my son, both in terms of understanding the insecurity that underscores discrimination and providing insight to mitigate its effects on him. I was greatly disappointed by what I found. Books for his age group were diluted with allegory, trite metaphors, and anthropomorphic tales attempting to convey the concept of tolerance (e.g., The Crayon Box). I say diluted because a child's world is far more literal than it is conceptual. I felt that this matter required a straightforward approach and that it should be contemporary in its application. Many books exist about the historical atrocities and injustices that have occurred as a result of discrimination. But these accounts don't provoke the visceral reaction within young children that makes learning about them anything more significant than test information.''''Even books directed at the Young Adult audience are ineffective when you consider that in America, the average age range for hate crime victims and perpetrators is 13 to 21. This is particularly significant given that many psychologists counsel that the core values established by 13 are carried throughout adulthood. We must take care to not contaminate the purity of our children with adult fears, rather than wait to see if we can cure them of it once infected. Much of history suggest that this is foolish and futile.''''Another theme I found most negating was the archetype that requires that the individual being discriminated against, first do something to benefit her/his discriminators before being accepted. Think about Rudolph, The Red-Nosed Reindeer. The story essentially offers that one's humanity is graded only by utility of service to others who would otherwise disregard their existence. The notion of an individual's humanity and its inherent value should be a given, without any subjective qualification.'' ''Further, promoting tolerance is part of the problem, not the solution. Tolerance is often touted as a virtue, a lofty moral ambition for the nobility of one's character. Nothing is further from the truth. Tolerance merely refers to one's capacity for enduring something, not accepting it. As a social policy, it is tantamount to civil segregation. If one were to compare hate or discrimination to a pathogenic agent, a disease of character, tolerance is more placebo than cure for it allows for a dormancy of aversion and antipathy, rather than eradicate it. This is why the world still continues to suffer 'flare ups' or 'eruptions' of the hate virus.''''I believe acceptance is what should be advocated and that it is not merely an issue of semantics. Acceptance is recognizing, acknowledging, affirming, and embracing the universal humanity we are all endowed with. It sees physical diversity as a benign distinction and cultural diversity as an opportunity to expand one's comprehension of the human family. Acceptance is the antithesis to hate and its only cure. Regrettably, we have not yet bridge the gap of understanding necessary to make that idealism a reality, for what is idealism but and unrealized reality. We must make it actual and only a mindset that comprehends acceptance and uses that comprehension to direct behavior will make this ideal, real.''''I took all of this into consideration while writing the poem that became The Skin You Live In. I wanted to construct something that was not tinged by feelings of guilt and accusation, for such feelings are impediments to fellowship. As I wrote the poem I thought often of a lyric by Sly Stone, 'Don't hate the Black, don't hate the White; if you get bitten just hate the bite.' I also thought a lot about the idealism John Lennon expressed in his song 'Imagine.' My intent was to convey to my son a simple overture that would dispel character disparagements from physicality and then give him the vision of his heart (The Little Prince). By doing so, my hope was to both empower him with a comprehension that would make him impervious to future disparagements, as well as encourage him to reach beyond tolerance and aim for acceptance.''''As a book, I hope the poem encourages everyone to consider the merits of acceptance and to appraise their behavior daily, rather than as event- oriented circumstance. Am I making actual what I profess as ideal? After all, our greatest hope for overcoming all that has impaired our engagement throughout human history lies within providing a new understanding for our children. As my mother often said, 'If you want things to be different, you must do them differently.' She was also fond of stating that you must first become what you want the world to be. If we want to be accepted, we must be accepting.''''Should we comprehend this and make it a practicing virtue, then something amazing will happen. We will transform rather than change who we are and the societies we fashion by our conduct. Change simply means to alter for perception. You can change the location of a chair and alter how it is viewed in a room, but it is still a chair. Every night the moon changes it appearance, as we perceive it to take on different shapes and sizes in the sky. But the substance of the moon remains the same. Likewise, hate changes in appearance over the years, but not in substance. To transform means to undergo an alteration so profound that the prior form can never be recovered again. Never. As the caterpillar transforms into the butterfly, it can never again be a caterpillar. As a lump of coal is pressurized into the crystallization of being a diamond, it can never again be coal. And once that crystallization occurs, an entity of brilliance is made, a brilliance we can all realize as our humanity, should we elect the process of profound alteration--to become other than what we have been.''
---
Awards
:
'''''The Skin You Live In'''''
-- Mom's Choice Award, Founder's Choice, 2005
-- Harold Blake Walker Award
Primary Literary Genre(s):
Fiction; Non-Fiction; Poetry
Primary Audience(s):
Adult readers; Children
Email:
othellobard11@gmail.com
Michael Tyler on The Reading Tub :
http://thereadingtub.com/displayAuthor.php?id=22
Michael Tyler on WorldCat :
http://www.worldcat.org/search?q=michael++tyler
---
Selected Titles
Sow the seeds :
ISBN: 1403360464 OCLC: 70339976 1stBooks Library, Bloomington, IN : ©2003.