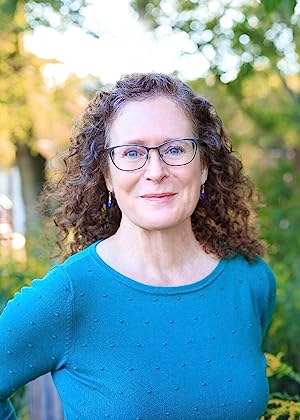 Kate Hannigan
Born:
Pen Name:
Kate Hannigan Issa, Kate Hannigan
Connection to Illinois
: Hannigan lives in Hyde Park.
Biography
: Kate Hannigan grew up in Tulsa, Oklahoma. In college, she studied journalism which led her to work for newspapers on both coasts and Texas before settling in Chicago. Issa still loves researching and writing but now does it for her blog and middle-grade books. She has written the ''Cupcake Cousins'' series and the historical novel ''The Detective's Assistant''.
---
Awards
:
The Detective's Assistan Booklist Editors' Choice, 2015; Best Book Chicago Public Library 2015; Five Star Review, Common Sense Media; Starred Reviews, Booklist, The Center for Children's Books, ILLINOIS READS Book Selection, Illinois Reading Council, 2016
Cupcake Cousins, Books 1 & 2 ILLINOIS READS Book Selection, Illinois Reading Council, 2017
A Lady Has the Floor: Belva Lockwood Speaks Out for Women's Rights Junior Library Guild Selection, Spring 2018; Best Book, Bank Street College, 2019; Mighty Girl Best Books Selection, 2018; Best of the Best, Chicago Public Library, 2018; Amelia Bloomer Project, 2019 List; Starred Reviews Booklist, Publishers Weekly, School Library Connection, Kirkus
_The League of Secret Heroes, Book 1 ILLINOIS READS Book Selection, Illinois Reading Council, 2020
Primary Literary Genre(s):
Fiction; History; Non-Fiction
Primary Audience(s):
Children; Young adult readers
E-Mail:
Kate@KateHannigan.com
Instagram:
https://www.instagram.com/katehanniganbooks/
Twitter:
http://twitter.com/katechicago
Web:
https://www.katehannigan.com/
---
Selected Titles
A Lady Has the Floor: Belva Lockwood Speaks Out for Women's Rights
ISBN: 9781629794532 OCLC: 987991508 Written in the same vein as the recent best-selling titles I DISSENT and SHE PERSISTED, here is a nonfiction picture book biography of trailblazer Belva Lockwood, the first woman lawyer to argue in front of the U.S. Supreme Court. Belva was a lawyer, activist and presidential candidate who devoted her life to overcoming obstacles and demanding equality for women. Activist Belva Lockwood never stopped asking herself the question Are women not worth the same as men? She had big dreams and didn't let anyone stand in her way--not her father, her law school, or even the U.S. Supreme Court. She fought for equality for women in the classroom, in the courtroom, and in politics. In her quest for fairness and parity, Lockwood ran for President of the United States, becoming the first woman on the ballot. In this riveting nonfiction picture book biography, award-winning author Kate Hannigan and celebrated artist Alison Jay illuminate the life of Lockwood, a woman who was never afraid to take the floor and speak her mind.
Blips on a Screen: How Ralph Baer Invented TV Video Gaming and Launched a Worldwide Obsession
ISBN: 0593306716 OCLC: Knopf Books for Young Readers 2022 An engaging picture book biography based on the incredible true story of a Jewish refugee who pioneered home video games and launched a worldwide obsession. Do you ever wonder how video gaming was invented? What came before your PlayStation or Xbox? This is the story of Ralph Baer, a refugee from Nazi Germany, who used his skills--and a lot of ingenuity and persistence--to make life a little more fun. Television was new when Ralph returned from serving in World War II, but he didn't settle for watching TV. He knew it could be even more fun if you could play with it. He tinkered and tested, got help and rejected, but with perseverance and skill, he made his vision come true! This is the inspiring story of a fearless inventor who made TV video games a reality.
Boots (The League of Secret Heroes Book 3)
ISBN: 153443917X OCLC: 1201298827 The League of Secret Heroes travel to Paris on their most critical mission yet in this third book in the action-packed, comics-inspired adventure series that's Hidden Figures meets Wonder Woman! When the Infinity Trinity hears of a Nazi spy plot that could bring danger to Chicago, Mae knows they must go to check on her beloved aunts, the daring World War II pilots Willa Brown and Janet Harmon. Mae's Granny Crumpler isn't exactly thrilled about her granddaughter and her friends trying to get involved with something so dangerous—especially when she's already worried about not hearing from Mae's dad, who is serving in Europe and fighting for freedom on and off the battlefield. But when Aunt Willa and Aunt Janet go missing, Mae knows that the sinister spy plot just got personal. They discover the evil Metallic Falcon has captured her aunts, and he is determined to thwart the Infinity Trinity's ultimate quest to bring back Zenobia and all the missing superheroes safely. With the help of the Women Airforce Service Pilots (WASPs) and Room Twelve, Mae, Josie, and Akiko must use all their powers and code-cracking smarts in a challenge that will take them on a high-flying loop from Chicago to Sweetwater, Texas, to a final showdown in Paris. Can the Infinity Trinity soar to new heights and complete the biggest mission of them all?
Cape (1) (The League of Secret Heroes)
ISBN: 1534439110 OCLC: 1110105913 Hidden Figures meets Wonder Woman in this action-packed, comic-inspired adventure about a brilliant girl puzzler who discovers she's part of a superhero team—the first in a new series! Josie O'Malley does a lot to help out Mam after her father goes off to fight the Nazis, but she wishes she could do more—like all those caped heroes who now seem to have disappeared. If Josie can't fly and control weather like her idol, Zenobia, maybe she can put her math smarts to use cracking puzzles for the government. After an official tosses out her puzzler test because she's a girl, it soon becomes clear that an even more top-secret agency has its eye on Josie, along with two other applicants: Akiko and Mae. The trio bonds over their shared love of female superhero celebrities, from Hauntima to Zenobia to Hopscotch. But during one extraordinary afternoon, they find themselves transformed into the newest (and youngest!) superheroes in town. As the girls' abilities slowly begin to emerge, they learn that their skills will be crucial in thwarting a shapeshifting henchman of Hitler, and, just maybe, in solving an even larger mystery about the superheroes who've recently gone missing. Inspired by remarkable real-life women from World War II—the human computers and earliest programmers called "the ENIAC Six"—this pulse-pounding adventure features bold action and brave thinking, with forty-eight pages of comic book style graphic panels throughout the book. Readers will want to don their own capes for an adventure, and realize they have the power to be a superhero, too!
Cupcake Cousins (Cupcake Cousins, 1)
ISBN: 1423178300 OCLC: 852488307 Baking a fluffy pink cupcake is awesome, but wearing a dress that looks like one? No, thank you! Cousins Willow and Delia can't wait to spend a week vacationing together with their families. Their aunt is getting married, and Willow and Delia are hoping their tasty baked goods will be enough to get them out of being flower girls in the wedding. But with a mischievous little brother, a bacon-loving dog, and a misbehaving blender in the mix, their treats don't exactly turn out as planned. When a real emergency threatens to ruin the wedding, will their baking skills be enough to save the day? Join Willow and Delia in the kitchen by following their scrumptious recipes for whoopee pies, peach pancakes, and other tasty treats!
Josephine and Her Dishwashing Machine: Josephine Cochrane's Bright Invention Makes a Splash
ISBN: 1635926211 OCLC: Calkins Creek 2023 Celebrate the inventor of the dishwasher in this inspiring STEM/STEAM picture book biography about Josephine Garis Cochrane, the brains behind one of the world's most-used kitchen appliances. Many Americans have a dishwasher in their kitchen. But who invented it? Meet Josephine Garis Cochrane: entrepreneur, innovator, girlboss. Washing dishes is a pain—it leaves Josephine's cups cracked, her dishes dinged, and her chowder bowls chipped. She'd rather be picking flowers, frosting cakes, or playing piano than dealing with cracked crockery. What to do about a chore that's icky, destructive, and time-consuming? Josephine tackles this task the modern way: she makes a machine to do it for her! She tinkers and tests, and perseveres through fizzles and flops—until she has a government patent for her invention, and there are whirring, whizzing, bubbling dishwashers making a splash across America. This charming tale includes an author's note, a list of notable women inventors, a timeline of fascinating inventions, and a list of sources.
Mask (2) (The League of Secret Heroes)
ISBN: 9781534439146 OCLC: 1124317154 A trio of young superheroes try to thwart a spy in this second book in the action-packed, comics-inspired adventure series that's Hidden Figures meets Wonder Woman! After defeating The Hisser—and discovering their power as a team—Infinity Trinity is ready for its next adventure. When Akiko, Mae, and Josie learn that a spy has been betraying secrets to the Japanese military, they join Room Twelve in San Francisco for important work with other code-cracking experts. But soon there is personal code to crack: Akiko spots her mom walking with the suspected spy through San Francisco, which had been her family's home until Executive Order No. 9066 sent Akiko and all Japanese Americans on the West Coast into internment camps. Teaming up with brilliant members of The League of Secret Heroes—like real-life World War II code-crackers Genevieve Grotjan and Elizebeth Friedman—Akiko, Mae, and Josie search for answers as they battle the evil clown Side-Splitter, who's bent on destroying not only the city, but the Infinity Trinity, too. As clues begin to pile up that her mother has become entangled with Side-Splitter's sinister plot, can Akiko solve the most important puzzle of all?
Nellie vs. Elizabeth: Two Daredevil Journalists' Breakneck Race around the World
ISBN: 1684373778 OCLC: Calkins Creek 2022 In this real-life adventure, daredevil and groundbreaking journalists Nellie Bly and Elizabeth Bisland race against each other–and the clock–as they circle the globe by ship, train, and foot. Join these two stereotype-shattering reporters as they prove that not only is traveling around the world possible, but that women are just as curious, capable, and courageous as any man. Nellie Bly was an energetic and eager reporter, but she wasn't able to think of a good story for her editors. Wishing she was on the other end of the earth, Nellie had an inspiration–she would travel around the world, just like in the fictional adventure book Around the World in Eighty Days. When a fellow journalist, Elizabeth Bisland, heard about Nellie's plans, she decided to up the stakes–by beating Nellie in her own race! This exciting American history story about two pioneering women who paved the way for equality will inspire young readers.
Summer Showers (Cupcake Cousins, 2)
ISBN: 1484716620 OCLC: 892888682 It's summertime, and the Bumpus family is growing! Aunt Rosie and Uncle Jonathan are expecting, and the entire family gathers together at Whispering Pines for a baby shower. But with Willow's injured hand and big sisters pushing their way into the kitchen, it looks like Delia and Willow might have to surrender their aprons. When Grandma gives each of the grandchildren a family heirloom, suddenly Delia's goes missing. Could it be lost in the cupcake's batter? Follow the tasty recipes once again as Delia and Willow solve the mystery of the missing keepsake and celebrate the arrival of even more cousins in the second book in this charming series.
The Detective's Assistant
ISBN: 0316403512 OCLC: 879983429 Eleven-year-old Nell Warne arrives on her aunt's doorstep lugging a heavy sack of sorrows. If her Aunt Kate rejects her, it's the miserable Home for the Friendless. Luckily, canny Nell makes herself indispensable to Aunt Kate ... and not just by helping out with household chores. For Aunt Kate is the first-ever female detective employed by the legendary Pinkerton Detective Agency. And Nell has a knack for the kind of close listening and bold action that made Pinkerton detectives famous in Civil War-era America. With huge, nation-changing events simmering in the background, Nell uses skills new and old to uncover truths about her past and solve mysteries in the present.
The Good Fun! Book: 12 Months of Parties that Celebrate Service
ISBN: 9780979291852 OCLC: 642846151 Blue Marlin Publications, West Bay Shore, NY : ©2010. What could be better than having fun while doing a world of good? Announcing the forthcoming release of The Good Fun! Book. Written by Karen Duncan and Kate Hannigan Issa and illustrated by Anthony Alex LeTourneau, The Good Fun! Book will hit stores on October 22, 2010, which also marks national Make a Difference Day! Move over Generation X, Y and Z, here comes Generation Generous! Published by Blue Marlin Publications, The Good Fun! Book helps young children engage in their communities to do some good, all while having a fun time. Whether it's a party to help animals or to collect sports equipment for needy kids, the 12 party plans in this book help elementary school children make a real difference in their neighborhoods and the world all year long. Filled with fun ideas that encourage participation and problem-solving, The Good Fun! Book includes themed party ideas, invitation suggestions, craft details, recipes, and even charity profiles. The Good Fun! Book is a tool for parents and teachers to encourage children to participate in service projects, as well as teach them about the real-life individuals who started nonprofit agencies that help people in their communities and around the globe. It s a conversation starter, an attempt to help children become kind, responsible citizens, and a great way to help them learn about the incredible rewards that come from service to others. Authors Karen Duncan a former teacher and the wife of U.S. Secretary of Education Arne Duncan and Kate Hannigan Issa a professional writer and editor for children bring fresh enthusiasm to engaging and motivating kids to take action and truly help make the world a better place. Along with award-winning children s artist Anthony Alex LeTourneau, The Good Fun! Book promises to get kids excited about helping out.
The Great Chicago Fire: Rising From the Ashes
ISBN: 9781250174253 OCLC: 1157147119 In History Comics: The Great Chicago Fire, writer Kate Hannigan and illustrator Alex Graudins tell the true story of how a city rose up from one of the worst catastrophes in American history, and how this disaster forever changed how homes, buildings, and communities are constructed.A deadly blaze engulfs Chicago for two terrifying days! A brother, a sister, and a helpless puppy must race through the city to stay one step ahead of the devilish inferno. But can they reunite with their lost family before it's too late?
Winter Wonders (Cupcake Cousins, 3)
ISBN: 1484716639 OCLC: 935196161 Cat and Mr. Henry have set the date for their wedding-Christmas Day! Cousins Willow and Delia are excited to be junior bridesmaids at last, but when a record-breaking Christmas Eve blizzard leaves the whole town stranded, the girls have more to worry about than their wedding duties! The guests are late, and the roof has collapsed over the town's food pantry, leaving many without a holiday meal. Will Delia and Willow be able to help the town's hungry while giving Cat and Mr. Henry the wedding they've dreamed of? Test tasty recipes included throughout as the whole Bumpus family celebrates the true meaning of the holiday season in the final book in the Cupcake Cousins series.