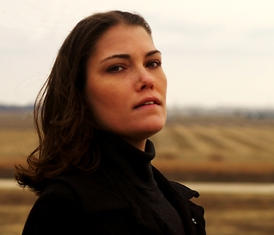 Julie Cross
Born:
1980 in Heidelberg, Germany
Pen Name:
None
Connection to Illinois
: Cross lives in Champaign, Illinois.
Biography
: Julie Cross was a YMCA Gymnastics Program Director, which means she worked with lots of teenagers, who help to inspire the characters she created, last year she retired to write full time. ''Tempest'' is her first novel for young adults.
---
Awards
:
'''''Tempest'''''
-- Starred Review, Kirkus
-- 2016 ILLINOIS READS Book '''''Letters to Nowhere'''''
-- RITA Finalist, 2014
Primary Literary Genre(s):
Fiction
Primary Audience(s):
Young adult readers
Blog:
http://juliecross.blogspot.com/
Email:
Juliecross1@live.com
Twitter:
http://twitter.com/Juliecross1980
Julie Cross on WorldCat :
http://www.worldcat.org/search?q=julie++cross
---
Selected Titles
Chasing truth /
ISBN: 1633755096 OCLC: 932577278 "When former con artist Eleanor Ames's homecoming date commits suicide, she's positive there's something more going on . The more questions she asks, though, the more she crosses paths with Miles Beckett. He's sexy, mysterious, arrogant ... and he's asking all the same questions. Eleanor might not trust him-- she doesn't even like him-- but they can't keep their hands off of each other. Fighting the infuriating attraction is almost as hard as ignoring the fact that Miles isn't telling her the truth ... and that there's a good chance he could be the killer"--Page 4 of cover.
Halfway perfect
ISBN: 9781402297199 OCLC: 892794753 Eve's time as a fashion model nearly destroyed her and now she is determined to build a career behind the camera after landing a photography internship in New York City, bringing her face to face with her dark past, her ex, and an up-and-coming male model named Alex who is falling for her.
Letters to nowhere
ISBN: 9781492935285 OCLC: 881429176 Createspace, [Place of publication not identified] : 2013. Seventeen year old Karen Campbell has just lost both her parents in a tragic car accident. Grief stricken and alone, her gymnastics coach opens his home to Karen, providing her a place to live while she continues to train, working toward a spot on the world championship team. Coach Bentley's only child, seventeen year old Jordan is good-looking and charming enough to scare away a girl like Karen--someone who has spent ten times more hours on balance beams and uneven bars than talking or even thinking about boys. But the two teens share a special connection almost immediately. It turns out Jordan has a tragic past of his own, grief buried for years. As Karen's gymnastics career soars, her nightmares and visions of the horrible accident grow in strength. She can only avoid facing her grief for so long before it begins to surface and ultimately spin out of control in a very dangerous way. Can discovering love and lust (simultaneously) help with the grieving process or will it only provide a temporary distraction while waiting for reality to hit full force?
Off the ice /
ISBN: 1633756556 OCLC: 947146371 "Claire O'Connor is back in Juniper Falls, but that doesn't mean she wants to be. One semester off, that's what she promised herself. Just long enough to take care of her father and keep the family business-a hockey bar beside the ice rink-afloat. After that, she's getting the hell out. Again. Enter Tate Tanley. What happened between them the night before she left town resurfaces the second they lay eyes on each other. But the guy she remembers has been replaced by a total hottie. When Tate is unexpectedly called in to take over for the hockey team's star goalie, suddenly he's in the spotlight and on his way to becoming just another egotistical varsity hockey player. And Claire's sworn off Juniper Falls hockey players for good. It's the absolute worst time to fall in love. For Tate and Claire, hockey isn't just a game. And they both might not survive a body check to the heart. "-- Page [4] of cover.
Tempest /
ISBN: 0312568894 OCLC: 727704123 St. Martin's Griffin, New York : 2012. After his girlfriend Holly is fatally shot during a violent struggle, nineteen-year-old Jackson uses his supernatural abilities and travels back in time two years, where he falls in love with Holly all over again, learns that his father is a spy, and discovers powerful enemies of time who will stop at nothing to recruit him for their own purposes.
Tempest :
ISBN: 9781427234131 OCLC: 825388916 Findaway World, LLC, Solon, Ohio : [2013], ℗2012. After his girlfriend Holly is fatally shot during a violent struggle, nineteen-year-old Jackson uses his supernatural abilities and travels back in time two years, where he falls in love with Holly all over again, learns that his father is a spy, and discovers powerful enemies of time who will stop at nothing to recruit him for their own purposes.
Timestorm :
ISBN: 9780312568917 OCLC: 862928346 As Jackson recovers from his brush with death, surrounded by his father, Courtney, Holly, and a few of the original time travelers, it becomes clear that they need to stop Thomas' and Dr. Ludwig's experiments at Eyewall Headquarters, triggering a war Jackson was born to fight.
Vortex
ISBN: 9781250044785 OCLC: 869371625 Jackson Meyer has thrown himself into his role as an agent for Tempest, the shadowy division of the CIA that handles all time-travel-related threats. Despite his heartbreak at losing the love of his life, Jackson has proved himself to be an excellent agent. However, after an accidental run in with Holly, the girl he altered history to save, Jackson is once again reminded of what he's lost. And when Eyewall, an opposing division of the CIA, emerges, Jackson and his fellow agents find themselves under attack--Page 4 of cover.
Whatever life throws at you
ISBN: 9781622664047 OCLC: 870517043 Entangled Teen, Fort Collins, CO : 2014. Seventeen-year-old Annie Lucas is too young to remember her dad's glory days as a pitcher for the Yankees. So when her father is offered a coaching position with the Kansas City Royals, Annie is intrigued to see the baseball side of her dad. Of course, knowing he'll be a mentor to hot young rookie pitcher, Jason Brody, certainly makes it more enticing. After an awkward first meeting with Brody involving very little clothing and a much-too-personal locker room interview, Annie's convinced she knows Brody's type: arrogant, self-involved, bossy. As her dad grows closer to the pitching phenom, the friction between Brody and Annie increases. But when opening day arrives and it looks like both her dad and Brody may lose their dream jobs, Annie steps up and offers support. She and Brody call a truce that grows into friendship--and beyond. Falling for a rising star who's quickly reaching a level that involves rabid female fans is not what Annie would call smart, except suddenly she's getting hints that maybe this crush isn't one-sided after all. Could someone like Brody actually fall for a girl like her?--Publisher website.
You before anyone else
ISBN: 9781492604921 OCLC: 930256967 New York City model Finley is fed up with hearing the same feedback at castings: she needs to take some serious action to wipe the good girl stamp from her resume if she wants to launch to stardom. Enter Eddie Wells. He's shallow, predictable ... and just as lost as Finley feels. Deep down, Finley is drawn to Eddie's bravado, his intensity. Except Eddie is hiding something. A big something. And when it surfaces, both loving and leaving Finley will become so much harder--