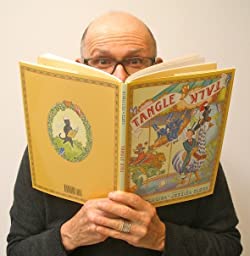 William Nikola-Lisa
Born:
1951 in Jersey City, New Jersey
Pen Name:
W. Nikola-Lisa
Connection to Illinois
: Nikola-Lisa teaches at National-Louis University in Chicago.
Biography
: W. Nikola-Lisa is a writer, storyteller and musician. He loves to entertain and share stories with audiences whether they are children, adults, educators or families. The author of numerous books for primary, upper elementary, and middle school readers, he has also written the award-winning books: ''Bein' With You This Way'', ''Shake Dem Halloween Bones'', and ''How We Are Smart''. Some of his recent publications include ''Dragonfly: A Childhood Memoir''; ''Dear Frank: Babe Ruth, the Red Sox, and the Great War'', a work of historical fiction set in Boston in 1918; and ''Hey, Aren't You the Janitor?,'' a collection of humorous stories about life on the road as a children's book author.
---
Awards
:
'''''Bein' With You This Way
'''''
-- Jane Addams Children's Book Award Honor Book, American Library Association (ALA)
-- Best Books of the Year, Parenting magazine
-- Best Children's Books Winner, Child Magazine
-- Close the Book on Hate Reading List, Anti-Defamation League
-- Pick of the List, American Bookseller's Association
-- ILLINOIS READS Book Selection, Illinois Reading Council, 2013 '''''Dear Frank
Primary Literary Genre(s):
Fiction; Non-Fiction
Primary Audience(s):
Children
Website:
http://www.NikolaBooks.com
---
Selected Titles
1, 2, 3 Thanksgiving!
ISBN: 0613757165 OCLC: 22983271 A. Whitman 1991
America :
ISBN: 1880000377 OCLC: 34517166 Lee & Low Books, New York : 1997. Rhythmic text and illustrations by fourteen different African-, Hispanic-, Asian-, and Native-American artists evoke the characteristics of the landscape of the United States.
Bein with you this way.
ISBN: 1591124271 OCLC: 795510836 Live Oak Media, [Place of publication not identified] : 2003.
Dear Frank :
ISBN: 0991218396 OCLC: 946048472 A set of letters from one brother to another captures the mood of a family during World War I and the events leading up to the 1918 World Series.
DOG EARED :
ISBN: 0997252448 OCLC: 1006800611
DRAGONFLY :
ISBN: 099725243X OCLC: 999480830
Folk Stories
ISBN: 0997252464 OCLC:
From lectern to laboratory :
ISBN: 0997252480 OCLC: 1100515227
Gaya lives in a blue house /
ISBN: 1479364096 OCLC: 866587967 A poetic evocation of the creation story illustrated with abstract collage panels.
Hallelujah! :
ISBN: 0689816731 OCLC: 38055932 Describes the plum-purple sky, yew-green hills, silver strands of moonlight, and other colorful things which provide the setting for the birth of a black baby Jesus.
Hey, aren't you the janitor? :
ISBN: 1453667393 OCLC: 878221245
How we are smart /
ISBN: 1600604447 OCLC: 60516785 Lee & Low Books, New York : ©2006. "Through direct quotations, verse, and prose, presents the achievements of a diverse group of people who illustrate Dr. Howard Gardner's theory of multiple intelligences. Includes information about the eight basic ways people can be "smart" and suggested activities"--Provided by publisher.
Images of schoolteachers in twentieth-century America :
ISBN: 0312090730 OCLC: 28986761 St. Martin's Press, New York : ©1994.
Magic in the margins :
ISBN: 0618496424 OCLC: 70718162 At a medieval monastery, orphaned Simon, who is apprenticing in illumination, dreams of the day he can create his own pictures, but finds he must first complete a strange and unusual assignment that Father Anselm has given him.
My teacher can teach--anyone! /
ISBN: 1584301635 OCLC: 53919717 An alphabet story in verse about a Latino boy and his remarkable teacher who can teach an astronaut how to float in space and instruct a ballet dancer how to land with grace.
Night is coming /
ISBN: 0140562281 OCLC: 37882597 Describes the sights, sounds, and sensations of the coming of night to the countryside.
No babies asleep /
ISBN: 0689318413 OCLC: 28632133 Atheneum Books for Young Readers, New York : 1994. Twelve babies sleeping in a crib are taken out, one by one, to play with zoo animals.
One hole in the road /
ISBN: 0805042857 OCLC: 33162005 H. Holt, New York : 1996. Introduces the numbers one through ten while describing the people and machinery involved in fixing a hole in the road.
Please don't say an X word /
ISBN: 1734192305 OCLC: 1127882132 A picture book that presents the alphabet all out of order calls attention to negative words that shouldn't be said and are often used by bullies. Then the reader is left to ponder more interesting and socially appropriate words.
Setting the turkeys free /
ISBN: 0786819529 OCLC: 52766440 When a sly, hungry fox threatens a flock of turkeys, the young artist who drew the birds must find a way to save them.
Shake dem Halloween bones
ISBN: 0606220801 OCLC: 31901213 Houghton Mifflin Co. 1997
Shark man /
ISBN: 0991218353 OCLC: 946048166
Storm /
ISBN: 0689317042 OCLC: 26255985 A farmer and family watch as a thunderstorm sweeps into the valley, surrounds them, and then rushes off again.
Summer sun risin' /
ISBN: 1584302526 OCLC: 46836845 An African American boy enjoys a summer day on his family's farm, milking the cows, fishing, and having fun.
Tangletalk /
ISBN: 0525453997 OCLC: 34932880 Dutton Children's Books, New York : ©1997. Recounts some of the strange upside-down events that happened in "the month of Boston, In the wonderful city of May."
The Men Who Made the Yankees /
ISBN: 0991218302 OCLC: 893674560 "W. Nikola-Lisa explores a fascinating corner of baseball history in The Men Who Made the Yankees, which traces the rise of the New York Yankees from the origin of the American League to the Yankees' first world championship title in 1923. Less a history of players, The Men Who Made the Yankees focuses on a handful of powerful club owners and the political and financial pressures that dramatically shaped the arrival of an American League team in New York City."--Back cover.
The year with Grandma Moses /
ISBN: 0805062432 OCLC: 42040831 A collection of paintings and memoirs by the American folk artist describing the seasons and their related activities in rural upstate New York.
This we pray ;
ISBN: 173419233X OCLC: 1187189055
Till year's good end :
ISBN: 0689800207 OCLC: 33406880 Atheneum Books for Young Readers, New York : ©1997. Presents farm activities, month by month, in England during the Middle Ages.
To Hear the Angels Sing
ISBN: B01FIWLJ9A OCLC:
Wheels go round /
ISBN: 0385320698 OCLC: 29259220 A family's trip to the fair with their cow provides a rhyming celebration of wheels, all of which go round and round.