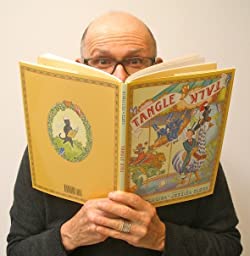 William Nikola-Lisa
Born:
1951 in Jersey City, New Jersey
Pen Name:
W. Nikola-Lisa
Connection to Illinois
: Nikola-Lisa teaches at National-Louis University in Chicago.
Biography
: W. Nikola-Lisa is a writer, storyteller and musician. He loves to entertain and share stories with audiences whether they are children, adults, educators or families. The author of numerous books for primary, upper elementary, and middle school readers, he has also written the award-winning books: ''Bein' With You This Way'', ''Shake Dem Halloween Bones'', and ''How We Are Smart''. Some of his recent publications include ''Dragonfly: A Childhood Memoir''; ''Dear Frank: Babe Ruth, the Red Sox, and the Great War'', a work of historical fiction set in Boston in 1918; and ''Hey, Aren't You the Janitor?,'' a collection of humorous stories about life on the road as a children's book author.
---
Awards
:
Bein' With You This Way Jane Addams Children's Book Award Honor Book, American Library Association (ALA); Best Books of the Year, Parenting magazine; Best Children's Books Winner, Child Magazine; Close the Book on Hate Reading List, Anti-Defamation League; Pick of the List, American Bookseller's Association; ILLINOIS READS Book Selection, Illinois Reading Council, 2013
Ichiro and the Great Mountain Global Award Winner, 2023 Reader Views Literary Awards; Silver Award for Juvenile Fiction, 2023 Reader Views Literary Awards; Distinguished Favorite List, 2023 Independent Press Book Awards; Honor Book, 2023 Society of Midland Authors Book Awards; Finalist, 35th Annual IBPA Ben Franklin Book Awards; HONOREE, Children's Fiction, Society of Midland Authors Award, 2023
Primary Literary Genre(s):
Fiction; Non-Fiction
Primary Audience(s):
Adult readers; Children; Young adult readers
E-Mail:
nikolabooks@gmail.com
Web:
http://www.NikolaBooks.com
---
Selected Titles
1, 2, 3 Thanksgiving!
ISBN: 0613757165 OCLC: 22983271 A. Whitman 1991 A Thanksgiving counting book depicting the numbers one through ten through scenes of a family preparing for the holiday.
America: A Book of Opposites/Un libro de contrarios
ISBN: 1584300280 OCLC: New York : Lee and Low New York : 2001 This board book is a visual celebration of the diversity in America.America is made up of opposites: Our land boasts majestic high mountains and vast lowlands. America is also a land of contrasts: We are a rich nation, yet so many are poor. The America of this book, rendered with imagination and vision by 12 outstanding artists from diverse backgrounds, is the America that our children see around them. America: A Book of Opposites is a visual celebration of America and a challenge to our children to cherish it, because they will one day inherit it. (English and Spanish)
America: My Land, Your Land, Our Land
ISBN: 1880000377 OCLC: 34517166 Lee & Low Books, New York : 1997. Rhythmic text and illustrations by fourteen different African-, Hispanic-, Asian-, and Native-American artists evoke the characteristics of the landscape of the United States.
Bein with You This Way
ISBN: 1591124271 OCLC: 795510836 Live Oak Media, [Place of publication not identified] : 2003. In a rap-style prose poem, expressively illustrated in colored pencil, a racially mixed group of children enjoying a sunny day at the playground discovers the virtues of racial diversity and, at the same time, the basic identity of all human beings.
Can You Top That?
ISBN: 1880000997 OCLC: New York : Lee & Low Books New York : 2000 On his way home from school, a young boy stops for a quiet moment to draw animals on the ground at the park. Soon he is joined by a friend. "Hey, I got a fish with one fin! Can you top that? A fish with one fin? I got a mouse with two tails! Can you top that?" Quickly the competition heats up as more and more children join in to see who can come up with the most outrageous animal. "A goat with eight horns? I got a cow with nine legs! Can you top that? A cow with nine legs? I got a horse with ten heads! Can you top that?" But then everything stops when the first boy offers a simple and surprising challenge. Eager young readers will clamor to find out what that is as they read this truly imaginative and wacky counting book.
Circles, Lines, and Squiggles: Astrology for the Curious-Minded
ISBN: 1734192364 OCLC: Gyroscope Books 2021 Hovering somewhere between a Galilean dialogue and a Seinfeld episode, W. Nikola-Lisa converses with two associates-Castor and Pollux-about the curious world of astrology. However, reader beware: this is not a user's manual, nor is it a logical argument for or against astrology. It's more a tongue-in-cheek, behind-the scenes look at the fascinating world of this ancient, though still thoroughly modern, enterprise. The author, a double Gemini with Mercury and Mars in the first house, explores a variety of topics, such as the four angles of the natal chart, various historical systems of house division, the pervasive nature of the four elements, planetary aspects and aspect patterns, as well as a number of other topics related to this perennial subject. The author's objective: both to understand this intriguing world and to unravel the mystery behind what an astrologer told him years ago: you have all of the Writers Destiny Marks except one-contact with publishers. Honors and Awards: Finalist in the 2021 American Book Festival's "Best Book" Awards in the Creative Nonfiction category.
Dear Frank: Babe Ruth, The Red Sox, and the Great War
ISBN: 0991218396 OCLC: 946048472 A set of letters from one brother to another captures the mood of a family during World War I and the events leading up to the 1918 World Series.
Dog Eared: A Year's Romp Through the Self-Publishing World
ISBN: 0997252448 OCLC: 1006800611 During a yearlong office cleaning project the author reflects on his life as a writer, addressing several themes: the place of physical books in an ever increasing digital age, the impact of social media on publishing's rapidly changing landscape, the skill set an author needs to survive in today's publishing world, and the author's measured transition from traditional author to independent author/publisher. Written in four parts reflecting the four season of the year, the author offers fifty-two brief sketches of his life as an author, a reader, and a book collector. A fascinating, but quick, read filled with insight and humor.
Dragonfly: A Childhood Memoir
ISBN: 099725243X OCLC: 999480830 W. Nikola-Lisa explores new terrain—his childhood experiences growing up in south Texas during the early 1960s. Unlike his previous books, this is not a book for young children as the author explores the darker elements growing up in a harsh environment. Although the work feels like a memoir, it reads like a novel with the author's spare, unrelenting narrative a perfect accompaniment to the time, place, and underlying familial issues. If you like this book, then you might also like Shark Man, a novel for the middle grades, which picks up where the author left off in Dragonfly taking the reader to the Florida beaches where young Billy-Boy learns how to skateboard, surf, and make new friends.
Folk Stories
ISBN: 0997252464 OCLC: Author and storyteller W. Nikola-Lisa presents three original folk stories in this handsome volume. While the first two stories offer traditional elements of a folk story—magic, daring, wonder, and amazement—the last story is a meditation on the development of writing and the art of bookmaking. Parents, teachers, and caregivers will enjoy sharing this collection of stories with emerging readers and writers.
From Lectern to Laboratory: How Science and Technology Changed the Face of America's Colleges
ISBN: 0997252480 OCLC: 1100515227 In this well-documented account, W. Nikola-Lisa explores how science and technology changed the face of America's colleges and universities during the nineteenth century, bringing much needed reform to the classical liberal arts curriculum as well as suggesting new approaches to instruction. The author's highly detailed narrative explores the origins of the classical liberal arts curriculum, the rise of "mutual education societies," the push to establish independent polytechnic schools, the founding of the first land-grant universities, and, ultimately, through the generosity of wealthy industrialists, the creation of independent schools of science at the nation's oldest colleges. As the title of the book suggests, the author also emphasizes the pedagogical changes brought about by these initiatives, especially in the area of science and technology where hands-on experiential laboratory instruction slowly became the norm rather than the exception.
Gaya Lives in a Blue House
ISBN: 1479364096 OCLC: 866587967 A poetic evocation of the creation story illustrated with abstract collage panels.
Hallelujah: A Christmas Celebration
ISBN: 0689816731 OCLC: 38055932 Describes the plum-purple sky, yew-green hills, silver strands of moonlight, and other colorful things which provide the setting for the birth of a black baby Jesus.
Hey, Aren't You the Janitor?: And Other Tales from the Life of a Children's Book Author
ISBN: 1453667393 OCLC: 878221245 W. Nikola-Lisa chronicles his life on the road as a children's book author. Although the stories in this collection reveal a wide variety of characters and settings, the central core revolves around the weird and wacky: a kiss on the hand from a first grader, a brief run-in with Benny the Bull, a case--or two--of mistaken identity. It's the curtain pulled back on a highly esteemed and delightful profession. Readers young and old will enjoy the stories in this collection.
How We are Smart
ISBN: 1600604447 OCLC: 60516785 Lee & Low Books, New York : ©2006. A multifaceted biography of twelve talented people that introduces readers to the eight ways people can be smart and the realization that intelligence is _not about how smart you are, but how you are smart.
Ichiro and the Great Mountain
ISBN: 1734192380 OCLC: Gyroscope Books 2022 n Ichiro and the Great Mountain, award-winning author and storyteller W. Nikola-Lisa crafts an original literary folktale for the upper elementary and middle school reader. It is a tale told in the manner of what comparative mythologist Joseph Campbell would call a "Return of the Hero" format, with the setting ancient Japan rather than medieval Europe. Told in brief, repetitive, even cryptic episodes, Ichiro and the Great Mountain follows a young, free-spirited boy through the stages of life as he searches for his true self, making this literary folktale a story of becoming or, in the Buddhist tradition, a story of self-realization and enlightenment.
Magic in the Margins: A Medieval Tale of Bookmaking
ISBN: 0618496424 OCLC: 70718162 At a medieval monastery, orphaned Simon, who is apprenticing in illumination, dreams of the day he can create his own pictures, but finds he must first complete a strange and unusual assignment that Father Anselm has given him.
My teacher can teach ... anyone!
ISBN: 1584301635 OCLC: 53919717 An alphabet story in verse about a Latino boy and his remarkable teacher who can teach an astronaut how to float in space and instruct a ballet dancer how to land with grace.
Night is Coming
ISBN: 0140562281 OCLC: 37882597 Describes the sights, sounds, and sensations of the coming of night to the countryside.
No Babies Asleep
ISBN: 0689318413 OCLC: 28632133 Atheneum Books for Young Readers, New York : 1994. Twelve babies sleeping in a crib are taken out, one by one, to play with zoo animals.
One Hole in the Road
ISBN: 0805042857 OCLC: 33162005 H. Holt, New York : 1996. Introduces the numbers one through ten while describing the people and machinery involved in fixing a hole in the road.
Please Don't Say an X Word
ISBN: 1734192305 OCLC: 1127882132 A picture book that presents the alphabet all out of order calls attention to negative words that shouldn't be said and are often used by bullies. Then the reader is left to ponder more interesting and socially appropriate words.
Setting the Turkeys Free
ISBN: 0786819529 OCLC: 52766440 When a sly, hungry fox threatens a flock of turkeys, the young artist who drew the birds must find a way to save them.
Shake dem Halloween Bones
ISBN: 0606220801 OCLC: 31901213 Houghton Mifflin Co. 1997 It's Halloween night. The city is quiet. The city is still. But as the lights go down, the music comes up - and the guests start to arrive at the hip-hop Halloween ball! And oh, what a party it is. Told in hip-hop rhyming text, L'il Red Riding Hood, Goldilocks, Tom Thumb, and all of their fairy-tale friends come together for a rapping, stomping, shaking Halloween romp. Scoo-bee-doo-bee-doo-wah. Yeah!
Shark Man
ISBN: 0991218353 OCLC: 946048166 Fleeing a mean stepfather in south Texas, Billy-Boy arrives in Florida with his mother and two sisters at the beginning of summer. Billy-Boy quickly befriends a local boy, Tim, and all is well until it becomes clear they both like the same girl, Mae Beth, the daughter of the local surf shop owner. Billy-Boy has to learn how to navigate new terrain, while struggling to overcome feelings about his stepfather. He is helped by the insights of an older teenager, known locally as "Shark Man," and Sonny, Mae Beth's father, who help him understand both the mysteries of the ocean and his inner self.
Storm
ISBN: 0689317042 OCLC: 26255985 A farmer and family watch as a thunderstorm sweeps into the valley, surrounds them, and then rushes off again.
Summer Sun Risin'
ISBN: 1584302526 OCLC: 46836845 An African American boy enjoys a summer day on his family's farm, milking the cows, fishing, and having fun.
Tangletalk
ISBN: 0525453997 OCLC: 34932880 Dutton Children's Books, New York : ©1997. Recounts some of the strange upside-down events that happened in "the month of Boston, In the wonderful city of May."
The Men Who Made the Yankees: The Odyssey of the World's Greatest Baseball Team from Baltimore to the Bronx
ISBN: 0991218302 OCLC: 893674560 "W. Nikola-Lisa explores a fascinating corner of baseball history in The Men Who Made the Yankees, which traces the rise of the New York Yankees from the origin of the American League to the Yankees' first world championship title in 1923. Less a history of players, The Men Who Made the Yankees focuses on a handful of powerful club owners and the political and financial pressures that dramatically shaped the arrival of an American League team in New York City."--Back cover.
The Year With Grandma Moses
ISBN: 0805062432 OCLC: 42040831 A collection of paintings and memoirs by the American folk artist describing the seasons and their related activities in rural upstate New York.
This We Pray | Sea of People
ISBN: 173419233X OCLC: 1187189055 The times demand a response. Some people prefer prayer and contemplation. Others prefer action. Both are acts of civil disobedience in their own right, just at opposite ends of the spectrum. Over the years I've come to believe that both are indispensable, that they are two sides of the same coin, distinct but inseparable. Prayer can be a powerful tool, but it is slow in its effect. I'm reminded of the saying, often expressed by Dr. Martin Luther King, Jr., "The arc of the moral universe is long, but it bends toward justice." It does, but very slowly. Hence, the call to action. But action without contemplation is easily led off course, often into wanton destruction and violence. To constrain that tendency, prayer and contemplation are essential, for they provide the moral ground for "right action," action that is positive, peaceful, and progressive. And that, in short, is the essence of these two seemingly disparate visual poems: they are commentaries calling us on the one hand to prayer and contemplation, and on the other hand to action.
Till Year's Good End: A Calendar of Medieval Labors
ISBN: 0689800207 OCLC: 33406880 Atheneum Books for Young Readers, New York : ©1997. Presents farm activities, month by month, in England during the Middle Ages.
To Hear the Angels Sing
ISBN: B01FIWLJ9A OCLC: Enhanced with full-color illustrations, a holiday tale offers readers a charming poem as all the animals come from far and away to celebrate the joyous arrival of Baby Jesus in the manger in Bethlehem.
Wheels Go Round
ISBN: 0385320698 OCLC: 29259220 A family's trip to the fair with their cow provides a rhyming celebration of wheels, all of which go round and round.