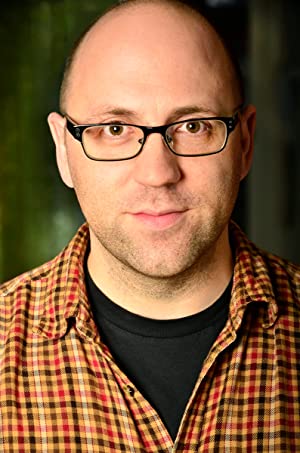 Daniel Kraus
Born:
1975 Midland, Michigan
Pen Name:
None
Connection to Illinois
: Kraus lives in Chicago.
Biography
: Daniel Kraus is the New York Times bestselling author of more than a dozen novels and graphic novels. He coauthored The Living Dead with legendary filmmaker George A. Romero. With Guillermo del Toro, he coauthored The Shape of Water, based on the same idea the two created for the Oscar-winning film. Also with del Toro, Kraus coauthored Trollhunters, which was adapted into the Emmy-winning Netflix series. He has won two Odyssey Awards (for Rotters and Scowler), and The Death and Life of Zebulon Finch was named one of Entertainment Weekly's Top 10 Books of the Year. His books have been Library Guild selections, YALSA Best Fiction for Young Adults picks, Bram Stoker finalists, and more. His work has been translated into over twenty languages. Daniel lives with his wife in Chicago.
---
Awards
:
The Monster Variations 100 Best Stuff for Teens, New York Public Library, 2009
Rotters Top 10 Horror Fiction, Booklist; Blue Ribbon List Winner, BCCB; Editors Choice List, Booklist; Amazing Audiobooks List, American Library Association; Earphones Award Winner, AudioFile; Bram Stoker Award Finalist, 2011; Top Fiction Book, Rue Morgue Magazine, 2011; Top Fiction Book, Rue Morgue Magazine, 2011; Odyssey Award, 2012; Parent's Choice Gold Award for Fiction, 2012; Parent's Choice Gold Award for Fiction, 2012; Top 10 Youth Books, Minneapolis Star Tribune, 2012; Illinois Reads Selection, Illinois Reading Council, 2015
Scowler Best Fiction for Young Adults, YALSA; Taysha's Reading List; A Best Book of the Year, Stacked; A Best Book of the Year, Liz Burns; Editor's Choice, Booklist; Best YA/Kids Books, Buzzfeed, 2013; Junior Library Guild Selection, 2013; 20 Best YA Books, Chicago Public Library, 2013; Top 10 Horror Novels, Bloody Disgusting, 2013; Top 10 Audiobooks, YALSA, 2014
The Death and Life of Zebulon Finch Top Ten Books of the Year, Entertainment Weekly, 2015
The Shape of Water New York Times Bestseller
Blood Sugar Best of the Year Pick, LitReactor, 2019; Starred Review, Booklist, 2019
Bent Heavens Starred Review, Booklist, 2020; Starred Review, School Library Journal, 2020
Whalefall USA Today Bestseller, Starred Reviews - Booklist and Library Journal, Illinois Reads Selection, Illinois Reading Council, 2024
Primary Literary Genre(s):
Fiction
Primary Audience(s):
Adult readers; Young adult readers
Facebook:
https://www.facebook.com/pages/Daniel-Kraus/117000470013
IMDB:
https://www.imdb.com/name/nm0470101/
Twitter:
http://www.twitter.com/DanielDKraus
Web:
http://danielkraus.com
Wikipedia:
https://en.wikipedia.org/wiki/Daniel_Kraus_(author)
---
Selected Titles
1-2-3-4, I Declare a Thumb War
ISBN: 1454944544 OCLC: Union Square Kids 2022 #1 New York Times bestselling authors Lisi Harrison and Daniel Kraus deliver a slightly scary, extremely addictive, contemporary middle-grade book series. This first installment of Graveyard Girls is part mystery book and part friendship story, centered around five young teen girls in for the fright of their lives. Meet Whisper, Frannie, Sophie, Gemma, and Zuzu, five friends who tell eerie tales by night and navigate middle school drama by day. In Misery Falls, Oregon, it is the 100th anniversary of the electrocution of the town's most infamous killer, Silas Hoke, and the town is abuzz. When a mysterious text message leads the girls to the cemetery—where Silas Hoke is buried!—life can't get any creepier. Except, yes, it can, thanks to the surprise storyteller who meets them at the cemetery, inspires the first-ever meeting of the Graveyard Girls, and sets the stage for a terrifying tale from Whisper that they'll never forget. Book one in a five-book series, Graveyard Girls blends popular scary books for kids (think: Goosebumps) with strong teen girl characters into a fresh, genre-blending middle-grade series. For kids ages 9­­–12 in search of girl friendship stories and mystery books, you'll find horror and heartfelt relationships in 1-2-3-4, I Declare a Thumb War.
Autumnal #1 - Cover A SHEHAN Comic
ISBN: B08LY8HB3P OCLC: Comic Books 2020 Following the death of her estranged mother, Kat Somerville and her daughter, Sybil, flee a difficult life in Chicago for the quaint--and possibly pernicious--town of Comfort Notch, New Hampshire. From NY Times best-selling author, Daniel Kraus (The Shape of Water, Trollhunters, The Living Dead), and rising star Chris Shehan, comes a haunting vision of America's prettiest autumn.
Bent Heavens
ISBN: 1250151678 OCLC: 1089263150 From New York Times-bestselling author Daniel Kraus comes a breakneck, genre-defying YA thriller perfect for fans of Kiersten White, Neal Shusterman, and M. T. Anderson.Liv Fleming's father went missing more than two years ago, not long after he claimed to have been abducted by aliens. Liv has long accepted that he's dead, though that doesn't mean she has given up their traditions. Every Sunday, she and her lifelong friend Doug Monk trudge through the woods to check the traps Lee left behind, traps he set to catch the aliens he so desperately believed were after him.But Liv is done with childhood fantasies. Done pretending she believes her father's absurd theories. Done going through the motions for Doug's sake. However, on the very day she chooses to destroy the traps, she discovers in one of them a creature so inhuman it can only be one thing. In that moment, she's faced with a painful realization: her dad was telling the truth. And no one believed him.Now, she and Doug have a choice to make. They can turn the alien over to the authorities…or they can take matters into their own hands.On the heels of the worldwide success of The Shape of Water, Daniel Kraus returns with a horrifying and heartbreaking thriller about the lengths people go to find justice and the painful reality of grief.
Blood Sugar
ISBN: 1789091934 OCLC: 1112386411 From the co-author of the New York Times–bestselling novelization of The Shape of Water comes the blood-curdling story of a Halloween night where trick-or-treat becomes life-or-deathIn a ruined house at the end of Yellow Street, an angry outcast hatches a scheme to take revenge for all the wrongs he has suffered. With the help of three alienated kids, he plans to hide razor blades, poison, and broken glass in Halloween candy, maiming or killing dozens of innocent children. But as the clock ticks closer to sundown, will one of his helpers—an innocent himself, in his own streetwise way—carry out or defeat the plan?Told from the child's point of view, in a voice as unforgettable as A Clockwork Orange, Kraus' novel is at once frightening and emotional, thought-provoking and laugh-out-loud funny. It'll make you rethink your concepts of family, loyalty, and justice—and will leave you double-checking the wrappers on your Halloween candy for the rest of your days.
Rotters
ISBN: 0385738579 OCLC: 598304908 Delacorte Press, New York : ©2011. Sixteen-year-old Joey's life takes a very strange turn when his mother's tragic death forces him to move from Chicago to rural Iowa with the father he has never known, and who is the town pariah.
Scowler
ISBN: 0385743092 OCLC: 781594011 Delacorte Press, New York : ©2013. In the midst of a 1981 meteor shower in Iowa, a homicidal maniac escapes from prison and returns to the farm where his nineteen-year-old son, Ry, must summon three childhood toys, including one called Scowler, to protect himself, his eleven-year-old sister, Sarah, and their mother.
Scream for the Camera (Graveyard Girls)
ISBN: 1454945184 OCLC: Union Square Kids 2023 New York Times bestselling authors Lisi Harrison and Daniel Kraus deliver a slightly scary, extremely addictive contemporary middle-grade series—perfect for fans of R.L. Stine's Goosebumps and Ann M. Martin's The Babysitters Club. It's been a month since the Graveyard Girls—Gemma, Whisper, Sophie, Frannie, and Zuzu—discovered Silas Hoke's empty grave. A month, and no answers. That changes when messages from the other side start to creep up on the Graveyard Girls. Gemma's good-luck charm. The skull in Whisper's spilled milk. Sophie's vanishing phone. Frannie's theater curse. And Zuzu's possessed Jōurnal. Who is trying to reach them . . . and why? The good news: There might be one person with some answers. The bad news: She's a mortician . . . with a deadly secret. Speaking of bad news, straight-A Sophie is quickly sliding down the scale to becoming a B-flat friend. She is spending way more time hanging out with "Danger Me" and way less time with the Graveyard Girls and her schoolwork. Will her scary story be enough to win back her pals, or will her picture-perfect life become the ultimate photo bomb?
The Autumnal: The Complete Series
ISBN: 1939424798 OCLC: Vault Comics 2021 Her estranged mother's death brings Kat Somerville back to Comfort Notch, New Hampshire, a home town she can barely remember. As she and her daughter Sybil try to settle into a new life, Kat discovers that sometimes home is best forgotten.WELCOME TO COMFORT NOTCH! HOME OF AMERICA'S PRETTIEST AUTUMN. YOU'LL NEVER WANT TO LEAVE.Following the death of her estranged mother, Kat Somerville and her daughter, Sybil, flee a difficult life in Chicago for the quaint--and possibly pernicious--town of Comfort Notch, New Hampshire. From NY Times best-selling author, Daniel Kraus (The Shape of Water, Trollhunters, The Living Dead), and rising star Chris Shehan, comes a haunting vision of America's prettiest autumn.Collects the complete eight issue series.
The Death and Life of Zebulon Finch Vol 2
ISBN: 148141142X OCLC: 957414200 From the coauthor of the New York Times bestselling The Shape of Water comes the second and final book in the "utterly riveting" (Entertainment Weekly) epic tale about a murdered teen who is resurrected to walk the earth for more than a century.Zebulon Finch has faced more violence, lust, and heartbreak than any other seventeen-year-old in history. But nothing can prepare him for what is coming next.Half a century has passed since Zebulon Finch was gunned down and then inexplicably resurrected to experience a second life. Picking up his tale where he left off, Zebulon heads to Nazi Germany on a top-secret mission. From there he escapes to the shiny new world of the suburbs—a tidy neighborhood hiding dark secrets. He will exchange the pains of this world for what he believes will be peace among the stars. He will march for social change all the way to Woodstock, go raving mad in the desert, and finally exit from humanity the only way he knows how. We first met Zebulon sealed in a tomb beneath the World Trade Center—might he yet crawl from the rubble to discover a different America?Enthralling and gut-wrenching, The Death and Life of Zebulon Finch, Volume Two: Empire Decayed is the conclusion to the epic saga of one young man's journey down the long road to redemption.
The Death and Life of Zebulon Finch: Volume One
ISBN: 148141139X OCLC: 894670557 From the coauthor of the New York Times bestselling The Shape of Water comes the "utterly riveting" (Entertainment Weekly) tale of a murdered teen who is resurrected to walk the earth for more than a century.May 7, 1896.Dusk. A swaggering seventeen-year-old gangster named Zebulon Finch is gunned down by the shores of Lake Michigan. But after mere minutes in the void, he is mysteriously resurrected.His second life will be nothing like his first.Zebulon's new existence begins as a sideshow attraction in a traveling medicine show. From there he will be poked and prodded by a scientist obsessed with mastering the secrets of death. He will fight in the trenches of World War I. He will run from his nightmares—and from poverty—in Depression-era New York City. And he will become the companion of the most beautiful woman in Hollywood.Love, hate, hope, and horror—Zebulon finds them. But will he ever find redemption?
The Ghost That Ate Us: The Tragic True Story of the Burger City Poltergeist
ISBN: 1947879421 OCLC: Raw Dog Screaming Press 2022 You remember the brutal crime, don't you? Maybe you read about it on Twitter. Maybe a friend sent you a news clip. Maybe you saw it on an episode of Spectral Journeys that night you were flipping through channels, unable to sleep. On June 1, 2017, six people were killed at a Burger City franchise off I-80 near Jonny, Iowa. It was the bizarre and gruesome conclusion to nine months of alleged paranormal activity at the fast-food joint-events popularly known as "the Burger City Poltergeist." The story inspired Facebook memes, Twitter hashtags, Buzzfeed listicles, Saturday Night Live sketches, and more. But the case was never much more than a punchline...until bestselling writer Daniel Kraus (The Shape of Water, The Living Dead) decided to head to Iowa to dig up what really happened. Presented here is the definitive story of "the most exhaustively documented haunting in history," including-for the first time ever-interviews with every living survivor of the tragedy. The employees of Burger City were a family. They loved one another. At least, at the beginning.
The living dead :
ISBN: 1250305128 OCLC: 1176469794 New York Times bestselling author Daniel Kraus completes George A. Romero's brand-new masterpiece of zombie horror, the massive novel left unfinished at Romero's death!George A. Romero invented the modern zombie with Night of the Living Dead, creating a monster that has become a key part of pop culture. Romero often felt hemmed in by the constraints of film-making. To tell the story of the rise of the zombies and the fall of humanity the way it should be told, Romero turned to fiction. Unfortunately, when he died, the story was incomplete.Enter Daniel Kraus, co-author, with Guillermo del Toro, of the New York Times bestseller The Shape of Water (based on the Academy Award-winning movie) and Trollhunters (which became an Emmy Award-winning series), and author of The Death and Life of Zebulon Finch (an Entertainment Weekly Top 10 Book of the Year). A lifelong Romero fan, Kraus was honored to be asked, by Romero's widow, to complete The Living Dead.Set in the present day, The Living Dead is an entirely new tale, the story of the zombie plague as George A. Romero wanted to tell it.It begins with one body.A pair of medical examiners find themselves battling a dead man who won't stay dead.It spreads quickly.In a Midwestern trailer park, a Black teenage girl and a Muslim immigrant battle newly-risen friends and family. On a US aircraft carrier, living sailors hide from dead ones while a fanatic makes a new religion out of death. At a cable news station, a surviving anchor keeps broadcasting while his undead colleagues try to devour him. In DC, an autistic federal employee charts the outbreak, preserving data for a future that may never come.Everywhere, people are targeted by both the living and the dead.We think we know how this story ends.We. Are. Wrong.
The Monster Variations
ISBN: 0385737335 OCLC: 237324956 Delacorte Press, New York : ©2009. On his way to State University, nineteen-year-old James runs into a former friend and is immersed in memories from the year they were twelve and learned that monsters exist in the world--and within themselves.
The Shape of Water
ISBN: 1250165342 OCLC: 1023432577 In an otherworldly story set against the backdrop of Cold War-era America, an amphibious man is discovered in the Amazon--and subsequently finds love within the human race. In 1962, Elisa Esposito-- mute her whole life-- works as a janitor working the graveyard shift at Baltimore's Occam Aerospace Research Center. Only Zelda, a protective coworker, and Giles, her loving neighbor, help her make it through her day. Then she sees something she was never meant to see: an amphibious man, captured in the Amazon, to be studied for Cold War advancements. Using sign language, the two learn to communicate. Richard Strickland, the obsessed soldier who tracked the asset through the Amazon, wants nothing more than to dissect it before the Russians get a chance to steal it.
They Set the Fire: The Teddies Saga, Book 3
ISBN: 1250224446 OCLC: Henry Holt and Co. 2023 At once darkly suspenseful and heartfelt with stunning spot art from illustrator Rovina Cai, this trilogy finale of New York Times-bestselling author Daniel Kraus's action-packed The Teddies Saga is perfect for fans of Victoria Schwab, Katherine Arden, and Holly Black.An Indie Next Pick!After searching so long for a place to call home, the daring teddies–clever Buddy, shrewd Sunny, fearless Nothing, and wise Reginald–find few answers at the place where they were created, Furrington Industries. But with a new friend—a teddy of legend!—the teddies head back into the dangerous world to seek the secrets of their creation.Soon the teddies find themselves surrounded by people who hated them, and discover that the founder of Furrington Industries, known as the Suit, is on trial for an unknown crime. Left reeling but determined, Buddy leads his friends–those that survive–through the protestors that line the streets outside and into the bowels of the courthouse . . . where they'll find out the true, incendiary reason the teddies were thrown away.
They Stole Our Hearts: The Teddies Saga, Book 2
ISBN: 125022442X OCLC: 1201179991 The heart-pounding sequel to They Threw Us Away, about a group of teddy bears looking for a place to call home…and answers to life's biggest questions.The teddies—clever Buddy, brave Sunny, sweet Sugar, and wise Reginald—have managed to find a child. Life with Darling is far better than any they've known. But something's not right—the promised bliss of Forever Sleep hasn't come. And they are kept a secret from Darling's mother, hidden underneath the child's bed in the dusty darkness.Then the inevitable happens: Mama discovers the teddies. And like all adults they've met thus far, she responds with fear and anger. The teddies must watch as one of their friends is destroyed. The remaining trio barely escape, thrust back into a world that does not want them.Disillusioned and lost, the teddies embark on a journey back to the factory where they were created. En route, they find a civilization of discarded teddy bears. The comfort of a town of teddies has its allure…but the need for answers weighs heavy. And there's something definitely off about these new teddies. Will our heroes accept their strange rules? Or must they dig deep for one more grand adventure to finally learn why they were thrown away?
They Threw Us Away: The Teddies Saga, Book #1
ISBN: 1250224403 OCLC: 1145104783 Buddy wakes up in a garbage dump and, after finding other teddy bears there, becomes their leader as they embark on a perilous journey to fulfill their destiny.
Trollhunters
ISBN: 1423125983 OCLC: 883650064 Jim Sturges is your typical teen in suburban San Bernardino-one with an embarrassingly overprotective dad, a best friend named
Whalefall: A Novel
ISBN: 1665918160 OCLC: MTV Books 2023 he Martian meets 127 Hours in this "powerfully humane" (Owen King, New York Times bestselling author) and scientifically accurate thriller about a scuba diver who's been swallowed by an eighty-foot, sixty-ton sperm whale and has only one hour to escape before his oxygen runs out.Jay Gardiner has given himself a fool's errand—to find the remains of his deceased father in the Pacific Ocean off the coast of Monastery Beach. He knows it's a long shot, but Jay feels it's the only way for him to lift the weight of guilt he has carried since his dad's death by suicide the previous year.The dive begins well enough, but the sudden appearance of a giant squid puts Jay in very real jeopardy, made infinitely worse by the arrival of a sperm whale looking to feed. Suddenly, Jay is caught in the squid's tentacles and drawn into the whale's mouth where he is pulled into the first of its four stomachs. He quickly realizes he has only one hour before his oxygen tanks run out—one hour to defeat his demons and escape the belly of a whale.Suspenseful and cinematic, Whalefall is an "astoundingly great" (Gillian Flynn, New York Times bestselling author) thriller about a young man who has given up on life…only to find a reason to live in the most dangerous and unlikely of places.
Wrath
ISBN: 1454945222 OCLC: Union Square & Co. 2022 New York Times bestselling coauthors Shäron Moalem and Daniel Kraus's terrifying sci-fi horror thriller takes place in a future that is much nearer than you think. It is a world where scientific experimentation is exploited for commercial profit and under-supervised cutting-edge technology creates a menace that threatens the very fabric of our existence. Wrath is the story of Sammy, a lab rat instilled with human genes whose supersized intelligence helps him to engineer his escape into the world outside the lab: a world vastly ill-equipped to deal with the menace he represents. Modified through advances that have boosted his awareness of humankind's cruelty in the name of science, Sammy has the potential to sire a rodent army capable of viciously overwhelming the human race. The key to Sammy's capture and humanity's salvation may be ten-year-old Dallas Underhill, whom Sammy adopts. But while Dallas and Sammy bond, time is running out for humankind: once Sammy sires his progeny, the exponential proliferation of his kind could spell the end of the world.For fans of dystopian works such as Jeff VanderMeer's Southern Reach Trilogy and Emily St. John Mandel's Station Eleven, and readers of Neal Stephenson, Michael Crichton, and Blake Crouch. This heart-pounding, science-based thriller takes place in a possibly all-too-soonreality where the hazards and consequences.
Year Zero Vol. 0
ISBN: 1953165451 OCLC: [S.l.] : Upshot [S.l.] : 2023 YEAR ZERO chronicles the aftermath of a worldwide zombie plague that affects the entire planet. See how everyday people from all walks of life try to survive in this new world where the dead eat the living, and ask yourself: "Where were YOU when the LIVES went out?!" In this action-packed prelude to the hit series, acclaimed horror writer Daniel Kraus (George Romero's The Living Dead, The Autumnal) unveils four globe-spanning tales from the earliest days of the zombie apocalypse when even the wildest rumors couldn't measure up to the horror to come. A streetwise Russian cop patrols the back alleys of the opportunistic black market that emerges in response to the crisis…a North Korean soldier observes strange happenings on the DMZ…An E.R. nurse in the rural South fights to protect her hospital from threats without and within…A transgender flight attendant who has observed disturbing clues as she crisscrosses the globe keeps a wary eye on the passenger in seat 23C.