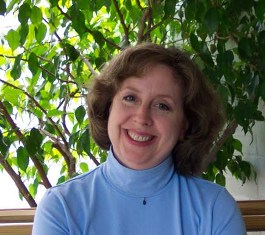 Brandon Marie Miller
Born:
in Morris, Illinois
Pen Name:
None
Connection to Illinois
: Miller was born in Morris and grew up in Park Forest.
Biography
: Brandon Marie Miller earned her degree in American History from Purdue University. She writes about famous people and common folk, about great events and everyday life. Her award-winning books for young people have been honored by the International Reading Association, the National Council for the Social Studies, the Society of School Librarians International, Voice of Youth Advocates, Bank Street College, the Junior Library Guild, the New York Public Library and the Chicago Public Library, among others. Brandon encourages readers to think of history as the greatest story of all. Fiction has nothing on history for tales of courage, sacrifice, redemption, cruelty and betrayal. As a writer of history Brandon aims to inspire readers with stories of people who have struggled, overcome great odds, and made a contribution to our human spirit. It's no coincidence that "story" is right there in the word history! Born and raised in Illinois, Brandon now resides in Cincinnati, Ohio. When not researching and writing, she loves to read biographies and murder mysteries, travel, play games, attend the ballet, watch sports and old movies from the 1930s and 1940s, and enjoy great conversation. She includes her middle name on all her books so people know she is a girl named "Brandon."
---
Awards
:
"""Robert E. Lee"""
-- Notable Book, NCSS, Children's Book Council, 2020
-- Best Children's Books of the Year, Bank Street College, 2020
-- Starred Review, Booklist
-- ILLINOIS READS Book Selection, Illinois Reading Council, 2020
"""Women of Colonial America"""
-- New York Public Library Teen Book List
"""Women of Frontier"""
-- Nominee, YALSA Nonfiction Award, 2014
-- Notable Book, National Council for the Social Studies, 2014
-- A Choose To Read Ohio Title, 2015-2016
"""Benjamin Franklin"""
-- Nonfiction Honor List Book, VOYA
-- Best of the Best Book, Chicago Public Library
"""Declaring Independence"""
-- Best Children's Book of the Year List, Bank Street College Children's Book Committee
-- New York Public Library Book for the Teen Age, 2006
"""Dressed for the Occasion"""
-- Best Children's Book of the Year, Children's Book Committee at Bank Street College
-- Nonfiction Honor List, VOYA
Primary Literary Genre(s):
History; Non-Fiction
Primary Audience(s):
Young adult readers
Blog:
http://hands-on-books.blogspot.com
E-Mail:
brandy@brandonmariemiller.com
Facebook:
https://www.facebook.com/brandonmarie.miller
Twitter:
https://twitter.com/brandonmariemil?ref_src=twsrc%5Egoogle%7Ctwcamp%5Eserp%7Ctwgr%5Eauthor
Website:
http://brandonmariemiller.com/
YouTube:
https://www.youtube.com/watch?v=PiAJj0PsuCY
---
Selected Titles
Benjamin Franklin, American genius :
ISBN: 1556527578 OCLC: 527853422 Chicago Review Press, Chicago : ©2010. Tells the rich story of one of America's most celebrated Founding Fathers. Features his original writings and hands-on activities from his era, a time line, glossary, Web and travel resources, and reading list for further study.
Buffalo gals :
ISBN: 0822597721 OCLC: 41216328 Lerner Publications/First Avenue Editions, Minneapolis : 1997, ©1995. A remarkable and historically accurate picture of the daily life of nineteenth-century women of the western frontier.
Declaring independence :
ISBN: 0822512750 OCLC: 56730723 Lerner Publications Co., Minneapolis : ©2005. Containing period paintings, illustrations, and writings, an addition to a historical series looks at what life was like for people in America during the American Revolution.
Dressed for the occasion :
ISBN: 0822517388 OCLC: 39079027 Lerner Publications, Minneapolis : ©1999. Examines the history, manufacture, and care of American clothing from colonial times to the 1970s and discusses its relationship to the social milieu.
George Washington for kids :
ISBN: 1556526555 OCLC: 71812720 Chicago Review Press, Chicago, Ill. : ©2007. Introduces the life and accomplishments of George Washington and provides activities based on the era in which he lived.
Good women of a well-blessed land :
ISBN: 0822500329 OCLC: 50022815 Lerner Publications, Minneapolis : ©2003. A social history of the American colonial period with a focus on the daily lives of women, including European immigrants, Native Americans, and slaves.
Growing up in a new world, 1607 to 1775 /
ISBN: 0822506580 OCLC: 48449494 Lerner Publications, Minneapolis : ©2003. Presents details of daily life of Colonial children during the period from 1607 to 1775.
Growing up in revolution and the new nation, 1775 to 1800 /
ISBN: 0822500787 OCLC: 47797877 Lerner Publications, Minneapolis : ©2003. Presents details of daily life of American children during the period from 1775 to 1800.
Just what the doctor ordered :
ISBN: 082251737X OCLC: 33983462 Lerner, Minneapolis : ©1997. Traces the history of medicine in North America, from the remedies used by native peoples to the medical advances and health trends of the twentieth century.
Robert E. Lee :
ISBN: 1629799106 OCLC: 1061861112 Presents the life of the Confederate general, describing his childhood, his thirty-five year career in the U.S. Army, his decision to fight for the South during the Civil War, and his command of some of the famous battles of the war.
Thomas Jefferson for kids :
ISBN: 9781569769409 OCLC: 753486021 Chicago Review Press, Chicago, Ill. : ©2011. Drawing heavily from the original letters and papers of Thomas Jefferson and his contemporaries, this resource chronicles the world of the Founding Father who wrote the Declaration of Independence. From his early critiques of the colonial policies of Great Britain and King George III to his governmental roles as the first secretary of state, the minister to France, and the third president of the United States, Jefferson's groundbreaking achievements are described in historical context. The contradictions in Jefferson's character, most notably the fact that he owned 600 slaves in his lifetime despite penning the immortal phrase all men are created equal, are also explored, giving kids a full picture of this skilled politician. Creative activities that invite children to experience Jefferson's colonial America include designing a Palladian window, building a simple microscope, painting a "buffalo robe, and dancing a reel.
Women of Colonial America :
ISBN: 9781556524882 OCLC: 907651714 Using a host of primary sources, author Brandon Marie Miller recounts the roles, hardships, and daily lives of Native American, European, and African women in 17th- and 18th-century colonial America. Hard work proved a constant for most women -- they ensured their family's survival through their skills while others sold their labor or lived in bondage as indentured servants and slaves. Even in this world defined entirely by men, a world where no one thought it important to record a female's thoughts, women found ways to step forth. Elizabeth Ashbridge survived an abusive indenture to become a Quaker preacher. Anne Bradstreet penned epic poetry while raising eight children in the wilderness. Anne Hutchinson went toe-to-toe with Puritan authorities. Margaret Hardenbroeck Philipse built a trade empire in New Amsterdam. Martha Corey lost her life in the vortex of Salem's witch hunt. And Eve, a Virginia slave, twice ran away to freedom. With strength, courage, resilience, and resourcefulness, these women and many others played a vital role in the mosaic of life in colonial America.
Women of the frontier :
ISBN: 9781883052973 OCLC: 793575955 Using journal entries, letters home, and song lyrics, the women of the West speak for themselves in these tales of courage, enduring spirit, and adventure. Women such as Amelia Stewart Knight traveling on the Oregon Trail, homesteader Miriam Colt, entrepreneur Clara Brown, army wife Frances Grummond, actress Adah Isaacs Menken, naturalist Martha Maxwell, missionary Narcissa Whitman, and political activist Mary Lease are introduced to readers through their harrowing stories of journeying across the plains and mountains to unknown land. Recounting the impact pioneers had on those who were already living in the region as well as how they adapted to their new lives and the rugged, often dangerous landscape, this exploration also offers resources for further study and reveals how these influential women tamed the Wild West.