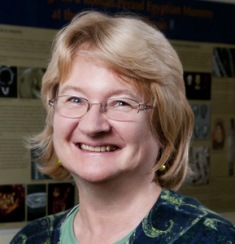 Sarah U. Wisseman
Born:
1951
Pen Name:
Sarah Wisseman, Sally Underhill, Sarah Underhill Wisseman
Connection to Illinois
: Wisseman grew up in Evanston, Illinois and currently resides in Champaign.
Biography
: Sarah Wisseman is a retired archeologist at the University of Illinois. She grew up in Evanston, Illinois and Weston Massachusetts. It wasn't until she spent a month at the excavation of biblical Beersheba in Israel while she was a Sophomore in college that she realized she wanted to be an archaeologist. She then returned for her Junior Year Abroad at Tel Aviv University and the experience eventually inspired ''The Dead Sea Codex''. Her books, ''Bound for Eternity'' and ''The Fall of Augustus'', were inspired by her job as a curator in a dusty attic museum. ''The House of the Sphinx'', was the result of a trip to Egypt in 2005.
---
Awards
:
'''''Bound for Eternity'''''
-- Finalist, St. Martin's Press Malice Domestic Content, 2004 ''Virtual Mummy''
-- Best of the Best From University Presses, ALA, 2004
Primary Literary Genre(s):
Mystery and Non-Fiction
Primary Audience(s):
Adult readers
Email:
suwissem@gmail.com
Website:
http://www.sarahwisseman.com/
Sarah U. Wisseman on WorldCat :
http://www.worldcat.org/search?q=sarah+u.+wisseman
---
Selected Titles
Bound for eternity /
ISBN: 0595350887 OCLC: 60584943 iUniverse, New York : ©2005.
Burnt Siena :
ISBN: 1432830686 OCLC: 886486726 "In the magical and historically rich city of Siena, Italy, old paintings are as common as cobblestones. But what if some of those paintings are forgeries? And what if your employers at a respected firm of art conservators might be smuggling antiquities? After colleague and roommate Ernst Mann is found dead in the street below their apartment balcony, Flora Garibaldi suspects her bosses are crooks and that her new job is disintegrating into desiccated paint flakes. Burnt Sienna is a suspenseful mystery combining a spectacular Italian setting with complicated art historical dilemmas. The story of Flora Garibaldi and the colorful Lorenzetti family will take the reader on a labyrinthine journey while probing family and professional loyalties that no amount of yellowed varnish can hide "--
Catacomb /
ISBN: 1613097506 OCLC: 972500547 Wings ePress, Richmond, KY : 2016. "Art conservator Flora Garibaldi is just getting the hang of her new job restoring paintings in Rome, Italy. Then her policeman boyfriend, Vittorio Bernini, asks her to join a risky search under Rome for a lost trove of Nazi-looted art worth millions. Along with an international team of art experts, they face the daunting task of locating art in miles of underground tunnels. After they discover evidence of recent digging underground, one of Vittorio's Carabinieri colleagues is murdered. Flora and Vittorio find themselves up against a group of ruthless art thieves who will do anything to prevent the discovery of the art and its return to its rightful Jewish owners."--Cover, p. [4]
The bootlegger's nephew /
ISBN: 1591333725 OCLC: 780751172 Hilliard Harris, Bonosboro, Md. : ©2012. "The Bootlegger's Nephew launches a new series, The Junker Family Prohibition Mysteries. In this novel, Earl "Illinois" Junker, a physician and amateur archaeologist, uses his knowledge of local geography and archaeology to track down a murderer and break up a gang of bootleggers in central Illinois during Prohibition. Doc Junker is aided by his nineteen-year-old flapper daughter, Anna, and his German wife Martha."--Author's website.
The Dead Sea codex /
ISBN: 0759936781 OCLC: 65212500 Hard Shell Word Factory, Amherst Junction, WI : 2006.
The fall of Augustus /
ISBN: 1597056154 OCLC: 742613249 Wings ePress, Richmond, KY : 2009.
The house of the sphinx /
ISBN: 1591332958 OCLC: 503302723 Hilliard Harris, Boonsboro, Md. : ©2009.
The virtual mummy /
ISBN: 0252027922 OCLC: 49495000 University of Illinois, Urbana, Ill. : ©2003.