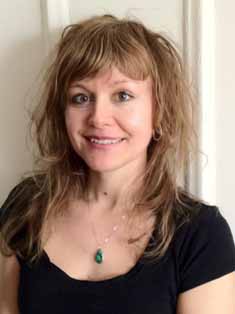 Christine Sneed
Born:
1971 in Green Bay, Wisconsin
Pen Name:
None
Connection to Illinois
: Sneed lived in Libertyville, Evanston and Champaign. She taught for the MFA program at the University of Illinois-Urbana-Champaign and the graduate writing program at Northwestern University.
Biography
: Christine Sneed, winner of the 21st Century Award from the Chicago Public Library Foundation. She is the editor of the short fiction anthology, Love in the Time of Time's Up (Tortoise Books, 2022). Her work has been included in The Best American Short Stories, O. Henry Prize Stories, New Stories from the Midwest, New York Times, San Francisco Chronicle, Chicago Tribune, ZYZZYVA, New England Review, The Southern Review, Ploughshares, Glimmer Train, O Magazine, and many other publications. Sneed lives in Pasadena, CA and is the faculty director of the MA/MFA program in creative writing in the School of Professional Studies at Northwestern University. She is also on the faculty of Regis University's low-residency MFA program in Denver.
---
Awards
:
Portraits of a Few of the People I've Made Cry 21st Century Award from the Chicago Public Library Foundation 2009 AWP Grace Paley Prize winner, a finalist for the 2010 Los Angeles Times Book Award (first-fiction category), winner of the 2011 John C. Zacharis First Book Award from Ploughshares, and 2011 Book of the Year from the Chicago Writers Association (in the traditionally published fiction category). The San Francisco Chronicle also chose Portraits as one of the fifty best fiction books of 2011.
The Virginity of Famous Men Winner of the Chicago Writers' Association Book of the Year Award, a finalist for Chicago Review of Books' 2016 best work of fiction, and one of Booklist's 25 best fiction titles of the year.
Little Known Facts won the Society of Midland Authors Award for best work of fiction in 2013, and was named a top ten debut novel by Booklist.
Paris, He Said 2016 Illinois Reads selection and one of Reader Digest UK's 17 literary highlights of 2015.
Primary Literary Genre(s):
Fiction; Non-Fiction
Primary Audience(s):
Adult readers
Blog:
https://www.christinesneed.com/blog-1
E-Mail:
csneed@depaul.edu
Facebook:
https://www.facebook.com/christine.sneed.5
Twitter:
https://twitter.com/ChristineSneed
Web:
https://www.christinesneed.com/
Wikipedia:
https://en.wikipedia.org/wiki/Christine_Sneed
---
Selected Titles
Direct Sunlight: Stories
ISBN: 0810146169 OCLC: TriQuarterly 2023 A collection of twelve stories by award-winning author Christine Sneed The stories in Direct Sunlight, award-winning author Christine Sneed's latest, are inspired by the memorable strangeness of everyday life. The characters in these topically diverse tales experience events that bring the terms of their day-to-day lives and their relationships into focus in a way hitherto foreign to them. The title story features two adult children learning of their father's second family long after his death in the 9/11 terrorist attacks. "Mega Millions" explores the aftermath of a small-town midwestern factory employee's enormous lottery win. In "Dear Kelly Bloom," a young journalist takes on the role of advice columnist at a faltering Chicago newspaper around the time of the 2008 financial meltdown and soon finds himself tasked with replying to his own mother's letter requesting guidance on family matters. In "The Monkey's Uncle Louis," a contentedly childless man tries to make sense of his sister's decision to adopt a capuchin monkey after she and her husband find themselves unable to conceive a baby of their own. The stories in Direct Sunlight rely on humor but are balanced by Sneed's clear-eyed sobriety about the sorrows inherent in the human condition.
Little Known Facts: A Novel
ISBN: 1608199584 OCLC: 795174360 Bloomsbury, New York : 2013. The people who orbit around actor Renn Ivins long to experience the glow of his flame. His children are both drawn to and repelled by the man who overshadows every part of them. This novel offers a clear-eyed story of the fallout of fame and fortune on family members and others who can neither fully embrace nor ignore the superstar in their midst.
Paris, He Said
ISBN: 1620406926 OCLC: 894816375 Jayne Marks is questioning the choices she has made in the years since college and is struggling to pay her bills in Manhattan when she is given the opportunity to move to Paris with her wealthy lover and benefactor, Laurent Moller, who owns and operates two art galleries, one in New York, the other in Paris. He offers her the time and financial support she needs to begin her career as a painter and also challenges her to see who and what she will become if she meets her artistic potential.Laurent, however, seems to have other women in his life and Jayne, too, has an ex-boyfriend, much closer to her own age, whom she still has feelings for. Bringing Paris gloriously to life, Paris, He Said is a novel about desire, beauty, and its appreciation, and of finding yourself presented with the things you believe you've always wanted, only to wonder where true happiness lies.
Please Be Advised
ISBN: B0B14BXTRR OCLC: 2022 Please Be Advised is award-winning author Christine Sneed's bright, irreverent send-up of corporate America in the 21st century. Mixing cultural critique and formal inventiveness with wicked laughs and the sort of surrealistic mysteries only a novel about the corporate world could give us, Please Be Advised tracks the decline, fall, and possible resurrection of Quest Industries, one of the world's foremost purveyors of collapsible, portable, and (occasionally) dangerous office machines. Featuring a rogue's gallery of corporate cogs from drunk, womanizing, and often-delusional CEO Bryan Stokerly, Esq. to his executive secretary, the brainy, libidinous Hannah Louise Schmidt and his soon-to-be-rival, new office manager and disgraced former coroner, Dr. Ken Crickshaw, Jr., Please Be Advised will leave you laughing at a work world more like our own than most of us would care to admit.
Portraits of a Few of the People I've Made Cry: Stories
ISBN: 1558498583 OCLC: 648480760 University of Massachusetts Press, Amherst : ©2010. The ten stories in this debut collection examine the perils of love and what it means to live during an era when people will offer themselves, almost unthinkingly, to strangers. Risks and repercussions are never fully weighed. People leap and almost always land on rocky ground. May-December romances flourish in these stories, as do self-doubt and, in most cases, serious regret. Mysterious, dangerous benefactors, dead and living artists, movie stars and college professors, plagiarists, and distinguished foreign novelists are among the many different characters. No one is blameless, but villains are difficult to single out-everyone seemingly bears responsibility for his or her desires and for the outcome of difficult choices so often made hopefully and naively.
The Virginity of Famous Men: Stories
ISBN: 1620406950 OCLC: 933590371 The Virginity of Famous Men, award-winning story writer Christine Sneed's deeply perceptive collection on the human condition, features protagonists attempting to make peace with the paths they have taken thus far. In "The Prettiest Girls,