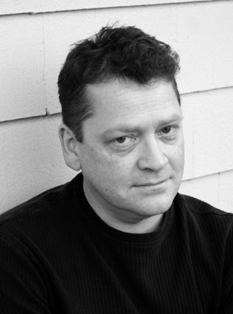 Dan Chaon
Born:
1964 in Sidney, Nebraska
Pen Name:
None
Connection to Illinois
: Chaon graduated from Northwestern University in Evanston.
Biography
: Dan Chaon is the acclaimed author of Among the Missing, which was a finalist for the National Book Award. His fiction has appeared in many journals and anthologies, including ''The Best American Short Stories'', ''Pushcart Prize'', and ''The O. Henry Prize Stories''. A finalist for the National Magazine Award in Fiction, Chaon was also the recipient of the 2006 Academy Award in Literature from the American Academy of Arts and Letters. A graduate from Northwestern Illinois University, Chaon received his MFA from Syracuse. He currently lives in Cleveland, Ohio, and teaches at Oberlin College, where he is the Pauline M. Delaney Professor of Creative Writing.
---
Awards
:
'''''Among the Missing'''''
-- Finalist, National Book Award '''''You Remind Me of Me'''''
-- Best Books of the Year, The Washington Post, Chicago Tribune, San Francisco Chronicle, The Christian Science Monitor and Entertainment Weekly '''''Await Your Reply'
Primary Literary Genre(s):
Fiction
Primary Audience(s):
Adult readers; Young adult readers
Email:
dan@danchaon.com
Facebook:
https://www.facebook.com/pages/Dan-Chaon/87777261743
Twitter:
https://twitter.com/danchaon
Website:
http://danchaon.com
Dan Chaon on WorldCat :
http://www.worldcat.org/search?q=dan+chaon
---
Selected Titles
Among the missing
ISBN: 9780307481443 OCLC: 644594018 [Random House Publishing Group], [New York] : [2009] Stories of men, women, and children who live far outside the American Dream, while wondering which decision, which path, or which accident brought them to this place.--Jacket.
Among the missing /
ISBN: 0345441613 OCLC: 45393659 Ballantine Books, New York : 2001. "Stories of men, women, and children who live far outside the American Dream, while wondering which decision, which path, or which accident brought them to this place."--Jacket.
Await your reply :
ISBN: 9780345476036 OCLC: 663471161 Ballantine Books Trade Paperback, New York : 2010. Longing to get on with his life, Miles Cheshire nevertheless can't stop searching for his troubled twin brother, Hayden, who has been missing for ten years. Hayden has covered his tracks skillfully, moving stealthily from place to place, managing along the way to hold down various jobs and seem, to the people he meets, entirely normal. A few days after graduating from high school, Lucy Lattimore sneaks away from the small town of Pompey, Ohio, with her charismatic former history teacher. They arrive in Nebraska, in the middle of nowhere, at a long-deserted motel next to a dried-up reservoir, to figure out the next move on their path to a new life. But soon Lucy begins to feel quietly uneasy. My whole life is a lie, thinks Ryan Schuyler, who has recently learned some shocking news. In response, he walks off the Northwestern University campus, hops on a bus, and breaks loose from his existence, which suddenly seems abstract and tenuous. Presumed dead, Ryan decides to remake himself--through unconventional and precarious means.
Fitting ends and other stories /
ISBN: 0810150212 OCLC: 32821530 TriQuarterly Books, Evanston, Ill. : ©1995. The lot of young men when they leave college and start working. Typical is Rapid Transit, whose protagonist, a man once filled with the joy of living, is now just another harried commuter. A debut in fiction.
Ill will :
ISBN: 9780345476050 OCLC: 951753685 Two sensational unsolved crimes--one in the past, another in the present--are linked by one man's memory and self-deception in this chilling novel of literary suspense from National Book Award finalist Dan Chaon. We are always telling a story to ourselves, about ourselves, Dustin Tillman likes to say. It's one of the little mantras he shares with his patients, and it's meant to be reassuring. But what if that story is a lie? A psychologist in suburban Cleveland, Dustin is drifting through his forties when he hears the news: His adopted brother, Rusty, is being released from prison. Thirty years ago, Rusty received a life sentence for the massacre of Dustin's parents, aunt, and uncle. The trial came to symbolize the 1980s hysteria over Satanic cults; despite the lack of physical evidence, the jury believed the outlandish accusations Dustin and his cousin made against Rusty. Now, after DNA analysis has Meanwhile, one of Dustin's patients gets him deeply engaged in a string of drowning deaths involving drunk college boys. At first Dustin dismisses talk of a serial killer as paranoid thinking, but as he gets wrapped up in their amateur investigation, Dustin starts to believe that there's more to the deaths than coincidence. Soon he becomes obsessed, crossing all professional boundaries--and putting his own family in harm's way. From one of today's most renowned practitioners of literary suspense, Ill Will is an intimate thriller about the failures of memory and the perils of self-deception. In Dan Chaon's nimble, chilling prose, the past looms over the present, turning each into a haunted place. PRAISE FOR DAN CHAON Among the Missing Unforgettable. hums with life and wry humor. The stories sneak resolutely up on you, like new weather that hits before you know it.--The New York Times Book Review One of those writers who possess an uncanny and seemingly otherwordly understanding of the human condition. Chaon [is] a remarkable chronicler of a very American kind of sadness, much in the tradition of Richard Yates, Raymond Carver, and Denis Johnson.--San Francisco Chronicle You Remind Me of Me Remarkable. weaves the threads into a whole that is not only satisfying but devastating.--Entertainment Weekly (Editor's Choice) Extraordinary. renews my faith in the unique capacity of literature to help us understand and ultimately respect ourselves and the strange, baffling, complex figures we all can be.--Houston Chronicle Await Your Reply Stunning. Like the finest of his storytelling heroes, Mr. Chaon manages to bridge the gap between literary and pulp fiction with a clever, insinuating book equally satisfying to fans of either genre.--The New York Times A riveting thriller, chock-full of plot twists. There's a bristling momentum that develops, as in any great tale of suspense. [Chaon] writes with an eloquence rarely seen in the world of page-turners.--Los Angeles Times Book Review Stay Awake Eerily beautiful. [Chaon] is the modern day John Cheever.--Boston Sunday Globe There are not many fiction writers who can do what Dan Chaon can do. [He is] a literary force.--The Philadelphia Inquirer--
Stay awake :
ISBN: 9780345530387 OCLC: 724650049 Before the critically acclaimed novels Await Your Reply and You Remind Me of Me, Dan Chaon made a name for himself as a renowned writer of dazzling short stories. Now, in Stay Awake, Chaon returns to that form for the first time since his masterly Among the Missing, a finalist for the National Book Award. In these haunting, suspenseful stories, lost, fragile, searching characters wander between ordinary life and a psychological shadowland. They have experienced intense love or loss, grief or loneliness, displacement or disconnection--and find themselves in unexpected, dire, and sometimes unfathomable situations. A father's life is upended by his son's night terrors--and disturbing memories of the first wife and child he abandoned; a foster child receives a call from the past and begins to remember his birth mother, whose actions were unthinkable; a divorced woman experiences her own dark version of empty-nest syndrome; a young widower is unnerved by the sudden, inexplicable appearances of messages and notes--on dollar bills, inside a magazine, stapled to the side of a tree; and a college dropout begins to suspect that there's something off, something sinister, in his late parents' house. Dan Chaon's stories feature scattered families, unfulfilled dreamers, anxious souls. They exist in a twilight realm--in a place by the window late at night when the streets are empty and the world appears to be quiet. But you are up, unable to sleep. So you stay awake--
You remind me of me :
ISBN: 0345441400 OCLC: 60342135 Why do we become who we become? Through the intertwined threads of the characters' lives, this is the question explored in this eagerly awaited first novel from the National Book Award finalist.