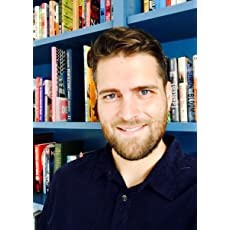 Chris Rylander
Born:
in North Dakota
Pen Name:
None
Connection to Illinois
: Rylander lives in Chicago.
Biography
: Chris Rylander was born and raised in North Dakota. He loves movies, music and sports of all kinds. He is the author of The Legend of Greg, The Curse of Greg, the Fourth Stall saga, and the Codename Conspiracy series. He's also the co-author of the third book in the New York Times bestselling House of Secrets series, Clash of the Worlds and he also contributed to the book Guys Read: The Sports Pages.
---
Awards
:
'''''The Fourth Stall'''''
-- SCBWI Sid Fleischman Humor Award, 2012
-- Indie Next List, Spring 2011
-- Texas Library Association, Lone Star Reading List, 2012
-- North Dakota Library Association, Flickertale Award, 2012
-- Kentucky Library Association, Bluegrass Award Nominee, 2012
-- ILLINOIS READS Book Selection, Illinois Reading Council, 2014
'''''Codename Zero'''''
-- ILLINOIS READS Book, Selection, Illinois Reading Council, 2017
Primary Literary Genre(s):
Fiction
Primary Audience(s):
Children; Young adult readers
Blog:
http://www.chrisrylander.com/blog.html
Twitter:
https://mobile.twitter.com/chris_rylander?lang=en
Website:
http://www.chrisrylander.com
---
Selected Titles
An Epic Series of Failures: The Curse of Greg
ISBN: 1524739758 OCLC: 1054832741 "The saga continues as Galdervatn spreads throughout the world, calling forth mythical monsters and new challenges for Greg and his Dwarven crew"--
An Epic Series of Failures: The Legend of Greg
ISBN: 1524739723 OCLC: 1004448842 Risk-averse Greg Belmont is content with being ordinary. He's got a friend -- -that's right, just one -- at his fancy prep school, and a pretty cool dad (even if he is obsessed with organic soaps that smell like a mix of salted pork and Icelandic bog). The problem is, Greg isn't ordinary. He's actually an honest-to-goodness, fantastical Dwarf! He discovers the truth the day his dad brings home a gross new tea -- one that awakens bizarre abilities in Greg. Then a murderous Bro-Troll kidnaps his dad and Greg is whisked away to the Underground, where Dwarves have lived for centuries right beneath the streets of Chicago. With the help of some awesome new friends and a talking ax, Greg learns all about the history of the Dwarves, which has been marked with tales of epic failure since the dawn of time. However, the return of the magic they once wielded means big changes are afoot, escalating tensions with the Dwarves' sworn enemy: the Elves.
An Epic Series of Failures: The Rise of Greg
ISBN: 1524739804 OCLC: 1123181452 Greg and his Dwarven friends seek a powerful amulet in the hope of averting a war with the Elves for the fate of magic on earth.
Clash of the worlds /
ISBN: 0062192515 OCLC: 918590648 "With their last adventure just barely over, the Walker kids thought life would finally go back to normal. But things don't remain calm for long... especially when the colossus Fat Jagger turns up in San Francisco Bay--and he's in danger! With the police closing in, the Walkers must figure out how to save their giant friend. When a frost beast is spotted in Santa Rosa--and more mystical creatures start appearing all over America--it's soon clear that the characters from Denver Kristoff's works are invading the real world. It's up to Brendan, Eleanor, and Cordelia to reenter the book world one last time to keep the worlds from colliding, causing mass destruction"--
Codename: Zero
ISBN: 9780062120083 OCLC: 849787290 When a desperate man in a nondescript black suit asks thirteen-year-old Carson Fender to deliver a mysterious package for him, the middle schooler discovers there's something going on in his sleepy North Dakota hometown he had never expected--something involving the CIA--
Countdown Zero /
ISBN: 0062120115 OCLC: 881848471 "Carson Fender returns to the Agency after receiving a note in his school lunch informing him that Agent Nineteen has three days left to live, and that there might be someone inside the Agency working against them"--
Crisis Zero
ISBN: 9780062327475 OCLC: 908990037 There is a computer program so unspeakably powerful that its mere existence is unknown to all but the most senior government agents. This computer program is capable of controlling every aspect of communication, transportation, and defense on the planet. This computer program must never fall into the wrong hands or civilization as we know it will be utterly destroyed. This computer program is in North Dakota. Carson Fender -- a.k.a. the retired Prank Master, a.k.a. Agent Zero, a.k.a. the all-in-one World's Greatest Hero and World's Greatest Screwup -- must protect this program, codenamed Exodus. He is paired once again with his best friend, Danielle, aka Agent Atlas. Together, they must expose an enemy agent working from inside their school -- an enemy agent with the mandate to stop at nothing to help secure Exodus. Can Zero and Atlas foil this enemy before it is too late? Carson's final mission will test his loyalty, smarts, and courage as never before.
The Fourth Stall: Part I
ISBN: 0061994960 OCLC: 639939491 Walden Pond Press, New York : ©2011. Sixth-graders Mac and Vince operate a business charging schoolmates for protection from bullies and for help to negotiate conflicts peacefully, with amazing challenges and results.
The Fourth Stall: Part II
ISBN: 0061996300 OCLC: 746489118 Walden Pond Press, New York : ©2012. Six-graders Mac and Vince, who operate an advice and assistance service for fellow students, face new dangers when a strict administrator is hired to clean up the school and a strange and dangerous girl asks for their help to have a teacher fired.
The Fourth Stall: Part III
ISBN: 0062120050 OCLC: 791680036 Walden Pond Press, New York : ©2013. "Mac and Vince have gotten out of their middle school underworld crime business, but an upstart rival business and a run-in with an old nemesis pull them back in"--Provided by publisher.
The sports pages /
ISBN: 006196378X OCLC: 777619201 A collection of sports stories featuring everything from fighting to friendship, set everywhere from the tennis court to the hockey rink.