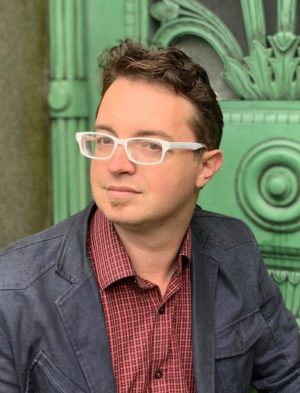 Adam Selzer
Born:
Des Moines, Iowa 1980
Pen Name:
William Griffith, S.J. Adams
Connection to Illinois
: Selzer lives in Chicago.
Biography
: Adam Selzer became a professional ghostbuster and founded ''Weird Chicago Tours'' in 2006 with Troy Taylor and Ken Melvoin-Berg. He writes humorous books for children and young adults and non-fiction for adults about forgotten bits of Chicago history, myths, legends and ghost lore. At night, he still gives ghost tours in Chicago.
---
Awards
:
The Smart Aleck's Guide to American History ILLINOIS READS Book Selection, Illinois Reading Council, 2013
Play Me Backwards Starred Review, VOYA; ILLINOIS READS Book Selection, Illinois Reading Council, 2017
Primary Literary Genre(s):
Fiction; History; Non-Fiction
Primary Audience(s):
Adult readers; Children; Young adult readers
Blog:
https://mysteriouschicago.com/category/blog/
E-Mail:
adam@mysteriouschicago.com
Facebook:
https://www.facebook.com/mysteriouschicago
Instagram:
https://www.instagram.com/adamselzer/
Twitter:
https://twitter.com/mysteriouschi
Web:
https://mysteriouschicago.com/
Wikipedia:
https://en.wikipedia.org/wiki/Adam_Selzer
YouTube:
https://www.youtube.com/adamselzer
---
Selected Titles
Andrew North Blows up the World
ISBN: 0385736487 OCLC: 305411964 Delacorte Press, New York : ©2009. Ten-year-old Andrew North believes his father and brother are spies, and spends his time in middle school preparing to join the family business.
Extraordinary :
ISBN: 9780375983580 OCLC: 698027224 Delacorte Press, New York : ©2011. Fourteen-year-old Jennifer sets the record straight after a best-selling book, ostensibly written about her, declares that her life was improved by her fairy godparent, who is actually a creepy, unkempt drunk with greasy hair.
Fatal drop :
ISBN: 1892523620 OCLC: 440799761 Whitechapel Press, Decatur, Ill. : ©2009.
Flickering Empire: How Chicago Invented the U.S. Film Industry
ISBN: 0231174497 OCLC: Wallflower Press 2015 Flickering Empire tells the fascinating yet little-known story of how Chicago served as the unlikely capital of American film production in the years before the rise of Hollywood (1907–1913). As entertaining as it is informative, Flickering Empire straddles the worlds of academic and popular nonfiction in its vivid illustration of the rise and fall of the major Chicago movie studios in the mid-silent era (principally Essanay and Selig Polyscope). Colorful, larger-than-life historical figures, including Thomas Edison, Charlie Chaplin, Oscar Micheaux, and Orson Welles, are major players in the narrative―in addition to important though forgotten industry titans, such as "Colonel" William Selig, George Spoor, and Gilbert "Broncho Billy" Anderson.
Ghosts of Lincoln :
ISBN: 9780738741536 OCLC: 891610657 Abraham Lincoln is one of the most haunted--and haunting--presidents in U.S. history. Sightings of Lincoln's ghost, as well as the ghost of his assassin, have been reported for more than 150 years. Visited by eerie premonitions, morbid dreams, and unusual events that seem too bizarre to be coincidence, Lincoln has become the source of dozens of myths and paranormal mysteries. Investigating everything from obscure séance transcripts and nearly forgotten newspaper articles to the most peculiar paranormal claims, this digs deep into the annals of history and reveals the fascinating true stories behind the tales, rumors, and lore.
Graceland Cemetery: Chicago Stories, Symbols, and Secrets
ISBN: 0252086503 OCLC: 3 Fields Books 2022 One of Chicago's landmark attractions, Graceland Cemetery chronicles the city's sprawling history through the stories of its people. Local historian and Graceland tour guide Adam Selzer presents ten walking tours covering almost the entirety of the cemetery grounds. While nodding to famous Graceland figures from Marshall Field to Ernie Banks to Ludwig Mies van der Rohe, Selzer also leads readers past the vaults, obelisks, and other markers that call attention to less recognized Chicagoans like:Jessie Williams de Priest, the Black wife of a congressman whose 1929 invitation to a White House tea party set off a storm of controversy;Engineer and architect Fazlur Khan, the Bangladeshi American who revived the city's skyscraper culture;The still-mysterious Kate Warn (listed as Warn on her tombstone), the United States' first female private detective.Filled with photographs and including detailed maps of each tour route, Graceland Cemetery is an insider's guide to one of Chicago's great outdoor destinations for city lore and history.
H.H. Holmes :
ISBN: 1510713433 OCLC: 979413723 Herman W. Mudgett, better known by his alias, H.H. Holmes, is considered America's first-- and most notorious-- serial killer. During the 1893 World's Fair in Chicago, the basement of his house in Englewood, Illinois contained a torture chamber with crematory. Mudgett confessed to killing 27 people, but legends say the number may be in the hundreds. Selzer reveals not only the true story but how the legend evolved, taking advantage of hundreds of primary sources that have never been examined before.
How to get suspended and influence people :
ISBN: 9780440421603 OCLC: 247090425 Laurel-Leaf, New York : 2008, ©2006. Gifted eighth-grader Leon Harris becomes an instant celebrity when the film he makes for a class project sends him to in-school suspension.
I Kissed a Zombie, and I Liked It
ISBN: 0385735030 OCLC: 326529748 Delacorte Press, New York : ©2010. Living in the post-human era when the undead are part of everyday life, high schooler Alley breaks her no-dating rule when Doug catches her eye, but classmate Will demands to turn her into a vampire and her zombie boyfriend may be unable to stop him.
I Put a Spell on You: From the Files of Chrissie Woodward, Spelling Bee Detective
ISBN: 9780385735049 OCLC: 185032686 Delacorte Press, New York : ©2008. When Gordon Liddy Community School's resident tattletale-detective, Chrissie Woodward, realizes that the adults are out to fix the big spelling bee, she transfers her loyalty to her fellow students and starts collecting evidence. Told through in-class letters, administrative memos, file notes from Chrissie's investigation, and testimony from spelling bee contestants.
Mysterious Chicago: History at Its Coolest
ISBN: 1510713425 OCLC: New York : Skyhorse New York : 2016 From Chicago historian Adam Selzer, expert on all of the Windy City's quirks and oddities, comes a compelling heavily researched anthology of the stories behind its most fascinating unsolved mysteries.To create this unique volume, Selzer has collected forty unsolved mysteries from the 1800s to modern day. He has poured through all newspaper, magazine, and book references to them, and consulted expert historians. Topics covered include who really started the great Chicago fire, who was the first "automobile murderer," and even if there was actually a vampire slaying at Rose Hill cemetery.The result is both a colorful read to get lost in, a window to a world of curiosity and wonder, as well as a volume that separates fact from fiction—true crime from urban legend.Complementing the gripping stories Selzer presents are original images of the crime and its suspects as developed by its original investigators. Readers will marvel at how each character and crime were presented, and happily journey with Selzer as he presents all facts and theories presented at the time of the "crime" and uses modern hindsight to assemble the pieces.
Pirates of the Retail Wasteland
ISBN: 0385904800 OCLC: New York : Delacorte Books for Young Readers New York : 2008 Leon and his miscreant buddies from the gifted pool are mad as hell, and they're not going to take it anymore! Their favorite downtown coffeeshop, Sip–the only survivor in the barren moonscape of decrepit Old Downtown–is in danger of being run out of business by the ubiquitous and oh-so-corporate coffee chain, Wackford's. Wackford's doesn't host readings or smell funky or support the arts the way Sip does–it's basically a glorified office. With the help of the Wackford's manager–a self-described "McHobo" who's worked for every chain along the strip–Leon and his friends decide to protest by taking over the Wackford's and making it into a middle-management office. Meanwhile, Leon deals with an unwanted crush, a Mohawked father, and his friend Dustin's ongoing quest to take down the gym teacher via depressing poems. Nothing quite goes as expected, but that's the great thing about life in the gifted pool.
Play me backwards
ISBN: 9781481401036 OCLC: 863100397 A promising and popular student in middle school, Leon Harris has become a committed slacker but with graduation approaching and his middle school girlfriend possibly returning to town, Leon's best friend Stan, who claims to be Satan, helps him get back on the right track--for a price.
Speaking ill of the dead :
ISBN: 0762772913 OCLC: 783147137 Globe Pequot Press, Guilford, Conn. : ©2012. A delightfully wicked look at the badly behaved characters who shaped the history of the Windy City through their deeds and misdeeds. Speaking Ill of the Dead: Jerks in Chicago History features twenty-five short profiles of notorious bad guys, perpetrators of mischief, visionary if misunderstood thinkers, and other colorful antiheroes from the history of the Windy City. It reveals the dark side of some well-known and even revered characters from Chicago's past-both part-time Jerks and others who were Jerks through and through.
The Ghosts of Chicago: The Windy City's Most Famous Haunts
ISBN: 0738736112 OCLC: 844774291 From Resurrection Mary and Al Capone to the funeral train of Abraham Lincoln, the spine-tingling sights and sounds of Chicago's yesteryear are still with us-- and so are its ghosts. Selzer pieces together the truth behind Chicago's ghosts, and brings to light dozens of never-before-told firsthand accounts. Take a historical tour of the famous and not-so-famous haunts around town. Sometimes the real story is far different from the urban legend ... and most of the time it's even gorier ...
The Smart Aleck's Guide to American History
ISBN: 9780385736503 OCLC: 300983067 Delacorte Press, New York : ©2009. Improve your historical knowledge with this witty and efficient presentation of pivotal themes and events such as the American Revolution, Civil War, and civil rights movement. This clever and informative work follows a chronological arrangement from early exploration to the inauguration of President Barack Obama in January 2009.
Weird Chicago (Haunted Illinois)
ISBN: 1892523590 OCLC: Decatur, Ill. : Whitechapel Productions Decatur, Ill. : 2008 The city of Chicago is unquestionably the weirdest and most haunted city in America! With a history dating back to the early 1800s that is filled with violent events, mysterious happenings and a lot of very strange characters, there is no other place like it in the country. Now, in the most complete book ever written on Chicago ghosts and strange history, the creators of the Weird Chicago Tours reveal just how that homegrown weirdness has shaped the city that we know today - and shows that Chicago is weirder than any city should legally be allowed to be! With notebooks and cameras in hand, the Weird Chicago crew has scoured the city in search of the haunted, the odd and the offbeat. They have tracked down bizarre history, unusual people, weird roadside attractions, forgotten remnants of the past, unexplained happenings and more ghost stories than have appeared in any other book before, plus the truth behind many Chicago hauntings that you only thought you knew! From Hull House to Resurrection Mary, to Dillinger to Al Capone, this book showcases the most unusual aspects of Chicago - and just what makes it so haunted, weird & unique! Packed full of stuff that you aren't going to find anywhere else; this is a journey that you're never going to forget!
Your Neighborhood Gives Me the Creeps: True Tales of an Accidental Ghost Hunter
ISBN: 0738715573 OCLC: 310399697 Llewellyn Publications, Woodbury, Minn. : ©2009. Do ghosts really exist, or is