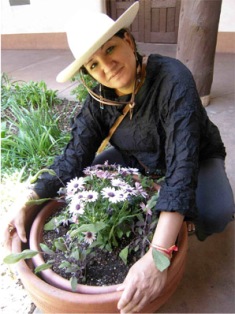 Sandra Cisneros
Born:
December 20, 1954 in Chicago, Illinois
Pen Name:
None
Connection to Illinois
: Cisneros was born in Chicago and attended and graduated from Loyola University of Chicago.
Biography
: Sandra Cisneros is a Latina author and poet best known for her novel ''The House on Mango Street''. She is also the author of ''Caramelo'', ''Woman Hollering Creek and Other Stories'', ''My Wicked Wicked Ways'' and a collection of poems titled, ''Loose Woman''. Her books and poetry have been translated into over a dozen languages. Much of her writing is influenced by her Mexican heritage. She has also contributed to many periodicals. Cisneros currently resides in Mexico.
---
Awards
:
'''''The House on Mango Street'''''
-- American Book Award, Columbus Foundation, 1985
'''''Caramelo'''''
-- Notable book of the Year, The New York Times
-- Notable book of the Year, Los Angeles Times
-- Notable book of the Year, San Francisco Chronicle
-- Notable book of the Year, Chicago Tribune
-- Notable book of the Year, Seattle Times
-- Premio Napoli Award, 2005
'''''Woman Hollering Creek and Other Stories'''''
-- PEN Center West Award for Best Fiction, l99l
-- Quality Paperback Book Club New Voices Award
-- Anisfield-Wolf Book Award
-- Lannan Foundation Literary Award
-- Noteworthy Book of the Year, The New York Times
-- Noteworthy Book of the Year, American Library Journal
'''''Loose Woman'''''
-- Mountains & Plains Booksellers' Award
"""Other Awards and Honors"""
-- Fuller Award for her lifetime contribution to literature, Chicago Literary Hall of Fame, 2021
-- MacArthur Fellowship
-- Chicago's Fifth Star Award
-- PEN America Literary Award
-- PEN/Nabokov Award for International Literature
-- National Medal for the Arts
Primary Literary Genre(s):
Fiction; Poetry
Primary Audience(s):
Adult readers
Facebook:
https://www.facebook.com/sandracisnerosauthor
Website:
http://www.sandracisneros.com/
---
Selected Titles
A house of my own :
ISBN: 038535133X OCLC: 907060041 "From the beloved author of The House on Mango Street: a richly illustrated compilation of true stories and nonfiction pieces that, taken together, form a jigsaw autobiography: an intimate album of a literary legend's life and career. From the Chicago neighborhoods where she grew up and set her groundbreaking The House on Mango Street to her abode in Mexico, in a region where "my ancestors lived for centuries," the places Sandra Cisneros has lived have provided inspiration for her now-classic works of fiction and poetry. But a house of her own, where she could truly take root, has eluded her. With this collection--spanning nearly three decades, and including never-before-published work--Cisneros has come home at last. Ranging from the private (her parents' loving and tempestuous marriage) to the political (a rallying cry for one woman's liberty in Sarajevo) to the literary (a tribute to Marguerite Duras), and written with her trademark sensitivity and honesty, these poignant, unforgettable pieces give us not only her most transformative memories but also a revelation of her artistic and intellectual influences. Here is an exuberant, deeply moving celebration of a life in writing lived to the fullest--an important milestone in a storied career"--
Caramelo, or, Puro cuento :
ISBN: 0679435549 OCLC: 49259927 Knopf, New York : ©2002. During her family's annual car trip from Chicago to Mexico City, Lala Reyes listens to stories about her family, including her grandmother, the descendant of a renowned dynasty of shawl makers, whose magnificent striped shawl has come into Lala's possession.
Hairs =
ISBN: 0679890076 OCLC: 29258573 A girl describes how each person in the family has hair that looks and acts different, Papa's like a broom, Kiki's like fur, and Mama's with the sweet smell of bread before it's baked.
Have you seen Marie? /
ISBN: 0307597946 OCLC: 769425258 Alfred A. Knopf, New York : 2012. "The word "orphan" might not seem to apply to a fifty-three-year-old woman. Yet this is exactly how Sandra feels as she finds herself motherless, alone like "a glove left behind at the bus station." What just might save her is her search for someone else gone missing: Marie, the black-and-white cat of her friend, Roz, who ran off the day they arrived from Tacoma. As Sandra and Roz scour the streets of San Antonio, posting flyers and asking everywhere, "Have you seen Marie?" the pursuit of this one small creature takes on unexpected urgency and meaning."--Jacket.
Loose woman :
ISBN: 0679755276 OCLC: 32323997 Vintage, New York : 1995, ©1994. A selection of poetry dealing with the Mexican American psyche.
My wicked, wicked ways /
ISBN: 0679418210 OCLC: 25872412 Turtle Bay Books, New York : 1992. A collection of poetry attests to the author's original passion and reveals her talent for employing the precision and musicality of language in verses both comic and sad.
The house on Mango Street /
ISBN: 0679734775 OCLC: 22626478 The story of a young girl growing up in the Hispanic quarter of Chicago. Capturing her thoughts and emotions in poems and stories, she is able to rise above hopelessness and create a quiet space for herself in the midst of her oppressive surroundings.
Vintage Cisneros /
ISBN: 1400034051 OCLC: 54075616 Vintage Books, New York : ©2004. One of the most beloved of contemporary American writers, Sandra Cisneros evokes her own Latina experience and makes it universally accessible in excerpts from the novels The House on Mango Street and Caramelo; a generous selection of poems from the collections My Wicked Wicked Ways and Loose Woman; and eight stores from "Woman Hollering Creek."
Woman hollering creek, and other stories /
ISBN: 0679738568 OCLC: 22662291 Random House, New York : ©1991. A tour-de-force second collection (after The House on Mango Street, 1989--not reviewed) by a Chicana poet who writes of life in Southwest border towns. Cisneros's tactile prose brings to vibrant being the sights, smells, joys, and heartaches of growing up female in a culture where women are both strong and victimized, men are unfaithful, and poverty is mitigated only by family, community, and religious ties. Despite hardship, the spirit remains vital, whether as children taking pleasure in a bed shared with sisters ("My Lucy Friend Who Smells Like Corn"), playing with charred, fire-sale Barbie dolls ("Barbie-Q"), or running up and down the aisles of an old movie house ("Mexican Movies")--or as young women stealing love in dark places at too high a price ("One Holy Night" and the title story). These women lead hard but passionate lives, perhaps none more so than the wife of a Mexican general whose story unfolds in the extraordinarily evocative "Eyes of Zapata." It begins "I put my nose to your eyelashes. The skin of the eyelids as soft as the skin of the penis. . . . For the moment I don't want to think of your past nor your future. For now you are here, you are mine." Catholicism is another force operating here, brought alive in the ex votos of "Little Miracles, Kept Promises," and the smart-alecky "Auguiano Religious Articles Rosaries Statues." A collection that heralds a powerfully original talent--all the more appreciated given the all-too-often carbon-copy feel of much of today's fiction.