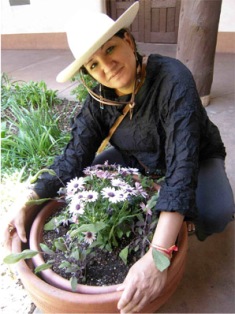 Sandra Cisneros
Born:
December 20, 1954 in Chicago, Illinois
Pen Name:
None
Connection to Illinois
: Cisneros was born in Chicago. She studied at Loyola University of Chicago and received B.A. in English, 1976.
Biography
: Sandra Cisneros is a Latina author and poet best known for her novel ''The House on Mango Street''. Much of her writing is influenced by her Mexican heritage. She has worked as a teacher and counselor to high-school dropouts, as an artist-in-the-schools where she taught creative writing at every level except first grade and pre-school, a college recruiter, an arts administrator, and as a visiting writer at a number of universities including the University of California, Berkeley, and the University of Michigan, Ann Arbor. Cisneros founded both the Macondo Foundation, an association of socially engaged writers, and the Alfredo Cisneros Del Moral Foundation, a grant-giving institution that served Texas writers for fifteen years. Currently, she resides in Mexico.
---
Awards
:
The House on Mango Street American Book Award, Columbus Foundation, 1985
Caramelo Notable book of the Year, The New York Times, Los Angeles Times, San Francisco Chronicle, Chicago Tribune, Seattle Times; Premio Napoli Award, 2005
Woman Hollering Creek and Other Stories PEN Center West Award for Best Fiction, l99l; Quality Paperback Book Club New Voices Award; Anisfield-Wolf Book Award; Lannan Foundation Literary Award; Noteworthy Book of the Year, The New York Times and American Library Journal
Loose Woman Mountains & Plains Booksellers' Award
Other Awards and Honors Ruth Lilly Poetry Prize, 2022; Fuller Award for her lifetime contribution to literature, Chicago Literary Hall of Fame, 2021; National Medal for the Arts, 2016; MacArthur Fellowship; Chicago's Fifth Star Award; PEN/Nabokov Award for International Literature
A House of My Own PEN Award for Creative NonFiction
Hairs/Pelitos Parenting Magazines Best Children's Book of the Year; A Dragonfly Book
Woman without Shame: Poems Best Book of the Year Time and Goodreads
Primary Literary Genre(s):
Fiction; Poetry
Primary Audience(s):
Adult readers; Children; Young adult readers
Facebook:
https://www.facebook.com/sandracisnerosauthor
Instagram:
https://www.instagram.com/officialsandracisneros/
Web:
http://www.sandracisneros.com/
Web:
https://www.womenshistory.org/education-resources/biographies/sandra-cisneros
Web:
https://www.poetryfoundation.org/poets/sandra-cisneros
Wikipedia:
https://en.wikipedia.org/wiki/Sandra_Cisneros
---
Selected Titles
A House of My Own: Stories from My Life
ISBN: 038535133X OCLC: 907060041 Winner of the PEN Center USA Literary Award for Creative Nonfiction • From the celebrated bestselling author of The House on Mango Street:
Caramelo
ISBN: 0679435549 OCLC: 49259927 Knopf, New York : ©2002. During her family's annual car trip from Chicago to Mexico City, Lala Reyes listens to stories about her family, including her grandmother, the descendant of a renowned dynasty of shawl makers, whose magnificent striped shawl has come into Lala's possession.
Hairs/Pelitos
ISBN: 0679890076 OCLC: 29258573 This jewel-like vignette from Sandra Cisneros's best-selling The House on Mango Street shows, through simple, intimate portraits, the diversity among us.A Dragonfly Book in English and Spanish.A Parenting Magazine Best Children's Book of the Year
Have you seen Marie?
ISBN: 0307597946 OCLC: 769425258 Alfred A. Knopf, New York : 2012. The internationally acclaimed author of The House on Mango Street and winner of the PEN/Nabokov Award for Achievement in International Literature gives us a deeply moving tale of loss, grief, and healing: a lyrically told, richly illustrated fable for grown-ups about a woman's search for a cat who goes missing in the wake of her mother's death.The word "orphan" might not seem to apply to a fifty-three-year-old woman. Yet this is exactly how Sandra feels as she finds herself motherless, alone like "a glove left behind at the bus station." What just might save her is her search for someone else gone missing: Marie, the black-and-white cat of her friend, Roz, who ran off the day they arrived from Tacoma. As Sandra and Roz scour the streets of San Antonio, posting flyers and asking everywhere, "Have you seen Marie?" the pursuit of this one small creature takes on unexpected urgency and meaning.With full-color illustrations that bring this transformative quest to vivid life, Have You Seen Marie? showcases a beloved author's storytelling magic, in a tale that reminds us how love, even when it goes astray, does not stay lost forever.
Loose Woman
ISBN: 0679755276 OCLC: 32323997 Vintage, New York : 1995, ©1994. A selection of poetry dealing with the Mexican American psyche. A candid, sexy and wonderfully mood-strewn collection of poetry that celebrates the female aspects of love, from the reflective to the overtly erotic.
Martita, I Remember You/Martita, te recuerdo: A Story in English and Spanish
ISBN: 0593313666 OCLC: Vintage 2021 The celebrated bestselling author of The House on Mango Street "is back with her first work of fiction in almost a decade, a story of memory and friendship [and] the experiences young women endure as immigrants worldwide" (AP). In this masterfully written dual-language edition, a long-forgotten letter sets off a charged encounter with the past. As a young woman, Corina leaves her Mexican family in Chicago to pursue her dream of becoming a writer in the cafés of Paris. Instead, she spends her brief time in the City of Light running out of money and lining up with other immigrants to call home from a broken pay phone. But the months of befriending panhandling artists in the métro, sleeping on crowded floors, and dancing the tango at underground parties are given a lasting glow by her intense friendships with Martita and Paola. Over the years the three women disperse to three continents, falling out of touch and out of mind—until a rediscovered letter brings Corina's days in Paris back with breathtaking immediacy. Martita, I Remember You is a rare bottle from Sandra Cisneros's own special reserve, preserving the smoke and the sparkle of an exceptional year. Told with intimacy and searing tenderness, this tribute to the life-changing power of youthful friendship is Cisneros at her vintage best, in a beautifuldual-language edition.
My Wicked, Wicked Ways
ISBN: 0679418210 OCLC: 25872412 Turtle Bay Books, New York : 1992. A collection of poetry attests to the author's original passion and reveals her talent for employing the precision and musicality of language in verses both comic and sad.
The House on Mango Street
ISBN: 0679734775 OCLC: 22626478 The story of a young girl growing up in the Hispanic quarter of Chicago. Capturing her thoughts and emotions in poems and stories, she is able to rise above hopelessness and create a quiet space for herself in the midst of her oppressive surroundings.
Vintage Cisneros
ISBN: 1400034051 OCLC: 54075616 Vintage Books, New York : ©2004. One of the most beloved of contemporary American writers, Sandra Cisneros evokes her own Latina experience and makes it universally accessible in excerpts from the novels The House on Mango Street and Caramelo; a generous selection of poems from the collections My Wicked Wicked Ways and Loose Woman; and eight stores from
Woman Hollering Creek, and Other Stories
ISBN: 0679738568 OCLC: 22662291 Random House, New York : ©1991. A tour-de-force second collection (after The House on Mango Street, 1989--not reviewed) by a Chicana poet who writes of life in Southwest border towns. Cisneros's tactile prose brings to vibrant being the sights, smells, joys, and heartaches of growing up female in a culture where women are both strong and victimized, men are unfaithful, and poverty is mitigated only by family, community, and religious ties. Despite hardship, the spirit remains vital, whether as children taking pleasure in a bed shared with sisters (
Woman Without Shame: Poems
ISBN: 0593534824 OCLC: Knopf 2022 It has been twenty-eight years since Sandra Cisneros published a book of poetry. With dozens of never-before-seen poems, Woman Without Shame is a moving collection of songs, elegies, and declarations that chronicle her pilgrimage toward rebirth and the recognition of her prerogative as a woman artist. These bluntly honest and often humorous meditations on memory, desire, and the essential nature of love blaze a path toward self-awareness. For Cisneros, Woman Without Shame is the culmination of her search for home—in the Mexico of her ancestors and in her own heart.