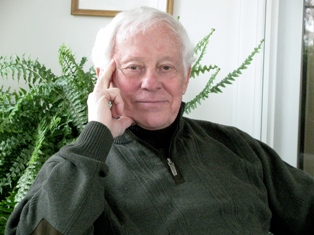 James Ballowe
Born:
1933 in Carbondale, Illinois
Pen Name:
None
Connection to Illinois
: Ballowe was born in Carbondale, Illinois and currently resides in Ottawa, Illinois. He is a Distinguished Professor Emeritus of Bradley University in Peoria, Illinois.
Biography
: James Ballowe is a poet and biographer. He is the winner of two Arts Council awards for poetry and an Arts Council award for creative non-fiction. Along with the books listed in the 'Titles for Purchase and at Your Library' section below, he has also edited: *[http://www.amazon.com/George-Santayanas-America-James-Ballowe/dp/0252745388/ref=sr_1_1?s=books&ie=UTF8&qid=1434382712&sr=1-1&keywords=%27%27George+Santayana%27s+America''George Santayana's America: Essays in Literature and Culture''], 1967; 2nd ed., 1969*[http://www.amazon.com/Anglo-Welsh-Poetry-Selection-Dakota-Quarterly/dp/B000NDDGGE/ref=sr_1_fkmr0_2?s=books&ie=UTF8&qid=1434382650&sr=1-2-fkmr0&keywords=angelo-welsh+poetry%2C+ballowe''Anglo-Welsh Poetry''], North Dakota Quarterly 1989 - edited with Raymond Garlick and Tony Curtis*[http://www.amazon.com/Christmas-Illinois-James-Ballowe/dp/0252034422/ref=sr_1_1?s=books&ie=UTF8&qid=1434382476&sr=1-1&keywords=christmas+in+illinois''Christmas in Illinois''], University of Illinois Press, 2010. His work is also represented in anthologies, including:* ''A Sampler: New Poems and Some Poetry Talk'', Dunes House, 1976. * ''Prairie Voices'', Lucien Stryk, editor,Spoon River Poetry Press, 1980. * ''Beowulf to Beatles and Beyond'', David Pichaske, editor,Macmillan, 1981. * ''Illinois Voices'', Kevin Stein and G.E. Murry, editors, University of Illinois, 2001 Ballowe has also contributed articles, poetry, and short stories to numerous periodicals, including: ''Encounter'', ''American Quarterly'', ''American Literature'', ''Southern Review'', and ''Salmagundi''. He is also the author of ''A Great Outdoor Museum: The Story of The Morton Arboretum, 2003''. This is a monograph published by and available through The Morton Arboretum. It is the only history of that institution.
---
Awards
:
-- 2 poetry and 1 essay award from the Illinois Arts Council
-- Honorable Mention, biography, The Society of Midland Authors
-- Certificate of Merit, biography, Illinois Historical Society
-- Delta Award, Friends of Morris Library, Southern Illinois Uni
Primary Literary Genre(s):
Biography; Essay; Poetry
Email:
jcballowe@gmail.com
Website:
http://www.bradley.edu/academic/departments/english/contests/essay/ballowe.dot
James Ballowe on WorldCat :
http://www.worldcat.org/search?q=james+ballowe
---
Selected Titles
A man of salt and trees :
ISBN: 0875807577 OCLC: 269455778 Northern Illinois University Press, DeKalb : ©2009.
The coal miners /
ISBN: 0933180004 OCLC: 5312493 Spoon River Poetry Press, Peoria, Ill. : ©1979.