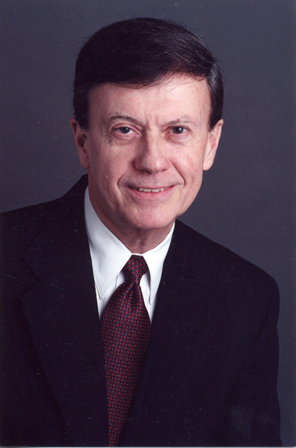 Michael J. Bakalis
Born:
1938 in Berwyn, Illinois
Pen Name:
None
Connection to Illinois
: Bakalis is a lifelong Illinoisian.
Biography
: Michael Bakalis has served in a variety of educational, governmental, and private sector leadership positions. He began his career after graduation from Northwestern University by teaching at the junior high school and high school levels. Upon receiving his PhD from Northwestern University, he taught at Northern Illinois University. he has lectured extensively at various universities throughout the United States and abroad. Bakalis' administrative experience has been in government and education. He was elected and served as Illinois State Superintendent of Education and as Illinois State Comptroller. Through Presidential appointment, he served as Deputy Undersecretary of Education in the US Department of Education where he worked with the ten regional offices of the department across the Unites States and with the US Congress on Educational issues. Dr. Bakalis' Career in academic administration began at Northern Illinois University where he served as Assistant Dean of the College of Arts and Sciences. He has also held positions as Dean of the School of Education at Loyola University and President of Triton College. For fifteen years he served on the faculty of the Kellogg Graduate School of Management at Northwestern University where he taught in the field of public and not-for-profit management and policy and in the area of management and strategy. Mr. Bakalis has headed various statewide study commissions which have led to legislations and public policy. He was the chief architect of the coalition that brought about the much-heralded Chicago School Reform legislation which brought school decision-making to communities through local school councils. The Illinois Association of School Administrators has honored him in the past with their Illinois Administrator of the Year award. Dr. Bakalis has published extensively in the fields of education and public policy and is the author of thirteen books. He also founded the Harbridge Press, which publishes problem-based, critical thinking, materials for elementary and secondary schools. In 19999 he founded the American Quality Schools Corporation, a not-for-profit educational management and consulting organization, which has created or managed over twenty schools in Illinois, Indiana, and Missouri. Over the past number of years Mr. Bakalis has also led his organization into the field of international education. He is currently President and CEO of American Quality Schools and can be contacted at his email.
---
Awards
:
Primary Literary Genre(s):
Non-Fiction
Primary Audience(s):
Adult readers
E-Mail:
mbakalis@aqs.org
LinkedIn:
https://www.linkedin.com/in/michael-bakalis-452b4889
Web:
https://aqs.org/
Web:
https://heartland.org/about-us/who-we-are/michael-j-bakalis/
Web:
https://presidentlincoln.illinois.gov/oral-history/collections/bakalis-michael-1/interview-detail/
Web:
https://nesnus.org/about-nesn/dr-michael-bakalis/
Wikipedia:
https://en.wikipedia.org/wiki/Michael_Bakalis
YouTube:
https://www.youtube.com/watch?v=vehGuBw2gM4
---
Selected Titles
A Country of Heroes
ISBN: 0986319007 OCLC: Harbridge Press 2015 Its 1940... Italy's dictator Benito Mussolini sees his image as a world leader overshadowed by Adolf Hitler's European conquests. Determined to demonstrate Italy's strength, he invades neighboring Greece. When his army fails to subdue the Greeks, Hitler is forced to step in to aid the Italians. The invasion sparks a fierce resistance both against fascism and the Nazis. A "Country of Heroes" follows the wartime lives of three university students in Thessaloniki - a German and two Greeks, one of them a Jew. With conflict intensifying, the German returns home to fulfill his duty; the Greeks become leaders of resistance groups. As war rages the young men encounter one another from time to time as allies in the struggle against their invaders and as enemies when the German army moves across the country. Meanwhile Mussolini, Hitler, The Soviet Union's Joseph Stalin, and Great Britain's Winston Churchill are making strategic decisions that will have significant impacts on the war effort and its outcome. In the fall of 1943, losing badly, Italy withdraws its forces from Greece. Soon Germany follows suit. Now the resistance leaders and fighters must turn to helping shape Greece's future. As WWII winds down in Europe, the student survivors seek out each other before turning to their own futures.
A LONG HARD JOURNEY
ISBN: 0983003009 OCLC: Harbridge Press 2008 This book presents key issues and questions pertaining to African-American history and presents two conflicting interpretations of each issue. Students are asked to analyze the two approaches and decide which one is most accurate and then defend their choice.
For The Next Generation
ISBN: 0986319082 OCLC: Harbridge Press 2018
In Search of Yanelli
ISBN: 0983003025 OCLC: Woodrige, Ill. : Harbridge Press Woodrige, Ill. : 2013 This book is a historical fiction novel depicting the author's journey to discover the hidden aspects in his immigrant father's life which he confronts when his father dies. The story is set in early twentieth century rural Greece and deals with the gradual discovery of family secrets which revolve around violence, abuse, village life and rituals, and even murder.
TRIAL AND TRIUMPH
ISBN: 0983003033 OCLC: Harbridge Press 2012 This is a book of historical profiles of famous American leaders during periods of their lives when they faced defeat, rejection, betrayal and failure. The book looks at these episodes in the lives of Americans such as Thomas Edison, John Quincy Adams, Horace Mann, Robert E. Lee, Jane Addams, Eleanor Roosevelt, Dr. Martin Luther King, Jr., and others. Each episode discusses the trial these individuals faced and how they overcame the challenge to find triumph in their lives.