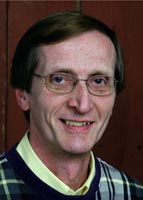 Max Elliot Anderson
Born:
1946 in St. Charles
Pen Name:
None
Connection to Illinois
: Anderson was born in St. Charles and lives in Rockford, Illinois.
Biography
: As a child, Max Elliot Anderson was a reluctant reader even though he grew up surrounded by books. His father, Ken Anderson, was the founder of ''Gospel Films'' in Muskegon, Michigan, and later, ''Ken Anderson Films'' and he also wrote more than 70 books. Max went to college and graduated with a degree in physcology but he went on to work in the production of films, video programs and television commercials. He has been involved in the production of some of the most successful Christian films for children including but not limited to ''Hobo and the Runaway'', ''The Mystery of Wiloubhy Castle'' and ''The Great Banana Pie Caper''. He won ''Best Cinematographer'' for his work on the feature film, ''Pilgrim's Progress'' - the first feature film for actor Liam Neeson and he has won three national Telly awards for his productions of ''Youth Haven'', a ''Safe Place for Kids'', and ''Tracy's Choices''. He was involved with a PBS television special that won a nomination for an Emmy, and the double album won a Grammy.While being a successful producter of films, video programs and television commercials, in 2001 Max wanted to discover why he grew up a reluctant reader. In short, he found he wanted the action, suspense, and humor of a film in a book form. As a result of this, Anderson worked hard to develop a successful adventure series of books that holds the interest of 8 to 13 year olds - especially boys.
---
Awards
:
Primary Literary Genre(s):
Fiction
Primary Audience(s):
Children
Blog:
http://booksandboys.blogspot.com/
Email:
Mander8813@aol.com
Facebook:
https://www.facebook.com/pages/Max-Elliot-Anderson/119610181383078?sk=wall
Twitter:
https://twitter.com/maxeanderson?lang=en
Website:
http://maxbooks.9K.com
Max Elliot Anderson on WorldCat :
http://www.worldcat.org/search?q=max+elliot+anderson
---
Selected Titles
Barney and the runaway /
ISBN: 0984559841 OCLC: 679940735 Comfort Pub., Concord, NC : ©2011. "Mike hated the way his parents were always telling him what to do. Along with his dog, Barney, he decides to teach them a lesson by pretending to run away for a few hours. The plan gets complicated when Mike and Barney hide in a railroad boxcar, fall asleep, and end up in Georgia with a circus in the middle of the night. After his experiences away from home, Mike learns the importance of family, and that you dont appreciate what you have until its gone."--Publisher's description.
Big rig rustlers /
ISBN: 0975288016 OCLC: 57122599 Tweener Press, Winona Lake, Ind. : ©2004. Todd and Amanda are invited to spend spring break with their uncle, aunt, and cousin Drew on their Wyoming ranch. When a band of high tech cattle rustlers are caught, Todd learns why stealing is wrong and decides to choose a new path for his life. He also learns not to judge people by the rumors he has heard about them. --back cover.
Captain Jack's treasure
ISBN: 9781942513285 OCLC: 913940487 Elk Lake Publishing, Atlanta, Georgia : 2015, ©2011. Sam Cooper lives right near the ocean, on the Treasure Coast of Florida. All he's heard about since he moved here are the fabulous treasures that have been found, and those still waiting to be discovered. Sam, Tony and Tyler are convinced that they will be the ones to dig up the next great find. They meet a crusty old sea captain named Jack who's fixing up an impossible looking old tub. What is Captain Jack's mysterious secret? And what is he really planning to do with that boat?--Cover [p. 4].
Legend of the white wolf
ISBN: 9781936695690 OCLC: 782920668 Comfort Pub., Concord, NC : ©2012. They didn't call him a liar, they just didn't believe his story. Brian Fisher was determined to prove his story even though it involved risk to his personal safety. When he rescues a young wolf pup from a steel trap, it results in a mysterious relationship with surprising results.
Lost Island smugglers
ISBN: 9781942513292 OCLC: 913940584 Elk Lake Publishing, Atlanta, Georgia : 2015, ©2011. Sam Cooper was moving again. But this time would be different. You know, meet some friends, learn to scuba dive, go out on a boat, get caught in a hurricane and stranded on a deserted island ... well, maybe really different. And Sam and his friends aren't the only ones who've found Lost Island. Can Sam, Tony and Tyler muster the courage it takes to stay alive? find out in this first book of the Sam Cooper Adventure series.--Cover [p. 4].
Mountain cabin mystery /
ISBN: 0972925635 OCLC: 57714135 Tweener Press, Winona Lake, Ind. : ©2004. Scott and his friends have waited over 2 years for their wilderness camping trip. Curiosity and a kodak moment cause them to leave the trail. Surrounded by a dense fog and faced with a bear, a remote cabin seemed to offer a temporary shelter, but ...
Newspaper Caper
ISBN: 9781936695263 OCLC: 733249402 Comfort Publishing, Concord, NC : ©2011. Tom Stevens and his friends stumble across a car theft in progress while on their early morning newspaper delivery route. They discover the driver of the tow truck is a mechanic at a relative's garage. The boys take the matter into their own hands and begin to investigate.
North Woods poachers
ISBN: 9781936695058 OCLC: 724665299 Comfort Publishing, Concord, NC : ©2011. Two families on vacation in Canada become involved in a mystery about poaching near their camp site.
Reckless runaway /
ISBN: 0975288040 OCLC: 69419887 Tweener Press/Baker Trittin Press, Winona Lake, Ind. : ©2005. Summer had no appeal for Mike Ellis. But neither did homework, or class assignments, or self-discipline. He especailly disliked his parents always telling him what to do and punishing him all the time. Deciding to teach his parents a lesson he decides to run away from home for a day with his dog Barney. His plans go very wrong when a day later he finds himself halfway across the country and very lost.
River rampage
ISBN: 9781935600152 OCLC: 821848346 Port Yonder Press, Shellsburg, Iowa : ©2010. Sam Cooper and his friends have the chance of a lifetime to go rafting down the mighty Colorado River. The rains have been heavy this season, making the raging river even more treacherous. The boys become separated from the main group, their rubber raft is going flat, and now they're on their own. They have their hands full with a crusty prospector, his gold mine, a gang of outlaw bikers, and a desperate river escape on their makeshift wooden raft. Think that's the worst that could happen? Well, it isn't.--Page 4 of cover.
Secret of Abbott's Cave /
ISBN: 0975288008 OCLC: 61395641 Tweener Press/Baker Trittin Press, Winona Lake, Ind. : ©2004. Randy and his friends formed a detective club and pooled their resources to buy a police radio scanner. After learning of a bank robbery, they went on a camping trip, and while cave exploring discovered the hidden loot from the robbery. They then wondered if they were really heroes or not.
Terror at Wolf Lake
ISBN: 9781936695966 OCLC: 773022196 Comfort Pub., [Concord, NC] : 2012, ©2004. Eddy Thompson was known for one and one thing only. Eddy was a cheater. He cheated on anything, anytimne, anywhere, until something happened at Wolf Lake. What happened would change Eddy's life forever.
The sense of humor :
ISBN: 9781942513971 OCLC: 987333527 During these uncertain times, what people need most is a good laugh. Imagine what would happen if you understood there is an untapped force, contained within you, that has the power to totally change your life. And what if you discovered, all you had to do in order to unlock this secret, is simply to start using it? So it is with humor. The Sense of Humor is designed to demonstrate the sense that humor can make in the life of anyone who is willing to use it. Humor will deliver direct health benefits to the user. Outside of this primary benefit, humor will touch the lives of everyone around the user in positive ways for relationships, families, education, at work, in ministries, and so much more. The Sense of Humor cuts acroos social, economic, ethnic, and educational barriers. It has been said that music is universal language. So, too, is laughter.-- Back cover
When the lights go out
ISBN: 9781936695478 OCLC: 747554108 Comfort Publishing, Concord, NC : ©2012. Peyton Aldrich's father is an Army colonel, who specializes in Army intelligence. His work is always top secret, which means he can't even discuss it with his own son. Peyton idolizes his father, who believes that after what happened on 9/11, somebody had to help keep the country safe. Now, Peyton, along with his family, find themselves stationed at a new army base in the middle of nowhere. After his arrival, Peyton finds two friends, Gill and Dave. Together they decide to train like Rangers, and search for some kind of mission to accomplish on their own. Little did they know that a mission was about to put the boys right in the crosshairs of a dangerous terrorist plot ...--Cover back.