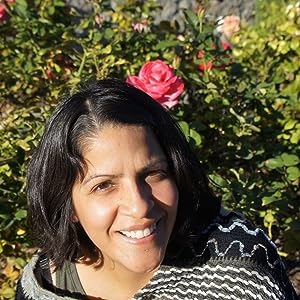 Claudia Guadalupe Martinez
Born:
1978
Pen Name:
None
Connection to Illinois
: Martinez has lived in Chicago since 2002.
Biography
: Claudia Guadalupe Martinez grew up in El Paso, Texas where she learned that letters form words from reading the subtitles of old westerns for her father. She now lives in Chicago where she works for a non-profit whose mission it is to improve the educational experiences of public school children.
---
Awards
:
The Smell of Old Lady Perfume Summer Must Read List, Hispanic Magazine, 2008, Best Middle Grade Book of the Year, Latinidad's, 2008, Best of the Best List, Chicago Public Library, 2008, Southwest Books of the Year List, Pima County Library, 2008
Not a Monster Illinois READS Book Selection, Illinois Reading Council, 2024
Pig Park Illinois READS Book Selection, Illinois Reading Council, 2017
Primary Literary Genre(s):
Fiction; Non-Fiction
Primary Audience(s):
Children; Young adult readers
E-Mail:
cmartinez50@hotmail.com
Facebook:
https://www.facebook.com/claudia.g.martinez.3
Instagram:
https://www.instagram.com/claudialupe_mtz/
Twitter:
https://twitter.com/maquilagorilla
Web:
https://claudiaguadalupemartinez.com/
Wikipedia:
https://en.wikipedia.org/wiki/Claudia_Guadalupe_Martinez
---
Selected Titles
NOT A BEAN.
ISBN: 1580898157 OCLC: 1085591155 CHARLESBRIDGE PUBLISHING, [S.l.] : 2019.
Not A Monster
ISBN: 1623543037 OCLC: Charlesbridge 2023 With Spanish vocabulary and a clever color concept, this poetic picture book shares the life cycle of beloved amphibian—the axolotl—in its natural habitat.An axolotl may look like one, but it is certainly Not a Monster. This curious creature, made popular by Minecraft, is actually a salamander that will never lose its gills or fins. Not a Monster explores the traits of the axolotl, the Aztec origin myth about the species, and the way pollution is affecting its natural habitat: the canals of Xochimilco in Mexico City.Fun and engaging, this playful and informative read-aloud introduces curious readers on one cool character who is NOT a monster!
Pig Park
ISBN: 9781935955788 OCLC: 862149102 Seventeen-year-old Masi Burciaga's barrio becomes more like a ghost town every day, but when she and other youths are recruited to erect a giant pyramid in hopes of attracting tourists, she wonders about the entrepreneur behind the scheme--and his attractive son.
Spirit Untamed: The Movie Novel
ISBN: 0316627437 OCLC: Little, Brown Books for Young Readers 2021 Relive all of your favorite moments from DreamWorks Spirit Untamed, hitting theaters June 4, 2021, with this retelling that includes eight pages of full-color images from the animated feature film! Lucky Prescott never really knew her late mother, Milagro Navarro, a fearless horse-riding stunt performer. Like her mother, Lucky isn't exactly a fan of rules and restrictions. When her aunt Cora moves them from their East Coast city to live in Miradero with Lucky's father, Lucky is decidedly unimpressed with the sleepy little town. She has a change of heart when she meets Spirit, a wild Mustang who shares her independent streak, and befriends two local horseback riders, Abigail Stone and Pru Granger. When a heartless horse wrangler plots to capture Spirit and his herd and auction them off to a life of captivity and hard labor, Lucky enlists her new friends and bravely embarks on the adventure of a lifetime to rescue the horse who has given her freedom, a sense of purpose, and who has helped Lucky discover a connection to her mother's legacy. © 2021 DreamWorks Animation LLC. All Rights Reserved.
Still Dreaming / Seguimos Soñando (English and Spanish Edition)
ISBN: 089239434X OCLC: Lee & Low Books 2022 In the first children's book to describe the long-forgotten chapter of US history known as Mexican Repatriation, a boy and his family leave their beloved home to avoid being separated by the government.Faced with the prospect of being separated from each other, a young boy and his family make the difficult decision to leave their home and begin a journey filled with uncertainty. On the road, they meet other people like them. Families with deep roots tied to the land. Others that helped build the railroads. Some were shop owners and factory workers. Each with similar hopes and dreams.Historians estimate that between 1930 and 1940, two million people living in the United States were forcibly removed and sent to live in Mexico. Telling this story from a child's perspective, award-winning author Claudia Guadalupe Martínez lyrically recounts this often-overlooked period of United States history--Mexican Repatriation. Emotive illustrations by Magdalena Mora convey this poignant tale of longing for home and permanence, which reflects many of the dreams and hopes of people today.
The smell of old lady perfume /
ISBN: 1933693185 OCLC: 181368664 Cinco Puntos Press, El Paso, TX : ©2008. When sixth-grader Chela Gonzalez's father has a stroke and her grandmother moves in to help take care of the family, her world is turned upside down.