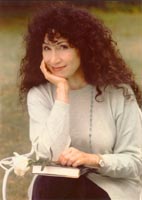 Diane Ackerman
Born:
October 7, 1948 in Waukegan, Illinois
Pen Name:
None
Connection to Illinois
: Ackerman was born and raised in Waukegan.
Biography
: Diane Ackerman, born Diane Fink, is an author, poet, and naturalist. Her writing style, can best be described as a blend of poetry, colloquial history, and easy-reading science. She has taught at various universities, including Columbia and Cornell, and her essays regularly appear in distinguished popular and literary journals. She currently resides in Ithaca, New York.
---
Awards
:
"""The Human Age"""
-- New York Times Bestseller
-- P.E.N. Henry David Thoreau Award """One Hundred Names for Love"""
-- Finalist, Pulitzer Prize
-- Finalist, National Book Circle Critics Award """ The Zookeeper's Wif
Primary Literary Genre(s):
Fiction; Poetry
Primary Audience(s):
Adult readers; Children
E-Mail:
inkdream@hotmail.com
Facebook:
https://www.facebook.com/dianeackerman.author
Twitter:
https://twitter.com/dianesackerman
Website:
http://www.dianeackerman.com/nonfiction-books-by-diane-ackerman
on WorldCat:
http://www.worldcat.org/search?q=diane++ackerman
---
Selected Titles
A natural history of love
ISBN: 0679761837 OCLC: 31865658 Vintage Books, New York : 1995. A wide-ranging examination of human affection in history, literature, biology, and pop culture.
A natural history of the senses /
ISBN: 0679735666 OCLC: 23691031 Vintage Books, New York : 1991. Diane Ackerman's lusciously written grand tour of the realm of the senses includes conversations with an iceberg in Antarctica and a professional nose in New York, along with dissertations on kisses and tattoos, sadistic cuisine and the music played by the planet Earth. Delightful - gives the reader the richest possible feeling of the worlds the senses take in.
A slender thread :
ISBN: 157453257X OCLC: 40825607 Audio Literature, [San Bruno, CA] : ℗1998.
An alchemy of mind :
ISBN: 9781439125083 OCLC: 893130675 Scribner, New York : 2014. The most ambitious and enlightening work to date from the bestselling author of A Natural History of the Senses, An Alchemy of Mind combines an artist's eye with a scientist's erudition to illuminate, as never before, the magic and mysteries of the human mind. Long treasured by literary readers for her uncommon ability to bridge the gap between art and science, celebrated scholar-artist Diane Ackerman returns with the book she was born to write. Her dazzling new work, An Alchemy of Mind, offers an unprecedented exploration and celebration of the mental fantasia in which we spend our days -- and does for the human mind what the bestselling A Natural History of the Senses did for the physical senses. Bringing a valuable female perspective to the topic, Diane Ackerman discusses the science of the brain as only she can: with gorgeous, immediate language and imagery that paint an unusually lucid and vibrant picture for the reader. And in addition to explaining memory, thought, emotion, dreams, and language acquisition, she reports on the latest discoveries in neuroscience and addresses controversial subjects like the effects of trauma and male versus female brains. In prose that is not simply accessible but also beautiful and electric, Ackerman distills the hard, objective truths of science in order to yield vivid, heavily anecdotal explanations about a range of existential questions regarding consciousness, human thought, memory, and the nature of identity.
Animal sense /
ISBN: 0375923845 OCLC: 50035236 A.A. Knopf, New York : ©2003. A collection of poems that tells how such animals as alligators, bats, penguins, bumble bees, and skunks use their different senses.
Bats :
ISBN: 0517709198 OCLC: 34284865 Crown Publishers, New York : 1997. The author gets to see bats close up as she accompanies bat expert and founder of Bat Conservation International, Merlin Tuttle, on a trip to study these often misunderstood mammals.
Cultivating delight :
ISBN: 0060199865 OCLC: 45715881 HarperCollins, New York : ©2001. Poet and naturalist Diane Ackerman discusses her garden and uses it as a metaphor, exploring beauty and the human condition.
Dawn light :
ISBN: 9781615877768 OCLC: 464583646 Playaway Digital Audio : [Solon, Ohio] : [2010], ℗2009. In an eye-opening sequence of personal meditations through the cycle of seasons, Diane Ackerman awakens us to the world at dawn---drawing on sources as diverse as meteorology, world religion, etymology, art history, poetry, organic farming, and beekeeping. As a patient and learned observer of animal and human physiology and behavior, she introduces us to varieties of bird music and other signs of avian intelligence, while she herself migrates from winter in Florida to spring, summer, and fall in upstate New York. Humans might luxuriate in the idea of being in nature, Ackerman points out, but we often forget that we are nature---for no facet of nature is as unlikely as we, the tiny bipeds with the giant dreams. Joining science's devotion to detail with religion's appreciation of the sublime, Dawn Light is an impassioned celebration of the miracles of evolution---especially human consciousness of our numbered days on a turning earth.
Deep play
ISBN: 1574533312 OCLC: 43695833 Audio Literature, San Bruno, CA : 1999. Ackerman decribes deep play as the state of full engagement in life which makes possible our finest accomplishments and most deeply felt experiences. Ackerman shows that understanding what this state is and how it can be reached is the key to a lifetime of joy, creativity, and fulfillment.
Jaguar of sweet laughter :
ISBN: 0679402144 OCLC: 22450163 Random House, New York : ©1991. This collection of verse touches on such topics as a hospital vigil, the Amazon rain forest, and the icy Antarctic, and offers a selection from the author's dramatic poem about a Mexican nun and the Inquisition.
Lady Faustus /
ISBN: 0688023967 OCLC: 9934454 Morrow, New York : 1983.
Monk seal hideaway
ISBN: 0517596733 OCLC: 30157758 Crown Publishers, New York : ©1995. The author tells of her visit to the Hawaiian Islands National Wildlife Refuge to study monk seals.
On extended wings /
ISBN: 0689115407 OCLC: 11622588 Atheneum, New York : 1985. In this remarkable paean to flying, award-winning poet Diane Ackerman invites us to ride jump seat as she takes -- literally and figuratively -- to the sky. On Extended Wings tells the story of how she gained mastery over the mysteries of flight and earned her private pilot's license, of her frustration and exhilaration during hours of lessons and seemingly endless touch-and-gos, of her first solo and her first cross-country flights, of the teachers and pilots and aviation enthusiasts she befriended and flew with. We learn with her the special language of aviation -- the meaning of terms like "lift" and "windsock" and "True Virgins Make Dull Company" (the flyer's acronym for computing one's heading). And we follow her through an eclectic exploration of the culture and history of flight -- from the dimensions of wind to what laws govern who has the right of way in the sky, from why birds fly to what the litany of lights that flash from control towers means, from the Wright Brothers to St. Exupéry and World War I flying aces. But most of all, On Extended Wings is about challenges, taking chances, and stretching one's limits. As voluptuous in its imagery as it is meticulous in its observation, this is a book for anyone who has ever flown a plane -- or dreamed of it. --http://www.dianeackerman.com/on-extended-wings-by-diane-ackerman
One hundred names for love :
ISBN: 9780393341744 OCLC: 774638035
Origami bridges :
ISBN: 0060199881 OCLC: 49288115 In this collection, Diane Ackerman, with astonishing candor, lays bare her desires, anger, jealousy, fears, and anxiety as she probes not only her psychic landscape but also her past. And what gradually rises to the surface is an understanding of how the poet uses verse to purge her demons, express her delight, or confess secret longing, and through this process come to a better understanding of the self. The author of twenty celebrated books of poetry and nonfiction, Diane Ackerman offers a new collection of masterfully crafted poems with an unusual focus. At the heart of Origami Bridges is the delicate relationship of trust between analyst and patient, a relationship that grows out of the emotional give-and-take of the psychoanalytic process. Ackerman's energy and passion are everywhere in evidence, and "she makes the task of putting words to the wordless seem effortless" [Manchester Journal]. Exuberant, lyrical, these are deeply felt poems about life and one of its most important relationships. This collection is Diane Ackerman at the height of her powers as a poet.
Reverse thunder
ISBN: 0930829093 OCLC: 20112973 Lumen Books, New York, N.Y. : ©1988.
The human age :
ISBN: 0393240746 OCLC: 887450822 "Humans have subdued 75 percent of the land surface, concocted a wizardry of industrial and medical marvels, strung lights all across the darkness. We tinker with nature at every opportunity; we garden the planet with our preferred species of plants and animals, many of them invasive; and we have even altered the climate, threatening our own extinction. Yet we reckon with our own destructive capabilities in extraordinary acts of hope-filled creativity ... Ackerman [explores] our new reality, introducing us to many of the people and ideas now creating--perhaps saving--our future and that of our fellow creatures."--Jacket.
The moon by whale light :
ISBN: 1857990870 OCLC: 59816854 Phoenix, London : 1994, ©1991.
The planets :
ISBN: 0688030882 OCLC: 2189272 Morrow, New York : 1976.
The rarest of the rare :
ISBN: 9780307763358 OCLC: 757746922 Vintage Books, New York : 1997, ©1995. An account of Ackerman's adventures observing rare and endangered animals in their native habitats.
The senses of animals :
ISBN: 0375804005 OCLC: 40912611 Alfred Knopf, New York : 2000. Poems about the five senses as manifested in such animals as the star-nosed mole, bat, bee, swan, fly, and cow.
The zookeeper's wife /
ISBN: 0393061728 OCLC: 122291559 The true story of how the keepers of the Warsaw Zoo saved hundreds of people from Nazi hands. When Germany invaded Poland, Stuka bombers devastated Warsaw -- and the city's zoo along with it. With most of their animals dead, zookeepers Jan and Antonina Żabiński began smuggling Jews into empty cages. Another dozen "guests" hid inside the Żabińskis' villa, emerging after dark for dinner, socializing, and, during rare moments of calm, piano concerts. Jan, active in the Polish resistance, kept ammunition buried in the elephant enclosure and stashed explosives in the animal hospital. Meanwhile, Antonina kept her unusual household afloat, caring for both its human and its animal inhabitants -- otters, a badger, hyena pups, lynxes -- and keeping alive an atmosphere of play and innocence even as Europe crumbled around her.
Twilight of the tenderfoot :
ISBN: 1555914683 OCLC: 50041084 Fulcrum Pub., Golden, Colo. : 2002, ©1980.
Wife of light :
ISBN: 0688032869 OCLC: 3481222 Morrow, New York : ©1978.