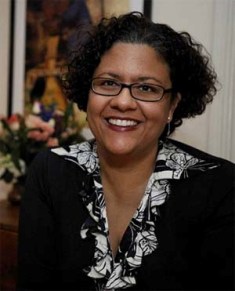 Elizabeth Alexander
Born:
1962 in New York, New York
Pen Name:
None
Connection to Illinois
: Alexander taught at the University of Chicago.
Biography
: Elizabeth Alexander is a poet, essayist, playwright, and teacher born in New York City and raised in Washington, DC. Alexander has degrees from Yale University and Boston University and completed her Ph.D. in English at the University of Pennsylvania.
---
Awards
:
-- Her work, American Sublime, was one of three finalists for the 2005 Pulitzer Prize.
-- Inaugural recipient, Jackson Poetry Prize, $50,000. Grant by anonymous nomination, administered by Poets and Writers, Spring 2007
-- Alphonse Fletcher, Sr., Fellowship, 2
Primary Literary Genre(s):
Poetry
Primary Audience(s):
Adult readers
Email:
elizabeth.alexander@yale.edu
Website:
http://elizabethalexander.net
Elizabeth Alexander on WorldCat :
http://www.worldcat.org/search?q=elizabeth+alexander
---
Selected Titles
American blue :
ISBN: 1852247304 OCLC: 75187332 Bloodaxe Books, Highgreen, Tarset, Northumberland : 2006. Elizabeth Alexander is a leading American poet whose work has been inspired by history, literature, art and music to the 'rich infinity' of the African-American experience. This title covers subjects ranging from slave rebellions, the Civil Rights movement, Muhammed Ali and Toni Morrison, to the lives of jazz musicians and the 'Venus Hottentot'.
American sublime :
ISBN: 1555974325 OCLC: 61757563 A fourth collection of poems by the author recalls over a century of African American traditions, knitting together a blend of history, biography, personal experience, pop culture, and dreamscape.
Antebellum dream book :
ISBN: 155597354X OCLC: 47990136 Graywolf Press, Saint Paul, Minn. : ©2001. Offers a collection of poems with themes ranging from race, memory, and Southern culture to African American celebrities including Richard Pryor, Muhammad Ali, and Nat King Cole.
Body of life /
ISBN: 1882688120 OCLC: 36407259 Tia Chucha Press : Chicago : ©1996.
Crave radiance :
ISBN: 1555976301 OCLC: 665070316 Graywolf Press, Minneapolis, Minn. : ©2010. Over twenty years, Elizabeth Alexander has become one of America's most exciting and important poets. This first career retrospective gathers generous selections from Alexander's previous work, along with twenty pages of new poetry, including her poem "Praise Song for the Day," delivered at Barack Obama's Presidential Inauguration. The result is the definitive volume to date by this quintessential American poet.
Miss Crandall's school for young ladies & little misses of color /
ISBN: 1590784561 OCLC: 76820887 Poets Elizabeth Alexander and Marilyn Nelson tell the story of Prudence Crandall's school for African American girls opened in 1833.
Power and possibility :
ISBN: 047209937X OCLC: 85833310 University of Michigan Press, Ann Arbor : ©2007. A volume in the Poets on Poetry series, which collects critical works by contemporary poets, gathering together the articles, interviews, and book reviews by which they have articulated the poetics of a new generation. Elizabeth Alexander is considered one of the country's most gifted contemporary poets, and the publication of her essays in The Black Interior in 2004 established her as an astute critic and cultural commentator as well. Arnold Rampersad has called Alexander one of the brightest stars in our literary sky . . . a superb, invaluable commentator on the American scene. In this new collection of her essays, reviews, and interviews, Alexander again focuses on African American artistic production, particularly poetry, and the cultural contexts in which it is created and experienced. The book's first section, Black Arts 101, takes up the poetry of Paul Laurence Dunbar, Sterling Brown, Lucille Clifton, Gwendolyn Brooks, and Rita Dove (among others); artist Romare Bearden; dancer Bill T. Jones; and dramatist August Wilson. A second section, Black Feminist Thinking, provides engaging meditations ranging from My Grandmother's Hair and A Very Short History of Black Women and Food to essays on the legacies of Toni Cade, Audre Lorde, and June Jordan. The collection's final section, Talking, includes interviews, a commencement address--Black Graduation--and the essay Africa and the World.
Praise song for the day :
ISBN: 1555975453 OCLC: 291391569 Presents a collectible edition of the author's poem which was read at the inauguration of President Barack Obama.
Praise song for the day :
ISBN: 0061926647 OCLC: 730414232 Katherine Tegen Books/HarperCollins, New York : 2012. An illustrated interpretation of the poem that was commissioned for the 44th president's inauguration conveys a message of hope and gratitude as well as a reminder of the responsibilities that individuals and communities share to help promote a better world.
The best of the West :
ISBN: 9780060166649 OCLC: 24318412 From whte men's first tentative forays into the West to the highways that crisscross today's West, this anthology spans almost five centuries, celebrating many myths of a legendary landscape and exploding many more. Every facet of the Western experience is crystallized here -- Indians, cowboys, Latinos, frontier justice, homesteaders, the Pony Express, the mines, the railroad, the military, and far, far, more. Included are such well-known documents as Chief Joseph's surrender speech and Colonel Travis's letter from the Alamo, as well as less famous but equally evocative texts like Custer's last letter home, the Tombstone Epitaph's report of the gunfight at the O.K. Corral, and a thoroughly bone-chilling account of a midwinter stagecoach ride. Tony Hillerman has gathered over 140 texts from and about the West. Though these selections vary widely in form -- from diaries to news dispatches to travelogues to short stories to stone inscriptions -- Every one vividly evokes some aspect of the vast, rugged landscape west of the Mississippi and the unique souls who inhabit it.
The black interior :
ISBN: 1555973930 OCLC: 53821335 With a poet's precision and an intellectually adventurous spirit, Elizabeth Alexander explores a wide spectrum of contemporary African American artistic life through literature, paintings, popular media, and films, and discusses its place in current culture. In The Black Interior, she examines the vital roles of such heavyweight literary figures as Gwendolyn Brooks, Langston Hughes, and Rita Dove, as well as lesser known, yet vibrant, new creative voices. She offers a reconsideration of "afro-outre" painter Jean-Michel Basquiat, the concept of "race-pride" in Jet magazine, and her take on Denzel Washington's career as a complex black male icon in a post-affirmative action era. Also available is Alexander's much heralded essay on Rodney King, Emmett Till, and the collective memory of racial violence. Alexander, who has been a professor at the University of Chicago and Smith College, and recently at Yale University, has taught and lectured on African American art and culture across the country and abroad for nearly two decades. In The Black Interior, she directs her scrupulous poet's eye to the urgent cultural issues of the day. This lively collection is a crucial volume for understanding current thinking on race, art, and culture in America.
The light of the world :
ISBN: 1455599867 OCLC: 886490865 "In THE LIGHT OF THE WORLD, Elizabeth Alexander--poet, mother, and wife--finds herself at an existential crossroads after the sudden death of her husband, who was just 49. Reflecting with gratitude on the exquisite beauty of her married life that was, grappling with the subsequent void, and feeling a re-energized devotion to her two teenage sons, Alexander channels her poetic sensibilities into a rich, lucid prose that describes a very personal and yet universal quest for meaning, understanding, and acceptance. She examines the journey we take in life through the lens of her own emotional and intellectual evolution, taking stock of herself at the midcentury mark. Because so much of her poetry is personal or autobiographical in nature, her transition to memoir is seamless, guided by her passionate belief in the power of language, her determination to share her voyage of self-discovery with her boys, and her embrace of the principle that the unexamined life is not worth living. This beautifully written book is for anyone who has loved and lost. It's about being strong when you want to collapse, about being grateful when someone has been stolen from you--it's discovering the truth in your life's journey: the good, the bad, and the ugly. It's Elizabeth Alexander's story but it is all of our stories because it is about discovering what matters"--
The Venus Hottentot
ISBN: 0813912644 OCLC: 20391803 University Press of Virginia, Charlottesville : 1990.
The Venus Hottentot /
ISBN: 1555973922 OCLC: 60604515 Graywolf Press, Saint Paul, Minn. : [2004] These poems range from personal memory to cultural history to human personae: John Coltrane, Frida Kahlo, Nelson Mandela, and "The Venus Hottentot," a nineteenth-century African woman made into a carnival sideshow exhibit. -- p.[4] of cover.