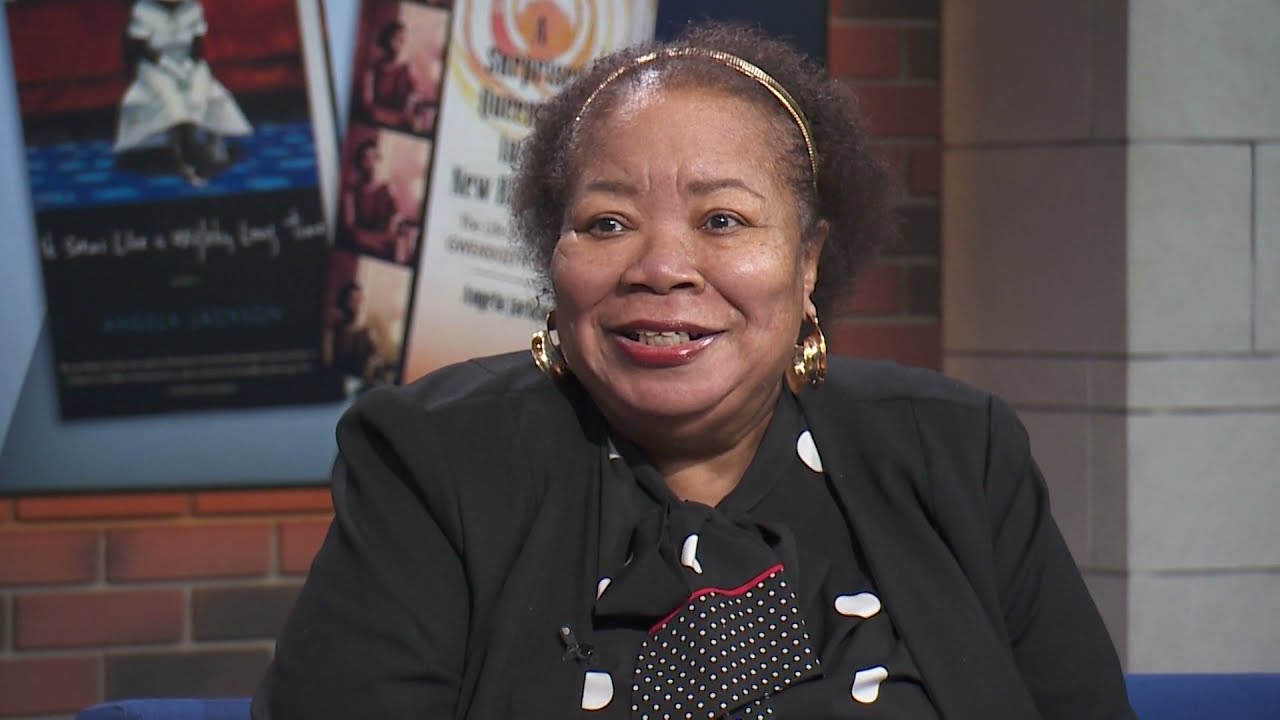 Angela Jackson
Born:
1951 in Greenville, Mississippi
Pen Name:
None
Connection to Illinois
: Jackson's family moved to Chicago when she was one year old. She graduated from Loretto Academy, a Catholic high school, in Chicago. Jackson stayed in Chicago during college and attended Northwestern University, graduating from the College of Arts and Sciences in 1977. She also earned a master's degree in Latin American and Caribbean Studies at the University of Chicago. Angela has taught African-American literature at Kennedy-King College since 1997 and still resides in Chicago today.
Biography
: In November 2020, Angela Jackson was selected as the 5th Illinois Poet Laureate. During the 1970's in Chicago, Angela Jackson became one of the most desired readers and performers because she was able to master the art of pause and rhythm during a performance. Jackson is also very well know for her involvement in Chicago's Organization of Black American Culture (OBAC). The influence of this organization has had a great effect on Jackson's writing. Its main goal was to advance 'the conscious development and articulation of Black Aesthetic.' Members are encouraged to express in words the 'Black Experience' and also pay attention to and focus on the works of other African American authors.
---
Awards
:
"""Dark Legs and Silk Kisses"""
-- One of the four best Chicago books, Chicago Sun-Times, 1993
"""And, All These Roads be Luminous: Poem Selected and New"""
-- Nominated, National Book Award
"""Solo in the Box Car Third Floor E"""
--
-- American Book Award, 1985
"""Where I Must Go"""
-- American Book Award, 2008
"""It Seems Like a Mighty Long Time"""
-- Longlisted for the Pulitzer Prize
-- Longlisted finalist for the PEN Open Book
"""Other Significant Awards"""
-- Conrad Kent Rivers Memorial Award, 1973
-- Academy of American Poets Award, Northwestern University, 1974
-- Hoyt W. Fuller Award for Literary Excellence, 1984
-- Poetry Prize, DuSable Museum Writers Seminar, 1984
-- Pushcart Prize for Poetry, 1984
-- ETA Gala Award, 1989
-- Illinois Literary Heritage Award, Illinois Center for the Book, 1996
-- Illinois Arts Council Literary Awards - five for fiction and one for poetry
-- Daniel Curley Award, TriQuarterly
-- The Carl Sandburg Award, Illinois Arts Council
-- Book of the Year Award, Chicago Sun-Times Friends of Literature
-- Shelley Memorial Award of the Poetry, Society of America, 2002
-- Fuller Award for Lifetime Achievement, Chicago Literary Hall of Fame, 2018
-- Illinois Poet Laureate, 2020
-- Lifetime Achievement Award, Black Excellence Awards, African American Arts Alliance, 2021
Primary Literary Genre(s):
Fiction; Non-Fiction; Poetry
Primary Audience(s):
Adult readers
Website:
https://www.poetryfoundation.org/poets/angela-jackson
Website:
https://www.thehistorymakers.org/biography/angela-jackson-41
Wikipedia:
https://en.wikipedia.org/wiki/Angela_Jackson
---
Selected Titles
A surprised queenhood in the new Black sun :
ISBN: 0807059129 OCLC: 958097203 Pulitzer-Prize winning poet Gwendolyn Brooks is one of the great American literary icons of the twentieth century, a proteĢgeĢ of Langston Hughes and mentor to a generation of poets, including Sonia Sanchez, Nikki Giovanni, and Elizabeth Alexander. Her poetry took inspiration from the complex portraits of black American life she observed growing up on Chicago's South Side, a world of kitchenette apartments and vibrant streets. From the desk in her bedroom, as a child she filled countless notebooks with poetry, encouraged by the likes of Hughes and affirmed by Richard Wright, who later called her work raw and real. Over the next sixty years, Brooks's poetry served as witness to the stark realities of urban life: the evils of lynching, the murders of Emmett Till and Malcolm X, the revolutionary effects of the civil rights movement, and the burgeoning power of the Black Arts Movement. Critical acclaim and the distinction in 1950 of being the first black person ever awarded a Pulitzer Prize helped solidify Brooks as a unique and powerful voice. Now, fellow Chicagoan and award-winning writer Angela Jackson delves deep into the rich fabric of Brooks's work and world. Granted unprecedented access to Brooks's family, personal papers, and writing community, Jackson traces the literary arc of this artist's long career and gives context for the world in which Brooks wrote and published her work. It is a powerfully intimate look at a once-in-a-lifetime talent, using forty-three of Brooks's most soul-stirring poems as a guide. From trying to fit in at school, to loving her physical self, to marriage and motherhood, to young men on her block, to breaking history, to newfound acceptance from her community and her elevation to a surprising queenhood, Brooks lived life through her work. Jackson deftly unpacks it all for both longtime admirers of Brooks and newcomers curious about her work and interior life. This book is a commemoration of a writer who negotiated black womanhood and a changing, restless world with incomparable brilliance--an artistic maverick way ahead of her time.--Adapted from jacket.
And all these roads be luminous :
ISBN: 0810150778 OCLC: 37721483 Triquarterly Books, Evanston, Ill. : 1998. Drawing from earlier works contained in the chapbooks VooDoo/Love Magic, The Greenville Club, Solo in the Boxcar Third Floor E, and The Man with the White Liver, And All These Roads Be Luminous is filled with an impressive variety of characters engaged in compelling explorations of identity, creativity, spiritual experience, and the rites and rituals of race and sexuality. Jackson moves with ease from the personal to the historical: filled alternately with wonder, righteous anger, tenderness, and a tangible intensity, Jackson's is rich and passionate verse brimming with poetic surprises.
Dark legs and silk kisses :
ISBN: 0810150263 OCLC: 28421830 TriQuarterly Books, Evanston, Ill. : Ā©1993.
It seems like a mighty long time :
ISBN: 9780810130517 OCLC: 879583919 Angela Jackson's latest collection of poetry borrows its title from a lyric in Barbara Lewis's 1963 hit single Hello Stranger, recorded at Chess Records in Chicago. Like the song, Jackson's poems are a melodic ode to the African American experience, informed by both individual lives and community history, from the arrival of the first African slave in Virginia in 1619 to post-Obama America. It Seems Like a Mighty Long Time reflects the maturity of Jackson's poetic vision. The Great Migration, the American South, and Chicago all serve as signposts, but it is the complexity of individual lives--both her own and those who have gone before, walk beside, and come after--that invigorate this collection. Upon surveying so vast a landscape, Jackson finds that sorrow meets delight, and joy lifts up anger and despair. And for all this time, love is the agent, the wise and just rule and guide.
Roads, where there are no roads :
ISBN: 0810134721 OCLC: 956435304 "In this highly anticipated sequel to her acclaimed first novel, Where I Must Go, Angela Jackson continues the remarkable story of Magdalena Grace. As a black student at the predominantly white Eden University, Maggie found herself deeply involved in conflict. Now, out in the wider world, she and her beloved Treemont Stone evolve into agents of change as they become immersed in the historical events unfolding around them--the movements advocating for civil rights, black consciousness, black feminism, the rights of the poor, and an end to the war in Vietnam. Rendered in prose so lyrical and luminous as to suggest a dream, Roads, Where There Are No Roads is a love story in the greatest sense, celebrating love between a man and a woman, between family members, and among the members of a community whose pride pushes them to rise up and resist. This gorgeously written novel will resonate with readers today as incredibly relevant, uplifting hearts and causing eyes to water with sorrow and delight" -- From the publisher.
Solo in the boxcar third floor E /
ISBN: 0933653018 OCLC: 15334604 OBAhouse, Chicago, Ill. : Ā©1985.
The man with the white liver :
ISBN: 0936556161 OCLC: 15653042 Contact II Publications, New York City : 1987.
Voo Doo Love Magic (First poets series)
ISBN: 0883780321 OCLC: 1094504 Third World Press, Chicago : [1974]
Where I must go :
ISBN: 9780810151857 OCLC: 268787850 TriQuarterly Books/Northwestern University Press, Evanston, Ill. : 2009. Story of Magdalena Grace, from her time at the racially exclusive atmosphere of fictional Eden University to the black neighborhoods of a midwestern city to her ancestral Mississippi.