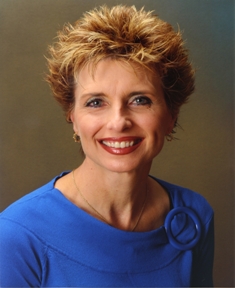 Heidi Bee Roemer
Born:
1957 in Chicago, Illinois
Pen Name:
None
Connection to Illinois
: Roemer is a Chicago native. She grew up on a farm south of the city and now lives in the suburb of Orland Park.
Biography
: Heidi Bee Roemer has authored ten children's books. She has sold over 400 poems and stories to a variety of children's magazines and two dozen anthologies. Heidi has served SCBWI-Illinois, is a former instructor for the Institute of Children's Literature, and mentors aspiring poets across the U.S. and Canada. She's been a writer-in-residence for Chicago Public schools and has given hundreds of presentations at schools, libraries and other literary venues.
---
Awards
:
"""Come to My Party"""
-- Second Grade Reading List, Chicago Public School
-- Best of the Best Books List, Chicago Public Library, 2004
-- The Best Children's Books, CBC, 2005
-- Best of the Year List, CBC, 2005
-- Nominee, Great Lakes' Great Books Award, 2006
-- Nominee, Monarch Award, ISLMA, 2007
-- Nominee, Round Rock Texas ISD Reader's Choice, 2007
"""Peekity Boo - What You Can Do!"""
-- Best Book of the Month, Amazon
-- Christy Ottaviano Book, Henry Holt, 2019
-- ILLINOIS READS Book Selection, Illinois Reading Council, 2020
Primary Literary Genre(s):
Fiction
Primary Audience(s):
Children
E-Mail:
HRoemer@gmail.com
LinkedIn:
https://www.linkedin.com/in/heidi-bee-roemer-1326629
Twitter:
https://twitter.com/poetweet4
Website:
http://heidibroemer.com/
Website:
https://www.scbwi.org/members-public/heidi-roemer
Website:
https://www.goodreads.com/author/show/6563975.Heidi_Bee_Roemer
---
Selected Titles
Come to my party and other shape poems /
ISBN: 0805066209 OCLC: 52749911 Henry Holt, New York : 2004. Poems that celebrate favorite things from different seasons of the year, each shaped like the subject at hand.
Hide-and-seek on the farm :
ISBN: 1629799483 OCLC: 1011622457 "Lift the flaps for Hidden Pictures clues and find what is hiding all around the barnyard"--
Peekity boo what you can do! /
ISBN: 1250122325 OCLC: 1040110522 Rhyming text follows a toddler's bedtime routine, from an energetic bath to choosing jammies, reading a book, cuddling with a favorite toy, and snuggling with loved ones before gently falling asleep.
What kinds of seeds are these? /
ISBN: 1559719559 OCLC: 62766720 NorthWord Books, Minnetonka, Minn. : ©2006. ""This delightful rhyming picture book tells the stories of nine different seeds in a fun-to-read riddle format"--Front jacket flap."--source other than the Library of Congress.
Whose nest is this? /
ISBN: 1589793862 OCLC: 232983103 NorthWord, Lanham, Md. : ©2009. Describes the many different types of nests found in nature, including those built by such creatures as hummingbirds, sea turtles, harvest mice, flamingos, alligators, and bees.