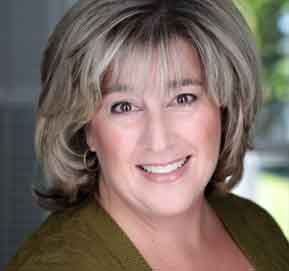 Ruth Spiro
Born:
1964 in Chicago, IL
Pen Name:
None
Connection to Illinois
: Spiro was born in Chicago and attended Stone Elementary School (now Stone Scholastic Academy) where she proudly served as Principal for a Day in 2008. She attended Highland Park High School. Ruth graduated with a BS in Communications/Advertising from the University of Illinois at Urbana-Champaign and earned an MBA from Loyola University of Chicago. She currently resides in Deerfield.
Biography
: Ruth Spiro writes innovative books for children on the topics of Science, Technology, Engineering and Math. Her areas of interest include the many benefits of introducing STEM subjects and makerspace activities to even the littlest learners. Ruth believes success comes from a willingness to explore the unfamiliar, take risks, and view mistakes as learning experiences. She hopes her books inspire kids to observe their world, ask questions, and when it comes to their futures, DREAM BIG! Her writing has appeared in FamilyFun, CHILD, and The Writer, and also in popular anthologies, notably The Right Words at the Right Time (Vol. II), edited by Marlo Thomas, and several Chicken Soup for the Soul titles. A frequent speaker at schools and conferences, Ruth's previous appearances include the Los Angeles Times Festival of Books, Early Childhood STEM Conference, Chicago Tribune Printer's Row Book Fair, Millennium Park Family Fun Festival, Illinois Young Authors Conference, Illinois Art Education Association and the Virginia Festival of the Book. She lives in Chicago.
---
Awards
:
Lester Fizz, Bubble-Gum Artist Best Book of the Year, Bank Street College of Education, Liam Callen Award
Baby Loves Quarks! Amazon editors
Baby Loves Thermodynamics ILLINOIS READS Book Selection, Illinois Reading Council, 2018
Baby Loves Aerospace Engineering Amazon editors
Baby Loves Quantum Physics Amazon editors
How To Explain Coding to a Grown-Up Illinois READS Book Selection, Illinois Reading Council, 2024
Primary Literary Genre(s):
Fiction; Non-Fiction
Primary Audience(s):
Children
Blog:
http://ruthspiro.com/blog/
Facebook:
https://www.facebook.com/RuthSpiro.Author
Instagram:
https://www.instagram.com/ruthspiro/
Pinterest:
https://www.pinterest.com/ruthspiro/
Twitter:
https://twitter.com/ruthspiro?lang=en
Web:
http://www.ruthspiro.com
YouTube:
https://www.youtube.com/user/RuthSpiro
---
Selected Titles
Baby loves aerospace engineering!
ISBN: 9781580895415 OCLC: 913957529 Introduces the basics of flight to readers with very simple explanations of why birds, planes, and rockets are able to fly.
Baby Loves Angular Momentum on Hanukkah!
ISBN: 1623541905 OCLC: Charlesbridge 2021 The perfect Hanukkah gift for babies and toddlers, complete with big, brainy science for the littlest listeners.Baby discovers the science behind spinning a dreidel on Hanukkah! Accurate enough to satisfy an expert, yet simple enough for baby, this clever board book explores angular momentum, torque, friction, and gravity. Beautiful, visually stimulating illustrations complement age-appropriate language to encourage baby's sense of wonder. Parents and caregivers may learn a thing or two as well.
Baby loves coding!
ISBN: 9781580898843 OCLC: 1003828364 Baby's train is in the toy box--all the way across the room. Can Baby think step-by-step like a coder to get it?--Back cover.
Baby Loves Democracy!
ISBN: 1623542278 OCLC: 1111639655
Baby Loves Electrical Engineering on Christmas!
ISBN: 1623541913 OCLC: Charlesbridge 2021 Baby discovers the science behind Christmas lights! Accurate enough to satisfy an expert, yet simple enough for baby, this clever board book explores electricity, circuits, and electrical safety. Beautiful, visually stimulating illustrations complement age-appropriate language to encourage baby's sense of wonder. Parents and caregivers may learn a thing or two as well.
Baby loves gravity! /
ISBN: 158089836X OCLC: 981907871 Accurate enough to satisfy an expert, yet simple enough for baby, this clever board book explores the ups and downs of gravity. When baby drops food from a high chair, why does it fall? Beautiful, visually stimulating illustrations complement age-appropriate language to encourage baby's sense of wonder. Parents and caregivers may learn a thing or two, as well!
Baby loves green energy! /
ISBN: 1580899269 OCLC: 1015281330
Baby Loves Hearing!
ISBN: 1623541026 OCLC: 1048057933 Explores the science behind the sense of hearing, and technical advances that can help people with impaired hearing.
Baby Loves Justice!
ISBN: 1623542286 OCLC: 1126353617
Baby Loves Lunar Phases on Chinese New Year!
ISBN: OCLC: Charlesbridge 2021 Big, brainy science for the littlest listenersWhile celebrating Chinese New Year, Baby discovers the science behind lunar phases! Accurate enough to satisfy an expert, yet simple enough for baby, this clever board book explores the lunar calendar, the moon's orbit, and the reason the moon seems to change shape. Beautiful, visually stimulating illustrations complement age-appropriate language to encourage baby's sense of wonder. Parents and caregivers may learn a thing or two as well.
Baby Loves Photosynthesis on St. Patrick's Day!
ISBN: 162354307X OCLC: Charlesbridge 2022 Big, brainy science for the littlest listeners.On Saint Patrick's Day, Baby learns why plants like clovers are green: photosynthesis! Accurate enough to satisfy an expert, yet simple enough for Baby, this clever board book explores the science of photosynthesis, leaf anatomy, and traditions surrounding St. Patrick's Day. Beautiful, visually stimulating illustrations complement age-appropriate language to encourage Baby's sense of wonder. Parents and caregivers may learn a thing or two as well.
Baby loves quantum physics!
ISBN: 9781580897693 OCLC: 1019854121 The next two books in the Baby Loves series tackle the first law of thermodynamics (energy cannot be created or destroyed, but it can change forms) and Schrödinger's Cat, the famous thought experiment involving quantum theory (quantum physics states that a particle can exist in multiple places at once). Accurate enough to satisfy an expert and simple enough for the rest of us to comprehend, the Baby Loves board books are perfect for geeky moms and dads who want to share their love of science, for parents who want to give their infant a head start on Harvard, and for hipster aunts and uncles who want that oh-so-clever gift for the baby shower.--
Baby loves quarks! /
ISBN: 1580895409 OCLC: 913957656 Offers a simplified explanation of quarks, protons, neutrons, atoms, and molecules.
Baby loves scientists :
ISBN: 1623541492 OCLC: 1081384714
Baby Loves Sight!
ISBN: 1623541034 OCLC: 1057242121 Explores the science behind the sense of sight, and technical advances that can help people with impaired vision.
Baby Loves Smell!
ISBN: 1623541530 OCLC: 1099542974
Baby loves structural engineering! /
ISBN: 1580899277 OCLC: 1012635308
Baby Loves Taste!
ISBN: 1623541549 OCLC: 1099539421
Baby loves thermodynamics! /
ISBN: 1580897681 OCLC: 959371824
Baby Loves Touch!
ISBN: 1623541557 OCLC: 1099543663
How to Explain Coding to a Grown-Up (How to Explain Science)
ISBN: 1623543185 OCLC: Charlesbridge 2023 The best-selling author of the Baby Loves Science series levels up with this playful STEM picture book introducing kids–and grown-ups–to the coding world. Grown-ups do NOT have all the answers! In this tongue-in-cheek guide, an in-the-know narrator instructs perceptive kid readers in the fine art of explaining coding to a grown-up. Both children and their adults learn the basics of coding, including hardware, software, algorithms, and debugging. Cleverly disguised "pro tips" suggest best practices for teaching any topic. Fun and fact-filled, the How to Explain Science series will empower kid experts to explore complex scientific concepts with any grown-up who will listen.
Lester Fizz, bubble-gum artist /
ISBN: 0525478612 OCLC: 216938803 Everyone in the Fizz family is an artist. Everyone, that is, except Lester, whose paintings are pitiful and doodles are drab. He can't seem to find a way to fit in with the illustrious Fizzes, until one day a mouthful of gum becomes a work of art in Lester's talented lips.
Made by Maxine
ISBN: 9780525553168 OCLC: 1056625533 When Maxine's school puts on a pet parade, she creates a unique contraption to allow her very special pet fish, Milton, to participate.
Maxine and the Greatest Garden Ever!
ISBN: 0399186301 OCLC: 1155069028